March 24, 2010
by William Dube
College Survey Indicates Relationship Violence is Higher in the Deaf Community
Deaf and hard-of-hearing are 1.5 times more likely to be a victim of abuse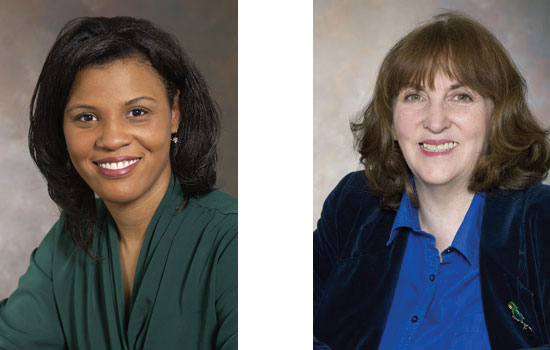 Data from an eight-year survey of college students at Rochester Institute of Technology indicates that deaf and hard-of-hearing individuals are 1.5 times more likely to be victims of relationship violence, including sexual harassment, sexual assault psychological abuse and physical abuse, in their lifetimes. The study, sponsored by the U. S. Department of Justice and presented at the 2010 Western Society of Criminal Justice Conference, is one of the first comprehensive surveys of relationship violence in the deaf community.
"We surveyed several thousand students on the RIT campus, which includes the National Technical Institute for the Deaf, every two years from 2000 to 2008," says Laverne McQuiller Williams, associate professor of criminal justice and co-principle investigator of the study. "The results show a significantly higher incidence of domestic violence among deaf and hard-of-hearing students as compared to hearing populations on campus and compared to national averages among college students."
"The results show that typical assessments of relationship violence may miss differences present in underrepresented and underreported populations such as the deaf," notes Judy Porter, assistant professor of criminal justice at RIT. "It is our hope these results will lead to further assessment of physical and psychological abuse in the broader deaf community and the development of better tools to assess relationship violence in other underrepresented populations such as the gay and lesbian communities."
More than 1,300 deaf and hard-of-hearing students on the RIT campus receive support services including interpreting, classroom captioning or notetaking through NTID.
NTID Interim President James DeCaro says this issue "has been an ongoing concern for NTID and we have implemented a variety of educational and counseling interventions to address it. For example, RIT's Women's Center provides health and wellness programs for all RIT students as well as leadership development opportunities." NTID faculty, staff and administrators also work closely with the Rochester-based Advocacy Services for Abused Deaf Victims, which notes that this is a national problem.
McQuiller Williams and Porter have assisted NTID in developing prevention programs and hope their data will further inform anti-violence efforts at RIT and at colleges and universities throughout the country.