Coursework from industry partnership impresses at MakerBot event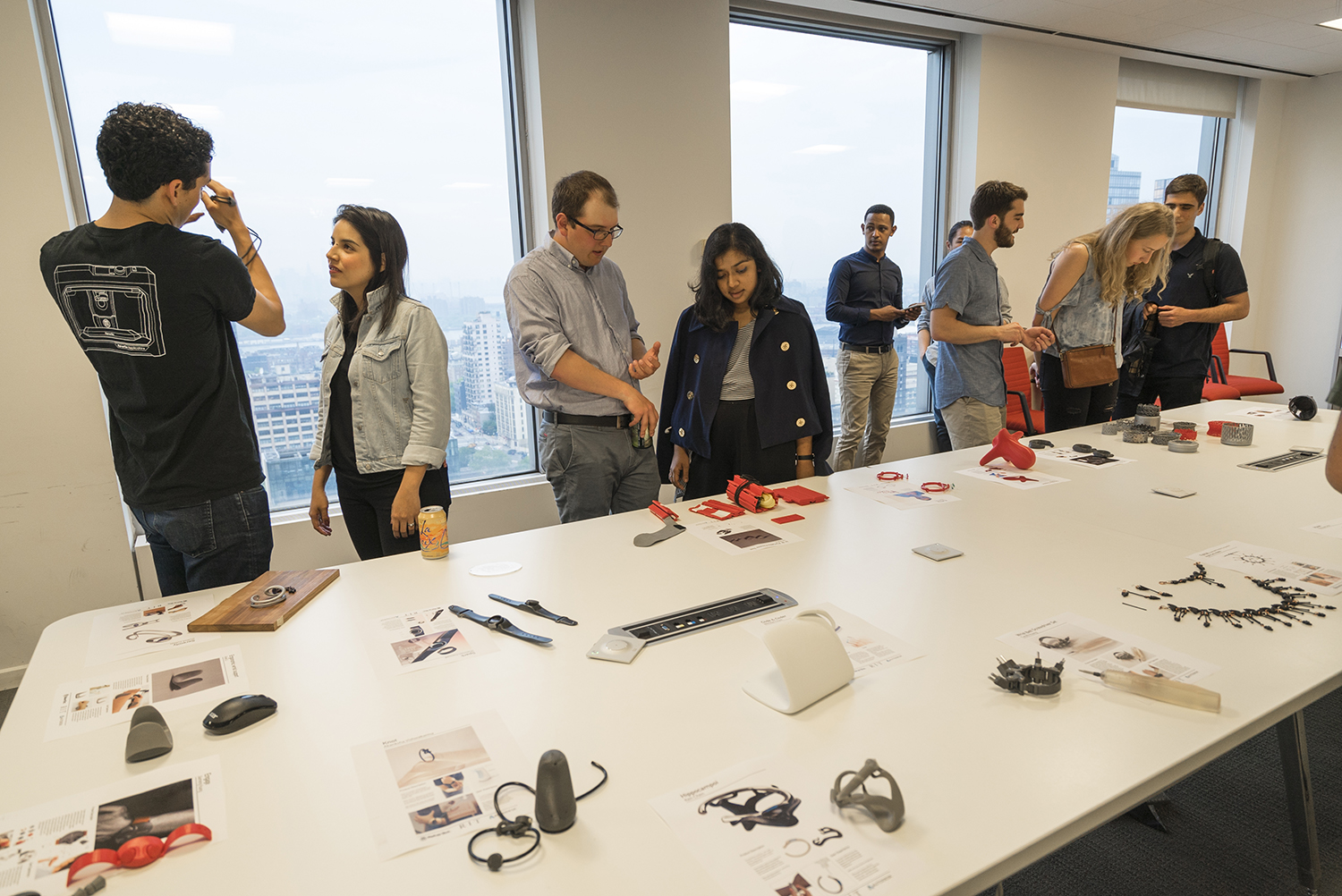 In the spring semester, RIT's industrial design MFA program partnered with a pair of global leaders in their respective industries for a course that investigated 3D printing as an iterative process. 
Representatives from MakerBot, a desktop 3D printing company, and Autodesk, the software giant, visited with graduate students multiple times throughout the semester to provide feedback. 
For the class, MakerBot donated four 3D printers for students to frequently access and use to create prototypes. The goal of the course — co-taught by Alex Lobos, industrial design associate professor and graduate director, and Stan Rickel, industrial design associate professor — was to understand how computer-aided design (CAD) and 3D printing can be used to quickly fabricate design concepts so they can be tested and refined. 
The final products, all of which promote wrist interaction, were exhibited at an event on May 17 at MakerBot's Brooklyn headquarters during NYCxDESIGN, New York City's annual celebration of design. RIT's display shared the pristine space with professional 3D printing projects as hundreds gathered for the event.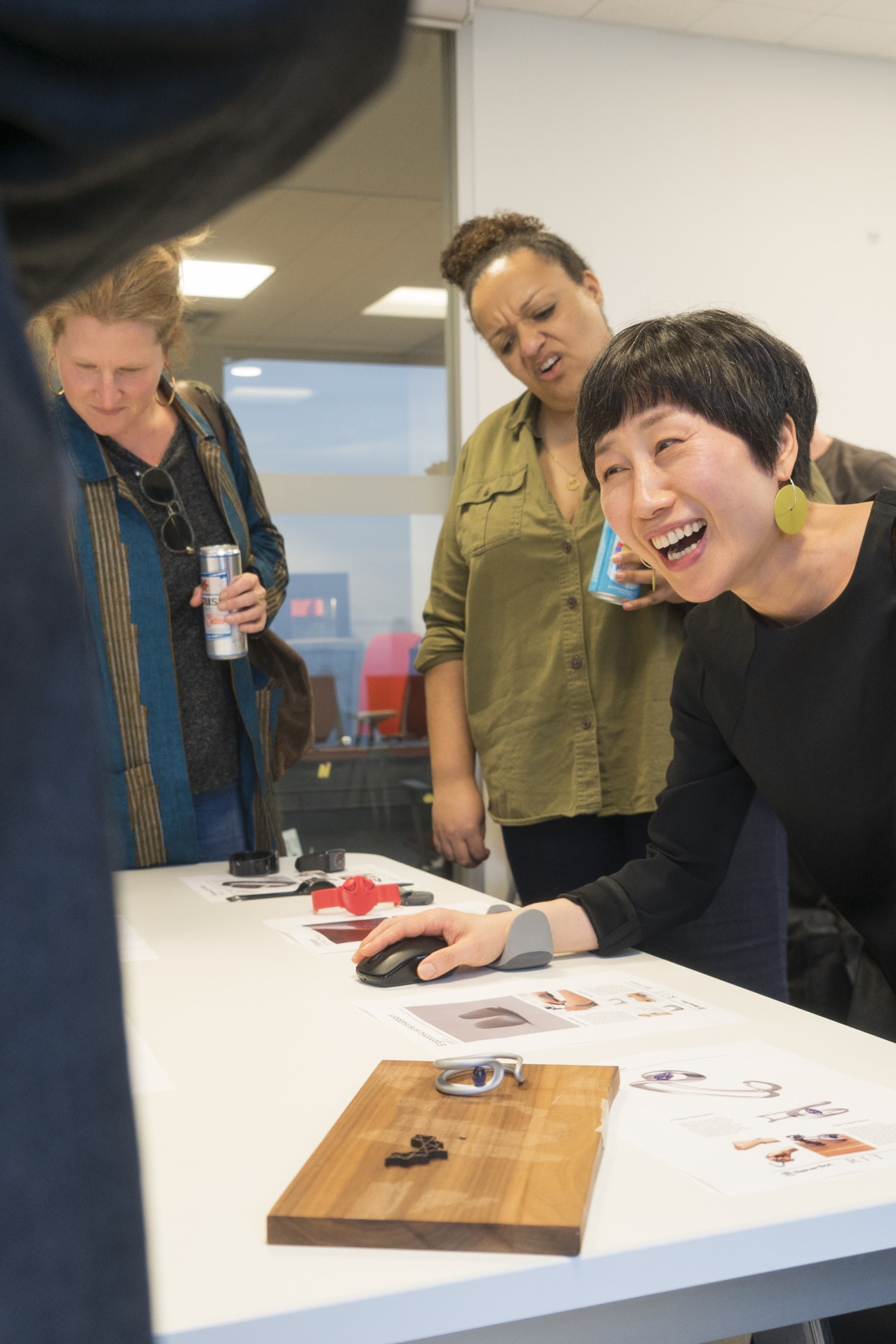 Below are reactions to the event and course by students and MakerBot's representatives for the collaboration.
Felipe Castaneda, MakerBot senior manager of design and marketing, who spoke highly of RIT's 3D printing facilities and the "high skill level" of the students in the class:
"It was a great fit to have RIT, Autodesk and MakerBot trying to guide the students through the process of creating a product through CAD and 3D printing.
"Most professionals are not exposed to (3D printing) as early as these students at RIT were. What I liked most is the amount of different products that we got from them. We got anything from a dog leash to jewelry design to devices that help visually impaired people. It was just amazing. It was exciting how quickly they iterated on the machines. It's really nice to see how they took advantage of the printers and ultimately proved the point of what happens when you have a printer handy and how much that affects your iteration process — how much it can help you get that idea to a physical object."
Andrew Askedall, MakerBot senior director of product design, who said the quality of the RIT work at the event was comparable to the products made by professionals in MakerBot's 30-day 3D printing challenge:
"It's accelerant. You put this on top of someone who is creative and hard-working and talented, and they can just run so much faster. Seeing what these professional designers can do in 30 days and what these students can do in 90 days, the work is, if you mixed it together, you couldn't tell the difference between the RIT students and the professional designers.
"Seeing what these students could do with the 3D printer as well as the UX aspect and really thinking through that was insane. I couldn't have done that 10 years ago when I was in college. So I'm envious, but also grateful we were able to help out."
Angela Sarfo-Ababio, metals and jewelry design MFA student from Ghana, who designed a neck and wrist jewelry piece through which wearers interpret life experiences. The forms, materials and colors were selected for "elegance and visual impact to facilitate observer interaction with the user."
"RIT is very forward in terms of technology. It's among the best. The whole idea of taking courses within industrial design is to be able to bring my designs and concepts alive through technology. So I'm trying to combine the two. It's really helped me in terms of realizing my concepts digitally."
Andrea Gonzalez Esteche, industrial design MFA student from Paraguay, who designed a bracelet that is also a speaker and charges on a base that doubles as a lamp. It combines two components (music and light) that generate positive vibes.
"MakerBot and Autodesk were with us in every process. They were there giving us feedback. They helped us refine details so we could have better resolution and results in the 3D print.
"The most important thing was the design process management where you start ideating and then you start connecting all of your ideas with your sketches. And then when you go through the 3D process, you could define more details and the good things that interact with the 3D prints. The good thing is you understand every step."
Shannon Connell, industrial design MFA students from St. Louis, Mo., who designed Spark, a more human, relatable alternative to dating websites and apps. It is a wearable wrist device that alerts users of a match within visual range based on pre-selected filters, with directional haptic feedback guiding users to make eye contact and respond.
"I was super thankful that MakerBot and Autodesk were working with us because I probably printed 50-plus iterations of the ring and at least 20 iterations of the body in order to find a good mix of how things will merge together. Simply going from the modeling software to printing it out, I kept finding this struggle. I ended up bringing clay over to some of my prints, remodeling it, bringing that back into the software, printing that out and then finally arriving at my final form."
Topics