Creating a free speech campus culture
New committee formed to bolster freedom of speech education at RIT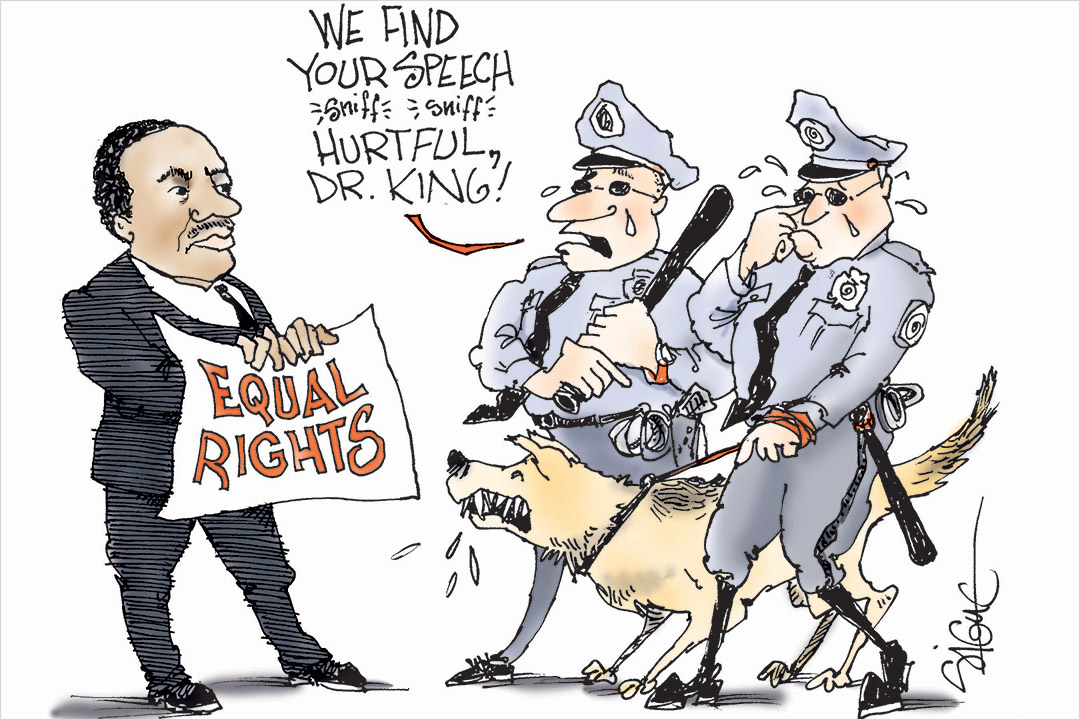 After the contested 2020 presidential election, the tumult of the Jan. 6 attack on the Capitol, and the national protests following the killing of George Floyd, RIT looked inward to see how to address the political climate with the student body. The result is an increased effort to create a campus culture of free speech and to give students the skills to participate in civil discourse respectfully and productively long after they graduate.
RIT's Division of Diversity and Inclusion and Division of Student Affairs formed the Free Speech Series Committee in 2021 to act as an advisory committee and organize programming on campus to further these goals.
"Our hope is to create a campus culture where everyone feels comfortable speaking out in a respectful and civil way, even when they don't agree with what is being said," said Hinda Mandell, journalism program director in the College of Liberal Arts and co-programming lead of the Free Speech Series Committee. "More than that, if they encounter speech or expression that is offensive, we want to give them tools to counter that offensive speech while also acknowledging that other people have a legal right to that speech."
Mandell explains that while offensive speech is often protected by the First Amendment, it still damages the community and can make students, especially those from marginalized groups, feel unsafe and unwelcome.
She emphasizes that everyone at RIT can use their right to free speech and expression to stand up and support those targeted by offensive speech, and that this creates consequences for offensive speech despite it being protected by the First Amendment.
"Not only do we hope to be a catalyst to foster conversation and build community at RIT, but we hope this education stays with our graduates as they become leaders across the nation," said Cha Ron Sattler-LeBlanc, senior director of the Academic Success Center and chairperson of the Free Speech Series Committee. "These conversations and this community building is important for our democracy."
According to the ACLU, bigoted speech is only unprotected by law if it "intentionally and effectively provokes a crowd to immediately carry out violent and unlawful action." Most offensive and hateful speech does not rise to this standard of creating violence, and therefore remains protected by law, even on college campuses.
However, RIT policy explains that the university may limit speech that is protected by U.S. law in order to protect public safety, university property, and to protect the equal rights and freedoms of others.
These topics will be explored through upcoming free speech events on campus this semester.
On Feb. 17, a protest craft-making event will take place from 11 a.m. to 1:30 p.m. to honor the anniversary of the decision in the Tinker v. Des Moines U.S. Supreme Court case. The 1969 court case helped cement students' right to free speech in public schools. At the event, RIT students can create patches, bracelets, and other crafts to express their views on social and political causes. 
On March 18, RIT will hold the RIT Zine Fest in the Student Alumni Union. RIT community members, as well as people from the Rochester community, can submit their zines, short self-published booklets of various types of art, using this form. The deadline for submissions is Feb. 15, and accepted vendors will be notified by Feb. 21. 
On March 30, former ACLU president Nadine Strossen will speak about free speech in the U.S. today and about her recent book, HATE: Why We Should Resist It with Free Speech, Not Censorship. The event is co-sponsored by RIT's Center for Statesmanship, Law, and Liberty.
The committee also plans to integrate free speech programming into New Student Orientation to help establish free speech as a pillar of RIT culture as soon as students enter campus.
"Free speech and expression are fundamental democratic values and bedrock principles for higher education institutions," said Sandra Johnson, senior vice president of Student Affairs. "Such values are central to our mission to improve the world as an engaged, intellectually curious, and socially conscious community."   
Keith Jenkins, vice president and associate provost for Diversity and Inclusion, reflected on the significance of the free speech conversation in 2022.
"Today, we struggle against multiple pandemics, including the pandemics of COVID-19 and systemic racism. Free speech invites discovery about both ourselves and others as we grapple with the issues we face, allowing us to examine and challenge opposing viewpoints."
More about RIT's Policy on Freedom of Speech and Expression can be found on the Academic Affairs website.