Cultural diversity enriches interpretation program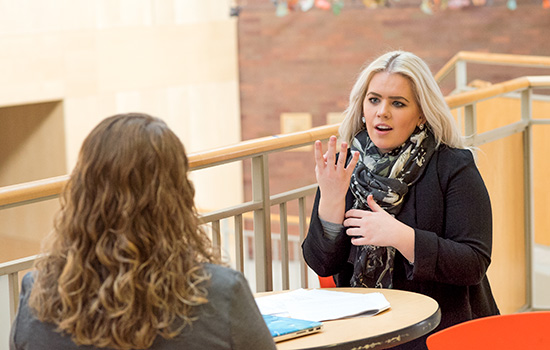 A. Sue Weisler
RIT isn't the only school that offers degrees in American Sign Language/English interpretation, but it does have one feature that isn't common at other schools.
"Students can interact with 1,200 deaf or hard-of-hearing students on campus and more than 100 faculty members who are well known in the interpreting field," said Lynn Finton, director of the Department of ASL and Interpreting Education. "They are able to practice and interact with people who are members of the deaf community as they learn."
Finton said this immersion in ASL and deaf culture is a unique experience that sets RIT's interpreting graduates apart from graduates at other universities.
The interpreting program offered at the university through the National Technical Institute for the Deaf has become known as one of the best in the country since it started as a summer training program in 1969.
The first bachelor's degree program was approved in 2000 as a two-plus-two program. In 2008, the two-plus-two program evolved to a full four-year program. Since 2008, more than 270 students have graduated with their bachelor's degree in ASL/English interpretation, according to NTID annual reports.
Linda Siple, a retired professor for the Department of ASL and Interpreting Education, is proud of how the program has grown and hopes the growth will continue in the future.
"We're pioneers in this field. This profession is still very young compared to other programs offered at RIT," said Siple. "We have made tremendous leaps and bounds in such a short period of time."
When applying to schools, Andrea Sinden, a fourth-year student in the ASL/English interpretation bachelor's program from Seattle, was impressed by the programs offered through NTID. When Sinden realized she wanted to pursue a career working with the deaf community, she knew RIT would provide her with the right environment to learn.
"I could learn ASL and the skill it takes to interpret at other universities, but the ability to be immersed in the deaf community and learn from innovators in the field is something I don't think other schools can offer," said Sinden. "I felt that if I really wanted to improve my skillset, I would need to be more immersed in the language."
Lydia Callis '10 (ASL/English interpretation) is the owner and an interpreter for her own company, LC Interpreting Services, which serves people in the greater New York City region and New Jersey.
She sparked dialogue around the work of ASL interpreters on social media after a video of her expressive signing went viral on YouTube in 2012. The video features Callis interpreting in press conferences about Superstorm Sandy for New York City Mayor Michael Bloomberg.
Callis recalls the vast cultural diversity at RIT and feels that being exposed to different cultures is a valuable experience for interpreters.
"Deafness isn't limited by race, age, gender, religion or anything else, so when you're on the job, you need to be prepared to step outside your comfort zone sometimes," said Callis. "A diverse educational environment like RIT can expose people to different perspectives and offer a safe environment for cross-cultural dialogues."
One change that is already underway at RIT to fulfill the need for specialized interpreters is the Master of Science program in health care interpretation.
The MS program, which started in 2016, expanded on the health care interpretation certificate program already in place.
The program prepares interpreters to meet the growing demand for specialization in health care interpreting for deaf patients and health care professionals, as well as prepares students to take on leadership and administrative roles.
"We are the only university in the country offering this program," said Kathy Miraglia, director of the program. "This is an opportunity for innovative teaching, learning and research that is making RIT a leader in this area of interpreting."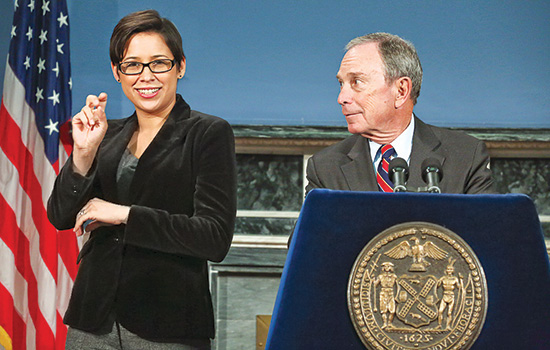 Topics