Cultural exchange goes virtual for international game prototyping course
RIT students collaborate to create games with students around the globe, from Japan to Senegal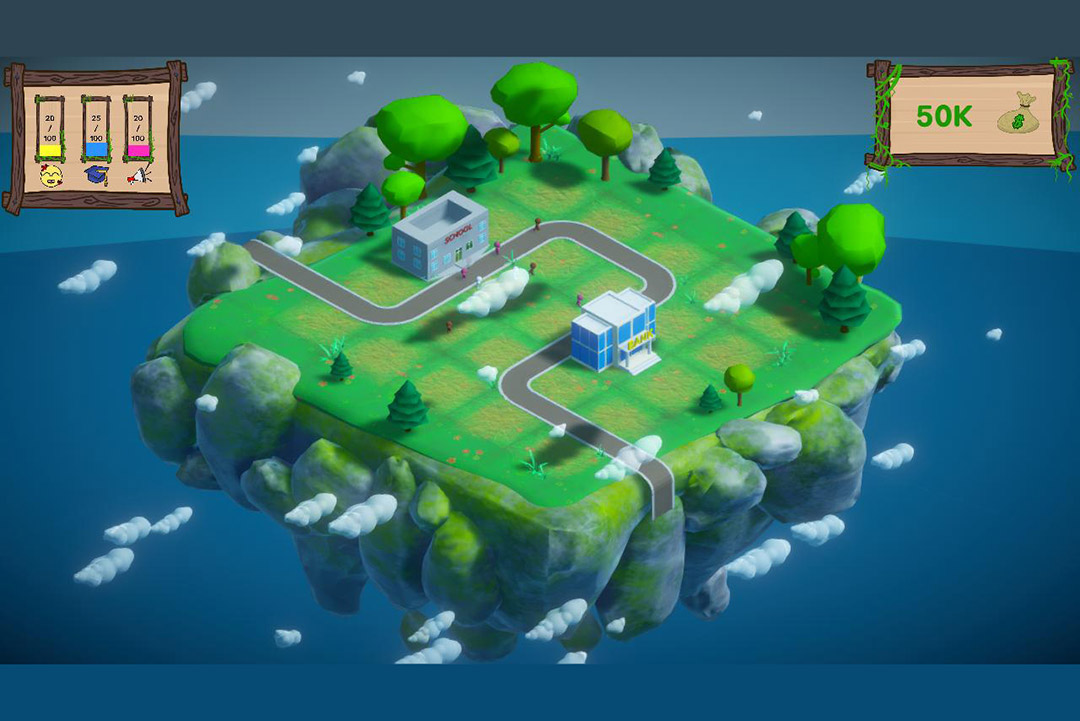 International travel may be limited, but it hasn't stopped RIT game developers from collaborating with students across the world to create new game prototypes.
As part of a gameplay and prototyping class at RIT this spring, 25 game design and development students got to participate in a virtual cultural exchange with 30 students at the Japanese college Kyoto Computer Gakuin (KCG). The student teams learned about each other's cultures and overcame language barriers and time zone differences to create projects for a global game jam.
Several RIT students took it a step further and competed in another cross-cultural game jam, collaborating with students from the U.S., France, Canada, and Senegal.
Reincarnation
In this game, the player travels across the city to fight an evil boss. However, if you fail to defeat the evil being, you become a ghost and must fight all the enemies you killed while you were alive.
"These experiences show students how gaming can connect people and gives them insight into the importance that inclusivity and accessibility play in game development for players of diverse backgrounds, languages, ages, nationalities, and abilities," said Jessica Bayliss, professor in RIT's School of Interactive Games and Media. "Being able to prototype games in a game jam is an important step in helping us rapidly iterate on all of our creative ideas."
Bayliss had been planning the cultural experience for several years, before the COVID-19 pandemic derailed travel plans. The course was supposed to coincide with a trip to Japan. Cecelia Hencke, a program specialist in RIT's Education Abroad office, suggested that RIT could still offer the experience, just in a virtual format. Hencke helped to make it happen.
"Luckily, we actually were able to get a lot more students involved, compared to if we had physically done the trip," said Bayliss.
Wren Bernstein, a fourth-year game design and development BS/MS student, was taking the required master's-level course, but wasn't originally planning to go on the trip.
"I knew I wouldn't have the time or money to do the trip," said Bernstein, who is from Leesburg, Va. "This seemed like a good alternative and I was excited to make some new friends."
At first, Bernstein and the RIT students talked with Hiroko Yamashita, chair of RIT's Department of Modern Languages and Cultures, to learn a few Japanese phrases and about the cultural differences.
The students then worked synchronously and asynchronously with KCG students to prototype games for the Global Game Jam, held in January. Their games incorporated bilingual elements, with menu items, instructions, and character interactions in both English and Japanese.
Bernstein and a few RIT students also decided to join the Cross-Cultural Impact Jam, held in March. This game jam, run by Games for Change, Unity Technologies, and the Cultural Services of the French Embassies, challenged students to create games and immersive experiences around the theme of inclusivity.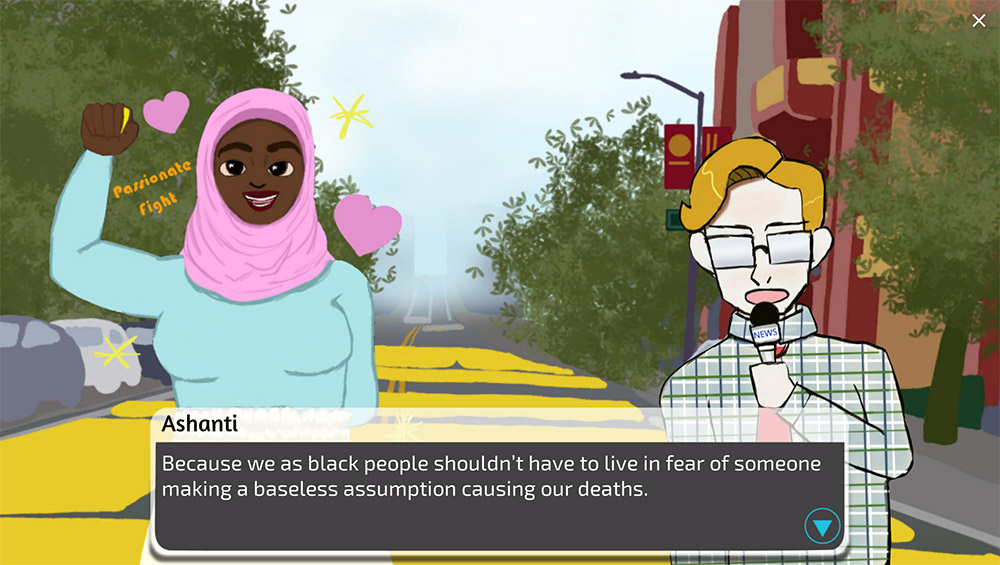 Bernstein helped create Reportedly Biased, a game that addresses bias in the news industry and aims to teach players about how language matters. Bernstein's team included another non-binary person from the U.S., a French woman, and a man from Senegal. For the project, Bernstein worked on Unity debugging, art, and project management.
"Now I can say that I collaborated with people I hardly know and can show that I'm able to adapt to different environments," said Bernstein. "I might want to get a job in another country someday, so this could really help me."
Patrick Mitchell, a third-year game design and development major, worked on the ideation and brainstorming process for his team's game—called Memory Doctor—during the Japanese game jam.
"We got along amazingly well, even though we never properly spoke," said Mitchell, who is from Media, Pa. "To communicate across the language barrier, we typed into an online translator while sharing our screens."
During the Impact Jam, Mitchell helped create SkyHigh, a management game where you play as the mayor of a small floating island and work to amplify the visibility of minorities in the city. Mitchell said his team included a superstar coder and artists, so he focused entirely on the crowd simulation of the game.
"It's a small and non-essential part of the game, but it makes the city you're building feel lived in, and that's valuable in a game about building empathy for people in management positions and the citizens they serve," said Mitchell. "We got some feedback about the game that mentioned the crowd members specifically, which made me feel better about not contributing to the core gameplay logic; all code takes work and all code is valuable."
Other game prototypes created by the students can be played and/or downloaded in the links below. The game prototypes include:
Bayliss hopes to offer the course and international cultural exchange trip again in the future.
"This has changed the way we will do things," said Bayliss. "I think we'll always start the experience off with virtual interactions like this, to help people get to know each other and build relationships before the study abroad."
Topics