David C. Munson Jr. introduced with high hopes
Former University of Michigan engineering dean begins July 1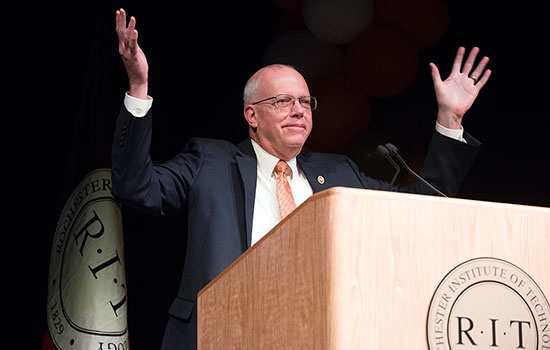 Elizabeth Lamark
RIT students, faculty, staff and alumni Wednesday enthusiastically welcomed the university's 10th president, David C. Munson Jr., who begins his new post-July 1.
Munson, 64, who will follow retiring RIT President Bill Destler, received a standing ovation when he was introduced to the community in the Gordon Field House. The announcement was watched via live-stream by about 2,000 people, including at RIT campuses in Kosovo, Croatia, Dubai and China.
"I think that Dave is going to fit right in to the RIT community," said RIT Student Government President Andrea Shaver, who was on the 24-member search committee. "He's a very genuine person who really understands RIT and our vision for the future. I'm excited to see how he inspires our people and takes the university to the next level. I think his speech said it all, he's going to be a president of the people – all of RIT's stakeholders. Especially for students, he has a true understanding of many different issues students face: the rise in the cost of higher education, mental health, sustainability initiatives, creativity and innovation. I'm honored to have been part of this process and can't wait to see how much RIT will grow in the next decade."
Staff Council Chair Raman Bhalla, director of University Web Services, also praised Munson's appointment.
"I applaud the Board of Trustees on their choice of an exceptional leader who clearly understands and values the integral role of staff in the success of the university and our students," Bhalla said. "We look forward to working with President Munson in this next chapter of RIT's proud history."
Chris Collison, chair of RIT's Academic Senate and an associate professor in the School of Chemistry and Materials Science, was pleased Munson spoke about the overlap of student-centered success and research success.
"He comes across as personable, fun, very genuine and down to earth," Collison said. "I so much appreciate that his philosophies surrounding diversity and inclusion mirror those of RIT."
Kara Maki, assistant professor in RIT's School of Mathematical Sciences in the College of Science, said Munson "seems to align with RIT's interests. He seems to value the things RIT values."
Michael Dear, director of operations in the College of Imaging Arts and Sciences, said "the announcement of our new, highly-decorated president is exciting. It seems that he has the credentials and breadth of experience to continue RIT's pursuit of excellence.
Gabrielle Gaustad, associate professor at the Golisano Institute for Sustainability, said she was also excited about Munson's appointment.
"I've heard great things about him from colleagues at the University of Michigan—mainly that he has a fantastic sense of humor and can really get things done," she said. "With the current challenges facing higher education, I think a sense of humor can go a long way. I appreciate his mathematical background and success in entrepreneurship and look forward to learning more about him and meeting him."
Munson's work in signal processing and imaging systems is well known to Eli Saber, professor of electrical and microelectronic engineering in RIT's Kate Gleason College of Engineering and a lead researcher in the area of signal processing who works closely with colleagues in RIT's Chester F. Carlson Center for Imaging Science. Saber and Munson have met at conferences and their research areas in imaging science and corporate backgrounds are similar.
"He's absolutely excellent," Saber said of Munson. "He's a scholar and leading researcher in the imaging world. He's a superb choice to lead the university."
Bennett Wong, a second-year mechanical engineering technology student from Rutherford, N.J., is a member of RIT's Baja racing team.
"We were excited to hear that he was the former dean of the engineering school at the University of Michigan because they have been a very good competitor," Wong said. "He supported their team, and we're excited for his support now."
Zoe Garman, a third-year international and global studies student from Valley Mills, Texas, thinks Munson will bring a lot of growth and diversity to RIT.
"The entire time he was talking, I kept thinking about the college in 'Big Hero 6' and how innovative and invigorating it was depicted in the movie," she said. "I believe that is what he is going to bring to RIT. So I'm excited for all the new students and all the students that are still here."
Deaf and hard-of-hearing faculty, staff, students, and alumni from RIT's National Technical Institute for the Deaf were pleased to see Munson use sign language when saying "Good morning, RIT Tigers!" Munson said he and his wife, Nancy, are looking forward to taking sign language classes.
"I think he's wonderful and he will be a good role model for RIT and NTID students," said Arlene Sankey, vice president of the NTID Alumni Association Board of Directors. "I'm happy he's going to learn sign language."
Shevette Cuttray, senior staff assistant in RIT's Office of the Registrar, was pleased the entire RIT community was included in the announcement.
"He seems very committed to the students," Cuttray said. "I liked his diversity—the rap video and I like how he greeted the NTID community."
Former RIT Alumni Association President Kathleen Anderson '94 (professional and technical communication) said RIT is built upon the vision of extraordinary leaders committed to building an unparalleled educational community.
"With the announcement of the hiring of Dr. Munson, I believe RIT continues this tradition," she said. "Students, faculty and alumni should look forward to RIT's future with great enthusiasm. I am truly excited to see what the next generation of RIT holds under Dr. Munson's leadership, but I have no doubt it will be groundbreaking."
RIT's 2015 Alumni Volunteer of the Year, Scott Saldinger '89, '91 (film and video), said Munson is the perfect choice for RIT's 10th president.
"He already embodies the DNA at the core of the institute's mission," said Saldinger, who watched the announcement in Texas over a live webstream. "I'm excited to see him take RIT to the next level and am looking forward to his first visit to meet the alumni of the Dallas-Ft. Worth area."
Munson said he looks forward to traveling around the country—and the globe—to meet RIT students and alumni.
There are two introductory events planned on campus on Feb. 28 and March 2, with more details to follow.
Topics