Dean of Golisano College of Computing and Information Sciences to step down
Anne Haake noted for growing research, cybersecurity, and diversity in computing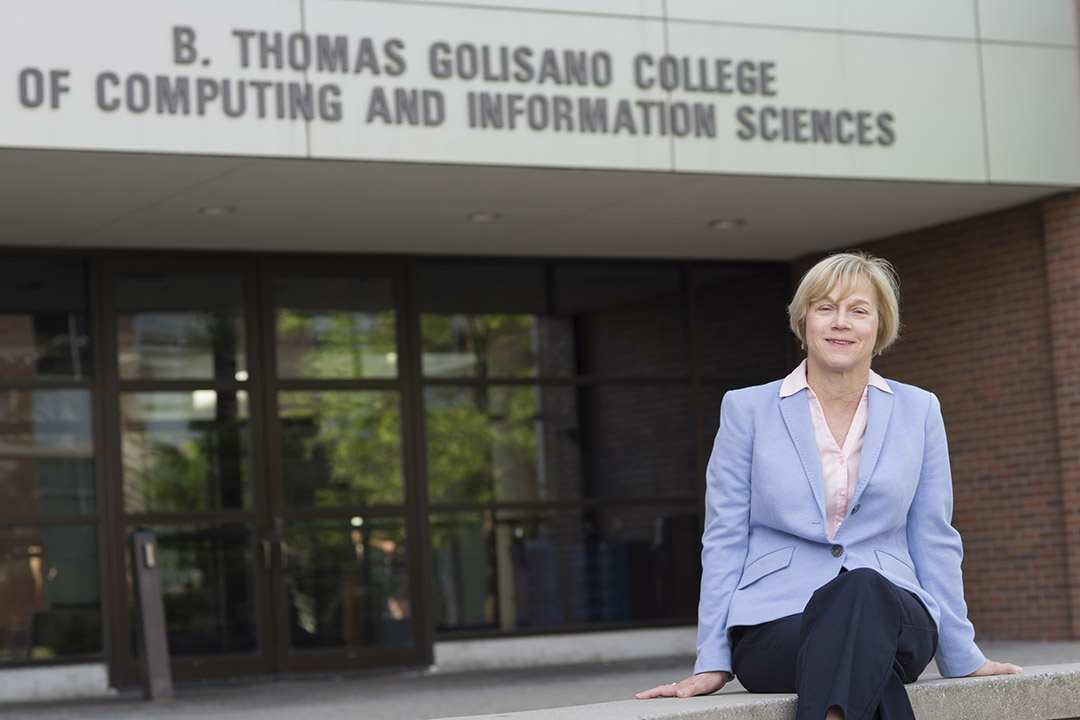 Anne Haake is stepping down as dean of RIT's Golisano College of Computing and Information Sciences (GCCIS) at the end of the 2021-2022 academic year. She plans to join the faculty following a sabbatical to refresh her research.
"I want to thank Anne for her innovative leadership and wish her continued success as she embarks on this new chapter," said Ellen Granberg, RIT provost and senior vice president for Academic Affairs. "GCCIS has benefited greatly from her vision for advancing curricula, scholarship, and research. The college has advanced significantly during her tenure as dean."
Haake was named dean of GCCIS in 2016, after serving one year as interim dean. She is the first female to serve as dean of the computing college, which houses three of RIT's largest programs: computer science, game design and development, and software engineering.
Her tenure saw explosive growth in enrollment, with GCCIS growing by more than 20 percent since 2015. With diversity in the computing field being one of Haake's passions, she oversaw annual increases in students from underrepresented groups, an increase in the percentage of women enrolled in computing majors, and hired many faculty and staff from diverse groups.
Haake was also integral to the opening of the Global Cybersecurity Institute (GCI), from planning the building to putting the leadership team in place. Last fall, the 52,000-square-foot state-of-the-art facility opened, making RIT one of the best places in the world for cybersecurity education, training, and research. Haake advocated for an interdisciplinary approach to cybersecurity research, where experts from across the many areas of GCCIS and the whole university can come together in the GCI to tackle critical cybersecurity problems.
As dean, Haake worked to form the School of Information (iSchool), hiring leadership and new faculty to grow research in accessibility and inclusion. To make computing more inclusive, she launched the "computing for all" initiative and the iSchool began offering a computing immersion for non-computing majors.
The growth of research in GCCIS has also benefited from Haake's leadership. The Ph.D. program in computing and information sciences has also grown significantly, with more than 100 students currently enrolled.
She opened the door for new research opportunities for faculty and students and hired many new research active faculty. During her tenure, researchers have made advances in the fields of artificial intelligence and machine learning, as they cut across all areas of GCCIS.
"It has been a pleasure and an exceptional privilege to lead this college and all of the outstanding people here over these years," said Haake. "I have no doubt that GCCIS has a bright and strong future."
Before serving as dean, Haake spent 15 years at RIT in interdisciplinary curriculum development roles for several programs, including bioinformatics, medical informatics, the Ph.D. in computing and information sciences and the human-computer interaction master's program.
Haake has been a leader in interdisciplinary research, as principal investigator of National Science Foundation and National Institutes of Health-funded research and as a mentor for undergraduate and graduate student research. In 2012, she was named RIT's first National Science Foundation Expert in the foundation's Division of Biological Infrastructure and served as a program director for the division.
Preparation for the search for Haake's successor will start soon, with formation of the search committee at the start of fall semester. 
Topics