Dedicated FMS workers keep RIT campus clean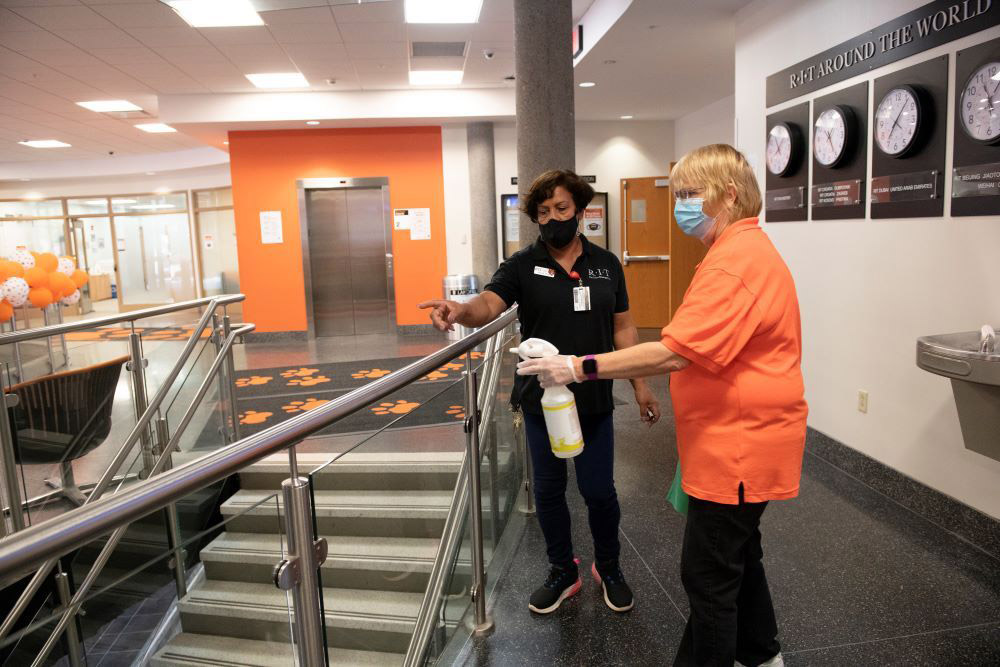 Students, faculty, and staff who have returned to the Rochester Institute of Technology campus can't help notice the numerous changes in place to help people keep safer during the COVID-19 pandemic.
But they may not know how much thought went in to make those changes, and the work that occurred—and continues to occur—in classrooms, residential areas, offices, dining facilities, bathrooms, and common spaces.
Nereida Vargas starts work at 5 a.m., cleaning bathrooms in the Campus Center. The second half of her day, she trains and supervises others. Despite being on the front line of defense from the virus, she looks forward to coming work.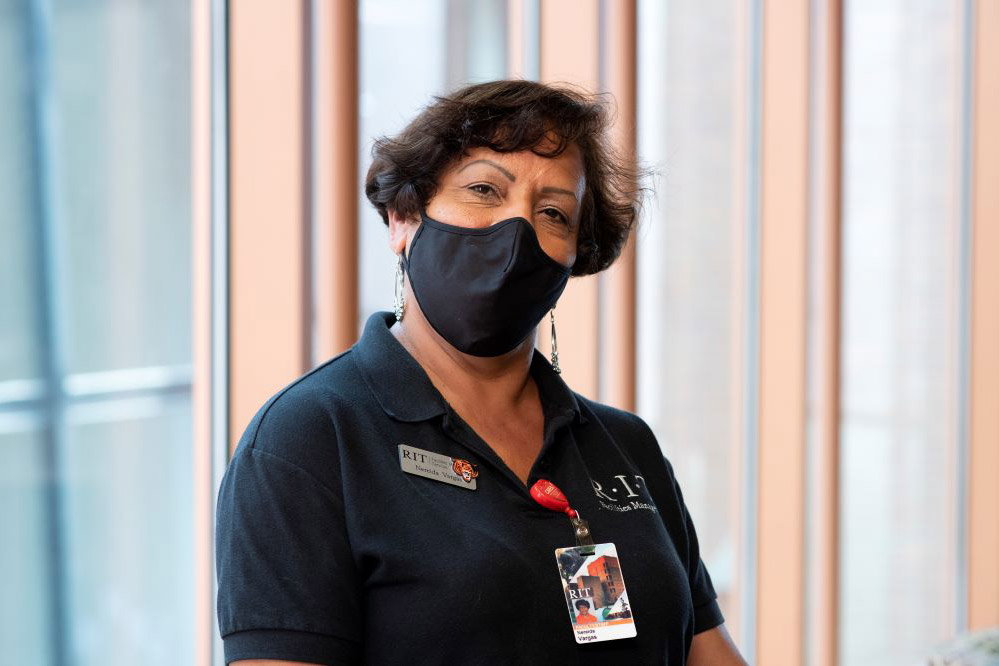 A. Sue Weisler
"I'm not worried about it," said Vargas, who has worked as a custodian and now a custodian supervisor at RIT for nearly 30 years. "As long as you keep safe, keep washing your hands, keep six feet apart, and wear your mask, we're doing all we can."
Vargas, who has four children and 12 grandchildren, said the end of the spring semester was more unnerving when students didn't return from spring break.
"It was very stressful," Vargas said. "I was so used to students being here, but it was like a ghost town. I really missed them. I just wanted them to come back."
John Moore, associate vice president for RIT's Facilities Management Services, says he is impressed with all of his staff and what RIT has been able to do to reopen.
"FMS employees have had a huge role in all of this work to make the campus as safe as we've made it. Without these folks, none of that would have happened," he said.
Typically, RIT employs 118 custodians who clean every building except on-campus apartments in three shifts, 24-hours a day. "Right now, we've added 57 more custodians from a contract firm who are working beside our folks to cover the needs of deep cleaning," Moore said. "In addition to the work we normally do, we're cleaning and disinfecting all of the common areas and the more than 800 bathrooms on campus including in residence halls twice a day, rather than just once."
Those additional contract workers will continue at least through the fall semester, he said.
Moore said special training was given to make sure staff understood how they should utilize special equipment and how to properly disinfect. "We also did a lot of talking and working with our staff making sure they know that we're here to support them and care about them."
Among FMS's biggest task was installing more than 2,000 ionic air purifiers over the summer in all residential areas, apartments, student gathering spaces, the Wallace Center, and 95 percent of teaching spaces. More continue to be installed as they are acquired. The devices increase the number of ions in the air, which attach to pollutants, including viruses, mold, and other organic compounds, rendering them neutral.
"It's a great investment for us and will give us better air quality and eliminate odors and should have some significant health benefits by improving the health of our buildings," Moore said. "But nothing is better to prevent the spread of COVID-19 than people wearing masks and staying apart."
Other measures FMS workers have done to enhance safety include:
Daily cleaning and disinfecting of the approximately 750 teaching spaces on campus.
Installation of about 600 clear plastic barriers in classrooms.
Removal of more than 200 door handles at building entrances. FMS's maintenance shop applied a copper coating with antimicrobial metal, which is less likely to support a virus. They are cleaned and disinfected twice a day.
Installation of some 750 foot petals in restrooms, allowing visitors to open doors without touching them with their hands. Another 26 power operated doors will be installed in restrooms this semester. Nearly 300 automatic flush valves are being installed, and hundreds of sinks are being installed with one-touch, automatic shutoff faucets. Touchless soap dispensers and paper towel dispensers are also being installed in bathrooms campus-wide.
Procurement of enough hand sanitizer to last throughout the semester. One-gallon jugs are in every teaching space, and the 920 hand sanitizing stations across campus, activated either by foot petal or by hand motion, cumulatively hold more than 2,000 gallons. They are placed in building entrances, in hallways, near computer labs, in residence halls, and near elevators.
Moore said he's also grateful RIT was able to acquire the materials needed this summer and fall, at a time when cleaning supplies have been high in demand.
"There has been a supply chain issue, but our partners in procurement have been amazing finding our resources through vendors who can get us materials, masks, cleaning supplies, and plastic for our barriers," he said.
Michael Cavouto, a senior maintenance mechanic, has worked at RIT for nearly 20 years. Normally, his summer is spent working on large projects, preventative maintenance, and getting rooms ready for students to return.
"This summer, we were working constantly with all the tasks related to COVID-19 to maximize safety of our students and employees, along with our regular summer work," he said. "Many classrooms and areas on campus were unattended for more than six months, and we were overwhelmed with incoming work to be prioritized and accomplished to be ready and put this beautiful campus back on line."
Michael Dellefave, an FMS senior project manager, helped coordinate table setups for outdoor seating. He worked with contractors to put up barriers in classrooms, make changes in air conditioning, and conversions of touchless paper towel dispensers, among other tasks.
"Things were coming in at the last minute, right against deadlines," Dellefave said. "But we were constantly communicating, switching up approaches, and executing in less time than we would normally have. It makes you feel good that you can create a safer environment for everybody on campus."
As a senior custodian, Vargas normally supervises nine others. With the added crew this semester to help keep the campus clean, she now oversees 20.
"Even when new people come and say they know how to do it, I'm a training person," Vargas said. "I train you how we do it. I tell them to change gloves in each room they do and wash their hands."
Custodians at RIT often have a fixed route as they clean meeting rooms, classrooms, offices, use floor scrubbers, vacuum, and even shovel snow at building entrances in the winter.
"I'm not a person who could sit at a desk and a computer—it gives me a headache," Vargas said. "I like to be out there knowing people and communicating with them. When you go into the offices, you know people and start talking to them. It's like family. I know everybody here."
Vargas regularly tells staff members they are doing a good job, and she appreciates hearing the same from RIT students, faculty, and staff.
"People thank us for our work. Student Government will make breakfast for my whole staff," Vargas said. "That means a lot."
Moore also thanks his staff as much as he can, and encourages others to let them know they are appreciated.
"Our folks in FMS are just amazing people," he said. "I am extremely blessed to lead this group. They're just that good."