Design, engineering students exhibit at NYCxDESIGN
Industrial and interior design and engineering students taking Brooklyn and Manhattan by storm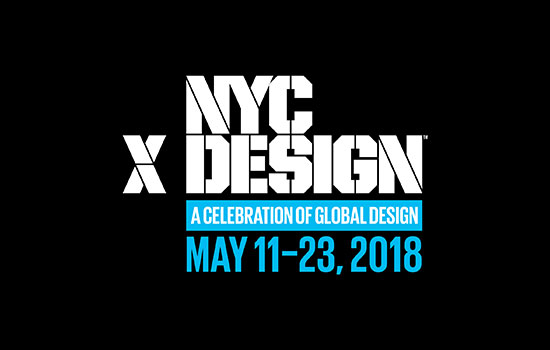 A multidisciplinary array of Rochester Institute of Technology programs is creating a significant presence for the university at NYCxDESIGN—New York City's annual celebration of design that attracts hundreds of thousands of attendees and designers from across the globe.
Nearly 50 RIT students, faculty and staff from RIT's College of Imaging Arts and Sciences (CIAS) and Kate Gleason College of Engineering (KGCOE) are exhibiting a wide variety of projects that will showcase design disciplines at events taking place across the city's five boroughs May 16-23.
RIT is among only a select few universities and design schools to be showcased at Design Week in New York City this year.
"I am in awe and so very proud to witness RIT's largest-ever presence at Design Week in New York City this year," said Robin Cass, interim dean of CIAS. "These spirited students and faculty have taken it upon themselves to position their creative design work in a global venue, where they are attracting significant attention for their inspiring projects and our university."
RIT is showcasing two special project releases and highlighting five other design initiatives at multiple locations throughout Brooklyn and Manhattan during NYCxDESIGN.
The Soft Studio exhibit represents the innovative coursework of Melissa Dawson, assistant professor in the industrial design (ID) program, co-curated by Josh Owen, professor and chair of industrial design. Representing both undergraduate and graduate courses within the ID program, the students' work is connected by a single thread: presenting ideas that move humanity forward. It also highlights fixtures designed by Stan Rickel, associate professor of industrial design, as an extension of his Ants series for the Arc of Monroe County in Rochester, N.Y.
The Hope for Honduras initiative, directed by Mary Golden, assistant professor and chair of RIT's interior design program, highlights the partnership between Herman Miller and the interior design program to outfit a 12,000-square-foot expansion of the neonatal intensive care unit (NICU) at Hospital Escuela, the largest public hospital in Honduras. The exhibition curates work from a multidisciplinary effort, including designers and engineers, aimed at providing an accessible model of medical care for critically ill newborns with the goal of reducing infant mortality.
WantedDesign Interiors, also led by Golden, features a unique living space within the decor of the Terminal Stores Building in Manhattan. The design references Italian Modernism while welcoming visitors into an environment that is both a product showcase and entertainment venue. Envisioned by the interior design program and supported by the Vignelli Center for Design Studies at RIT, the space inspires guests to uniquely experience design products and to engage with brands in a more intimate and lively way.
Metaproject 08, a senior design studio taught by Owen, challenged 17 students to reimagine the dining experience through the lens of industrial design and co-creation. Industry partner and industrial design alumnus Chuck Cerankosky '03 allowed industrial design and interior design students to use Good Luck—his high-end restaurant in Rochester named by Esquire magazine in 2016 as one of the top 18 bars in America—as their laboratory. Students worked with Good Luck employees to break down the dining experience beginning with customers getting out of their cars, coming through the doors, hanging their coats and having drinks, all the way through dessert and coffee.
Table as Landscape employs Turnstone's new Bassline table as a platform for experimentation as 12 first-year graduate students from RIT's industrial design program explore the physical attributes of this mutable table. The showcase is guided by the table's designer Mark McKenna and Owen.
World-renowned designers Owen and the late Wendell Castle collaborated on a philanthropic project titled Support for Knowledge, the sales of which will go toward further growing RIT's industrial design program. The limited-edition bronze bookends created from this extraordinary design pairing will be unveiled at Steelcase WorkLife Center, 4 Columbus Circle, in Manhattan at 6 p.m. Monday, May 21. The project is a partnership with RIT's Shop One2, Borough Furnace and Autodesk.
For Iterations & Connections, RIT's graduate ID program partnered with Makerbot, an American desktop 3D printer manufacturer company headquartered in New York City, and Autodesk to explore 3D printing. The collaboration, led by Rickel and Alex Lobos, associate professor, explores how CAD and 3D printing can be used to quickly fabricate design concepts.
Topics