Designing products that celebrate differences
Three designers from RIT collaborate with ArcWorks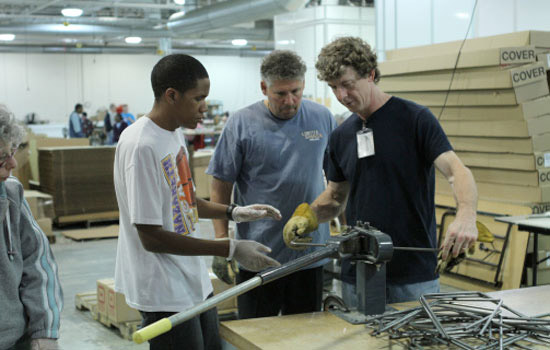 Your next piece of furniture could be an "ant." Nicknamed for their short height and surprising strength, these small, one-of-a-kind tables are the product of a collaboration between Rochester Institute of Technology and Arc of Monroe County.
Designers from RIT's industrial design department are working with DS7, short for Daylite Super 7, a design team from ArcWorks, to create the ant tables using rough materials. These materials include imperfect spalted maple wood from stressed trees for the tops and metal bars for the legs. The edges of wood are left as they were found, with the intention of making each ant stand out due to their imperfections.
An individual with developmental disabilities makes each ant, which bears a tag that tells the story of the product's creation, and the story of the DS7 member who created it. Stan Rickel, associate professor and director of RIT's industrial design graduate program, says that just like the individuals who make them, the ants are each unique.
"It's more than just a product—it's a philosophy," says Rickel. "We've become a disposable society and we want to figure out how to get consumers more invested in what they buy. These products have meaning because you know exactly who made them."
Rickel heads the project, named Design Difference, with the assistance of RIT adjunct professor Sandra Turner and RIT graduate student Kristin McGeorge. The three serve as guest designers, with Rickel helping to guide the project, while allowing the members of DS7 to take on the main responsibilities of creating the ants. Turner works on the Design Difference website, while McGeorge has assisted in the creation of the DS7 logo.
Rickel says that sustainability is a critical element of the project. The ants are made from sustainable materials and are not produced on an assembly line, making each one unique. The intent is to form an emotional attachment to the product in the mind of the consumer, thereby reducing the chance that they are thrown away and replaced. Design Difference strives to promote a change in the behavior of consumers.
The ants are not targeted toward a mass market, but rather people who are interested in a unique, elegantly designed product. Rickel describes the process as "somewhere between art and mass production."
The project has local roots. Suppliers of the materials used to make the ants include Pittsford Lumber and Woodshop, Klein Steel and Smidgens Laser Cutting. Soon, however, the ants will be marching across the world. They will be on display and for sale in showrooms in India, Europe and New York City.
"It has been fascinating to watch the project evolve, develop and grow," says Turner. "I think ArcWorks can make a strong statement in the design world."
The long-term goal of Design Difference is to enable ArcWorks to become a viable business that will invite other designers to collaborate with DS7 on new products. There are plans to open an online store soon where the ants, and future products, will be available for purchase. In the meantime, Rickel says that he has ideas for some larger pieces in the ant line that may include full-size tables and desks, with tentative names like "big ants" and "really big ants."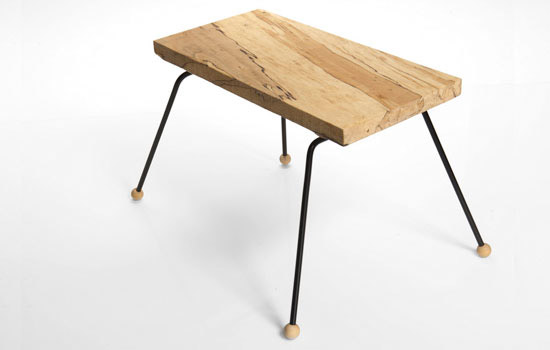 Topics