Difference Makers at RIT: Alumna Celeste Brown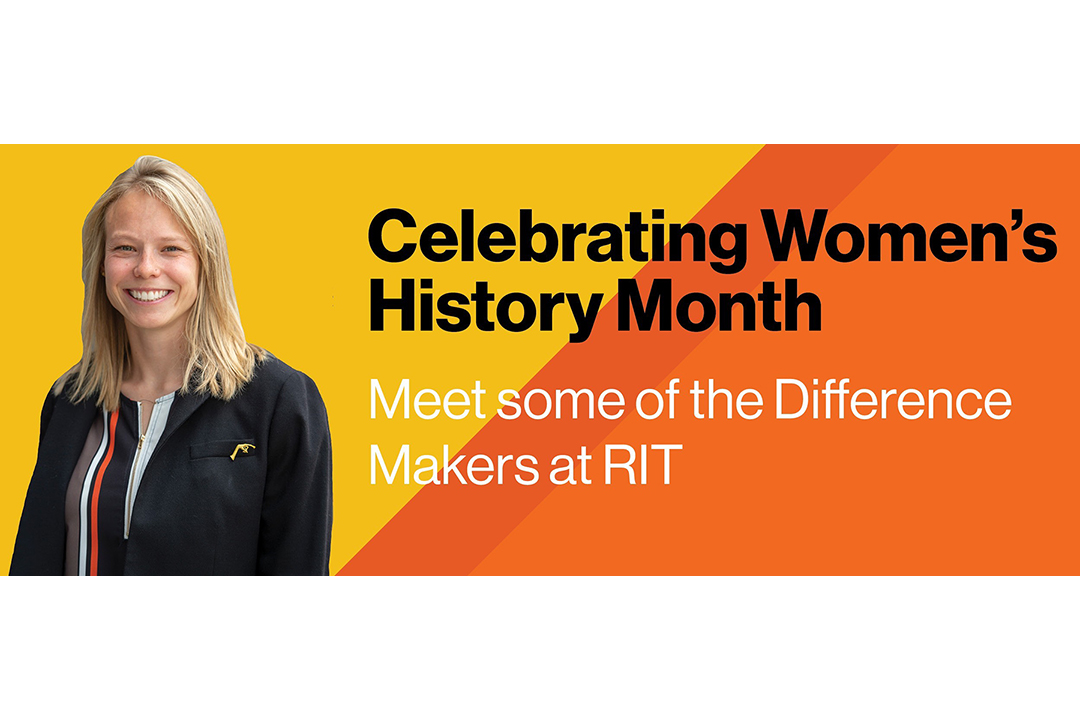 Celeste Brown is an alumna of the Sociology and Anthropology program, completing her senior research project on whether the gender of the coach makes a difference for student athletes in terms of their athletic and emotional development. As a standout hockey player at RIT during her time as a student, she knows first-hand how valuable a great coach really is in a player's development. She was profiled by the Division of Diversity and Inclusion as part of the "Difference Makers at RIT" series for her work as the Head Coach for the Division I Women's Ice Hockey program.
How long have you been at RIT?
This is my first year at RIT. However, I am an alumna and am fortunate to have spent four fantastic years at the university prior to returning this year. 
What do you enjoy most about your job?
What I love most about my job is partnering with fierce, intelligent, strong female student-athletes. They are impacting our world around us and every day they choose to be the best version of themselves. I am fortunate to be with them on a daily basis. 
This is Women's History Month. Who had a big influence on your life and why? 
My whole family is part of my soul and has impacted how I live my daily life. Keeping in mind Women's History Month I think it is important to acknowledge my mom, Carol who raised her three daughters to dream big and follow those dreams. This woman is the definition of strong! I am also so lucky to have two older sisters, Reanna and Nellie, who are rock stars in this world and make it easy to follow in their footsteps because of their individual impact of making the world a better place! #girlsrule
 p.s. love you too dad #girldad :)
Please provide a brief history of your journey. You were a student at RIT, played ice hockey here and made history as well!
RIT holds a very special place in my heart! This university is unbelievable and I truly believe, due to experience, that you can become the best version of yourself while here. I was a member of the RIT women's ice hockey team for four seasons. My first season my team won the Division III national championship. Following that season, our program transitioned to the Division I level. My junior and senior year we were College Hockey America back to back champions. Ending my college career, we played in the NCAA quarterfinal game becoming one of the final eight teams in the country! What a ride with great teammates. 
I was a sociology and anthropology major and minored in women and gender studies while at RIT. I was impacted by incredible professors. The lessons I learned from them I carry with me in my daily life. 
After college I proceeded with my athletic career and played professionally for in the NWHL for two years. This was the first paid profession women's hockey league. Coupled with my second year of playing I started my coaching career working for an incredible female head coach at Connecticut College. I then spent the previous three seasons at Penn State University, again working with incredible humans. 
Were there obstacles you had to overcome as an athlete?
There are always obstacles student-athletes have to overcome. In reflection, a combination of all these obstacles propelled me beyond what I would have ever expected for myself. I hope my student-athletes leave our university and program pushed beyond the limits they once set for themselves with an understanding they can do anything they set their mind to!!
As a coach, you often give advice. What is the best advice you've received and from whom? 
I've been fortunate enough to have unbelievable humans in my life. They have all provided important mentorship in major moments of my life. It would be unfair for me to pinpoint one piece of advice and from who due to this combination of advice continually shaping me. For fun, I will include a piece of advice I received from my sisters… 
"YOU CAN DO ANYTHING FOR A MINUTE!"