Distinguished Alumni for 2010 honored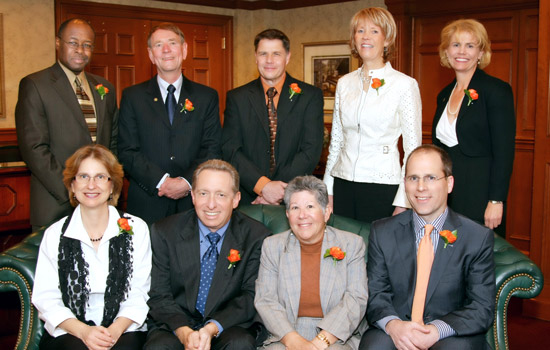 Ken Huth
Nine remarkable individuals were honored at a celebration April 9 for their personal and professional accomplishments and for their dedication to RIT.
The Distinguished Alumni honorees for 2010 are: Sharon L. Applegate '79, National Technical Institute for the Deaf; Croswell Phillip Chambers '88, B. Thomas Golisano College of Computing and Information Sciences; Holly M. Hillberg '92, Kate Gleason College of Engineering; Irene S. Jacobs '78, College of Liberal Arts; Jay Levine '76 and Stephanie Maltz Levine '75, E. Philip Saunders College of Business; Michael A. Murphy '84, College of Applied Science and Technology; Philip J. Reiner '78, '80, College of Science; and Stephen R. Whittaker '68, College of Imaging Arts and Sciences.
Sharon Applegate is a professional with more than 25 years of experience in nonprofit agencies serving deaf, deaf-blind and hard-of-hearing people. Since 2003, she has been executive director of DEAF Inc. (Developmental Evaluation and Adjustment Facilities Inc.), based in Boston. Before that, she was assistant executive director of the New York Society for the Deaf and managed numerous city-wide behavioral, social and rehabilitative services.
In addition to an associates degree in medical laboratory technology from RIT, Applegate holds a bachelor's degree in sociology from Columbia University and master's degrees from Columbia University in social work and public health.
Croswell Chambers began his career with IBM in 1988 and has been with Lexmark since the company's inception in 1991. He has served as director of client management services for Lexmark International's Printing Solutions and Services Division in North America. since 2008. Previously, he served as chief information officer for Lexmark, managing the company's worldwide IT strategy and operations.
Chambers shares his expertise on IT issues, contributing to numerous publications such as CIO Today, Internet World, TechRepublic and ISACA (Information Systems Audit and Control Association), and he serves on the board of Hospice of the Bluegrass.
In addition to his bachelor's degree in computer science from RIT, he has a master's degree in business administration from Xavier University.
Holly Hillberg, who is chief technology officer and vice president, Carestream Health Inc., leads a global team of research and development professionals in the creation and commercialization of digital solutions for healthcare institutions worldwide. Prior to joining Carestream in 2007, she was with Eastman Kodak Company for 20 years in a variety of technical and business leadership positions.
In 2009, Hillberg was honored with the prestigious Rochester Athena Award in recognition of her professional achievements, leadership excellence and community service. In 2005, she received the Kodak Jane Lanphear Legacy Award, an award recognizing women who exemplify high values, provide exceptional mentoring to many women, and who demonstrate balance among career, personal, and community responsibilities.
Hillberg, who holds a master's degree in electrical engineering from RIT, is active in the university's Women in Engineering WE@RIT program. In addition, she volunteers with junior and senior high school youth programs, including coordination of an annual housing renovation program and leading domestic and international youth mission trips.
Irene Jacobs, who received a B.S. in social work from RIT, has served as a consultant for government, philanthropy and non-profit organizations since March 2009. Her clients include the W.K. Kellogg Foundation, University of Arizona and First Things First, Arizona's early childhood development and health organization. From 2006 to 2009, she served on Arizona Governor Janet Napolitano's executive team as senior policy adviser and director of the Office of Children, Youth & Families. Previous to that appointment, Jacobs served as director of the State School Readiness Board for three years. The board's work laid a foundation for First Things First.
She serves on the Board of Directors of Educare of Arizona, United Healthcare Children's Foundation, and the Clothes Helping Kids Foundation. Prior to her transition to consulting, she served on the Boards of the Arizona Early Education Funds, Arizona Grantmaker's Forum, Interagency Council on Homelessness and Arizona Substance Abuse Partnership.
Jay and Stephanie Maltz Levine are deeply committed to RIT. In 2003, they established the Jay J. and Stephanie M. Levine Endowed Scholarship in Accounting for women students of the E. Philip Saunders College of Business. Stephanie Levine started her career in accounting upon her graduation from RIT in 1975 at Voplex Corp. in Rochester. After moving to Long Island, she joined Paramount Pictures's contract accounting department. When the family relocated to Washington, D.C., she worked as chief financial officer of Kostmayer Communications Inc., a public relations firm.
She retired when she moved to Florida, but continues to apply her accounting skills as treasurer of her Hadassah chapter and several other not-for-profit organizations. She also serves as a delegate to the South Palm Women's Golf League and is chairperson of the Golf/Greens Committee at Aberdeen Golf & Country Club in Boynton Beach, Fla., where last fall she and her husband both shot their career rounds—88 and 82 respectively—on the same day.
Jay Levine is a partner in Ernst & Young's National Tax office and is the Americas Markets leader of business tax compliance. He has more than 33 years experience as a CPA and tax professional, including more than 26 years as a tax technology and process professional. He has designed and developed many software products and led in the integration of technology into the delivery of tax services. He has authored numerous articles for both tax and technology publications and is a frequent speaker on outsourcing, process improvement and tax related technology subjects.
Michael Murphy is senior vice president, global sales for Choice Hotels International. He leads the company's global sales and intermediary marketing efforts in collaboration with the Choice Central Reservations Systems team, corporate groups and domestic and international brand teams. Prior to joining Choice in 2009, Murphy served as senior vice president of sales for Marriott International Inc.
Murphy, who has a B.S. in hotel and resort management, is a member of RIT's International Hospitality Advisory Board, a trustee of the Professional Convention Management Association, and has held other industry leadership positions, including past president of the Insurance Conference Planners Association Hospitality Partners Committee.
As a student, Murphy assisted the sales and marketing leadership of the Stouffer Rochester Plaza Hotel with a city-wide sales blitz to announce the hotel's opening and generate business leads.
He is married to another RIT grad, Lisa McCartney Murphy '83 (graphic design).
Philip Reiner is chief scientist for the Advanced Engineering Technology Division for Stanley Associates Inc. in Huntsville, Ala. In addition to his B.S. in physics from RIT, he holds a Ph. D. in physics from the University of Rochester. His research interests include nano-technologies, micro-electro mechanical systems (MEMS) development, liquid crystal polymers, and thin and thick film technologies development.
Reiner is currently developing advanced MEMS-based components and systems for commercial and defense applications. He also develops advanced research programs for multiple U.S. agencies. H served as a captain in the U.S. Army Ordnance Corp. and was awarded the Meritorious Service Medal in 1989.
Stephen Whittaker credits his degree in printing management with saving his life. After graduating from RIT in 1968, Whittaker married his wife, Ann, and by fall he was drafted into the U.S. Army and sent to South Vietnam. A chance meeting with an outgoing soldier who needed a replacement pressman secured Stephen a job in a classified printing plant in a combat zone. Sadly, the thirteen other servicemen who arrived the same day were sent to the field and did not return home.
After a 14-month tour, Whittaker returned home and was awarded the Bronze Star, Army Commendation Medal and seven other military decorations. More recently, he was presented with the John Peter Zenger Medal for military bravery by the Printing Industry Alliance of N.Y., N.J. and Pa.
Whittaker has worked at Monroe Litho Inc. in Rochester for the past 26 years and is currently vice president of Quality Management and Sustainability Initiatives. A senior member of the American Society for Quality, he manages and organizes third-party external audits for quality and sustainability systems within Monroe Litho, and he is also responsible for the management of the firm's FSC and SFI Certifications. In 2008, Monroe Litho became the fifth commercial printer in the U.S. to earn the Sustainable Green Printing Partnership Certification and the company was recognized as one of the 16 safest companies in the United States by EHS Magazine.
Whittaker is an adjunct professor in RIT's School of Print Media, College of Imaging Arts and Sciences and is also a member of the Rochester Area Business Ethics Foundation. A 33o Scottish Rite Freemason, he serves on the Board of Governors of the Frank and Bette Paul 32o Masonic Learning Center for Children, a non-fee organization that teaches children with dyslexia to read.
For more information about this year's honorees, to see the roster of past Distinguished Alumni, and to learn about other alumni recognition programs, visit the RIT Alumni Association Web site.