September 19, 2022
by Luke Auburn
Distinguished Rochester attorney T. Andrew Brown to serve as RIT's new Minett Professor
Brown becomes 31st person to serve in the prestigious position for Rochester-area multicultural professionals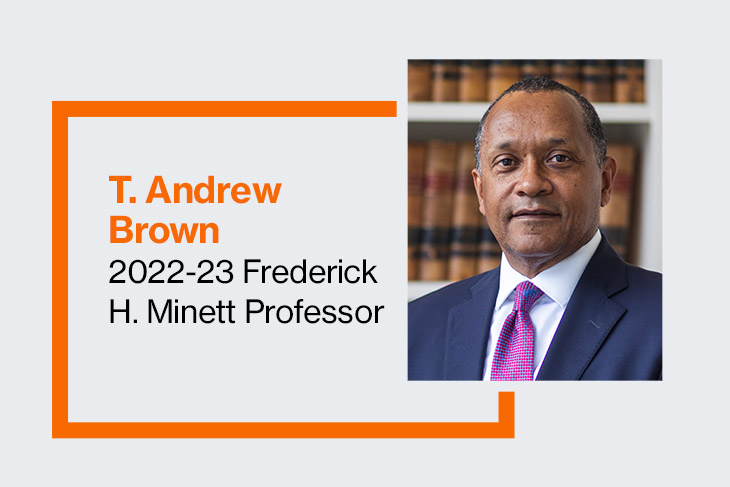 A distinguished attorney with a nearly 40-year career, including time as general counsel of the National Bar Association, will serve as Rochester Institute of Technology's Frederick H. Minett Professor for the 2022-2023 academic year. T. Andrew Brown, the founder and managing partner of Brown Hutchinson LLP, will serve in the prestigious position for the 2022-2023 academic year.
The Minett Professorship brings notable Rochester-area multicultural professionals to RIT to share their professional knowledge and experience with RIT's students, faculty, and staff for one academic year. The Minett Professors Emeritus select a new Minett Professor each year, and the position is appointed by RIT President David Munson and Keith Jenkins, RIT's vice president and associate provost for Diversity and Inclusion. 
"We are pleased to welcome an attorney of T. Andrew Brown's stature to the RIT community and are excited to have him serve in this important role," said Jenkins. "He brings a wealth of knowledge developed over many years in law, business, and education. He will be an enormous asset to our students, faculty, and staff as we work to accomplish the goals laid out in RIT's Action Plan for Race and Ethnicity."
Brown is the immediate past president of the New York State Bar Association, a 70,000-member organization. Brown formerly practiced as an associate with Nixon, Hargrave, Devans and Doyle (now Nixon Peabody) in the New York City and Rochester offices. He also formerly served as Rochester's Corporation Counsel and Chief Legal Officer. Brown's commercial and civil litigation practice expands almost four decades. He is also a mediator and an arbitrator on the commercial, employment, and complex case panels of the American Arbitration Association.
Brown has received many awards for his business and civic achievements and is rated at the highest level for attorneys, AV-Preeminent, for both legal ability and ethics by Martindale-Hubbell. Brown is also a past president of the Monroe County Bar Association and the Rochester Black Bar Association. He recently completed nine years on the New York State Board of Regents, the last five as vice-chancellor, setting statewide education policy and presiding over the University of the State of New York and the New York State Education Department. He has served on many other local, state, and national boards and commissions.
Brown has held adjunct faculty positions with the State University of New York teaching American government and political science. He has lectured on many legal topics over the years and has been a strong advocate for legal reform and against legal inequities and racial injustice. He said that while serving as Minett Professor, he hopes to help show students how law, social and racial justice, and public policy can help shape a brighter, more diverse, and more equitable future.
"I hope to bring my real-world experiences over almost four decades to the campus to provide a meaningful impact to students and the campus community," said Brown. "At the end of my term, I hope that I can look back with belief that I've added real value to the campus that will transfer and stay with students long after they've graduated and moved on across the state, the country and the world."
Brown succeeds 2021-2022 Minett Professor Perry Ground. Others who have served in the position include many of Rochester's most prominent business, academic, medical, and law enforcement professionals.
The professorship is named after one of RIT's early benefactors, Frederick Minett, who started a tool and die company on Water Street in downtown Rochester in the early 1920s. He was familiar with RIT, formerly called the Mechanics Institute, and employed some students. Minett died in 1971, leaving a more than $5 million endowment to RIT. Originally divided between RIT's College of Continuing Education and the general endowment, the bequest was intended to support Minett's and RIT's vision of career education.
Topics