RIT appoints Onondaga Nation storyteller Perry Ground 2021-2022 Minett Professor
Ground becomes the latest person to hold the prestigious position in its 30th year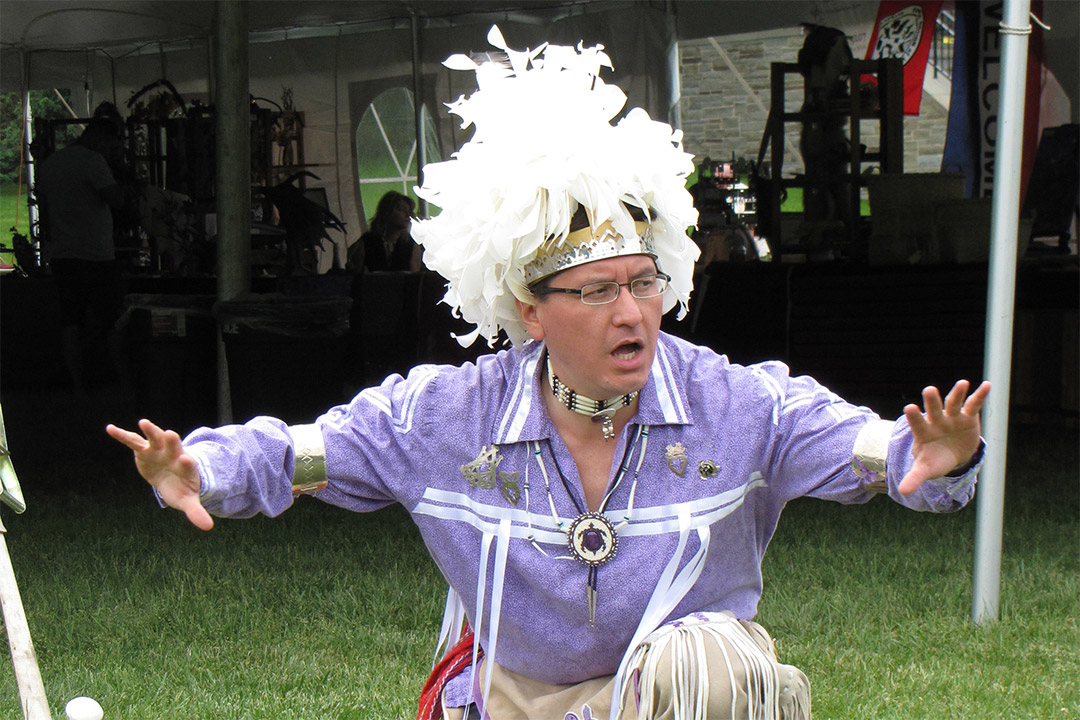 Rochester Institute of Technology has appointed an educator and storyteller from the Turtle Clan of the Onondaga Nation as the newest Frederick H. Minett Professor. Perry Ground became the latest person to serve in the prestigious position 30 years after the yearly appointment began under former RIT President Albert J. Simone.
The Minett Professorship brings distinguished Rochester-area multicultural professionals to RIT to share their professional knowledge and experience with RIT's students, faculty, and staff for one academic year. The Minett Professors Emeritus select a new Minett Professor each year and the position is appointed by RIT President David Munson and Keith Jenkins, RIT's vice president and associate provost for Diversity and Inclusion. Ground becomes the second Native American individual to hold the title of Minett Professor, following G. Peter Jemison from 2007-2008.
"The RIT community extends a warm welcome to Perry Ground as he joins us in this important role," said Jenkins. "Our community must remember the RIT campus was built on the traditional territory of the Onöndowa'ga, one of the six nations that make up the sovereign Haudenosaunee Confederacy. His deep expertise in the Haudenosaunee people and culture will help RIT build richer relationships with the Native community and we look forward to his contributions as Minett Professor."
Ground uses traditional storytelling to promote understanding and appreciation of the history, culture, and beliefs of the Haudenosaunee. His presentations and publications have been featured by the National Museum of the American Indian, Brooklyn Museum of Art, Iroquois Indian Museum, and at museums, parks, schools, universities, and festivals throughout the country.
This fall, Ground will work on several special projects with classes and offer public lectures about topics related to Native American history and culture. In the spring, he hopes to teach two classes. One class would be centered on the Native people of New York taught through the Haudenosaunee worldview, and a second would focus on Native American storytelling, pulling perspectives from different tribes from across the country.
Ground's engagement with the RIT community dates back several years. He has previously spoken at RIT as a guest lecturer, provided programming for the university's Native American Heritage Month programming, and once served as an advisor for the Native American Future Steward's Program. His daughter, Kayleigh Ground, is a new media design student at RIT and member of RIT's lacrosse team. He said he is excited to deepen his relationship with the university.
"To be named Minett Professor for this year is an incredible honor," said Ground. "It's wonderful that RIT is bringing in various cultures from around the greater Rochester area to campus to try to connect the campus community with the local cultural communities. Knowing that this is the homeland of the Haudenosaunee, it is to me definitely a step in the right direction and hopefully one of many more steps to connect RIT with the Native American community."
Ground succeeds 2020-2021 Minett Professor Orlando Ortiz '04 (manufacturing engineering technology), '08 (MBA). Others who have served in the position include many of Rochester's most prominent business, academic, medical, and law enforcement professionals.
The professorship is named after one of RIT's early benefactors, Frederick Minett, who started a tool and die company on Water Street in downtown Rochester in the early 1920s. He was familiar with RIT, formerly called the Mechanics Institute, and employed some students. Minett died in 1971, leaving more than $5 million endowment to RIT. Originally divided between RIT's College of Continuing Education and the general endowment, the bequest was intended to support Minett's and RIT's vision of career education.
Topics