Douglass monuments bring history to life
Olivia Kim's stunning sculptures mark living legacy of reformer and freedom-seeker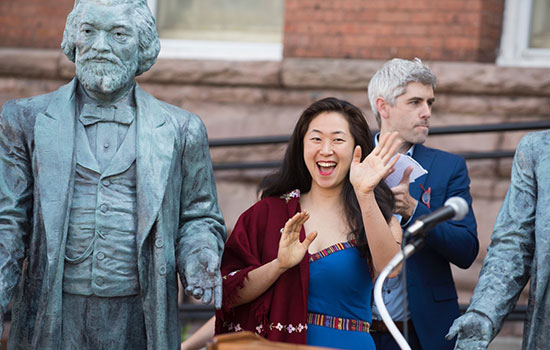 An adjunct professor in RIT's School of Art has created three magnificent monuments, with more to come, to honor Frederick Douglass' living legacy as a man and freedom-seeker and his 25 years in Rochester, N.Y., that resulted in some of his most influential life's work.
Olivia Kim is shaping and molding 13 sculptures to help mark 200 years after the birth of Douglass. Her first three sculptures were unveiled in downtown Rochester July 19 at the Hochstein School of Music and Dance—site of Douglass' funeral.
"I have to say that being part of this project has really forced me to search deep inside my heart," said Kim, who teaches in RIT's College of Art and Design, formerly the College of Imaging Arts and Sciences. "To look at and ruminate over Frederick Douglass' words and what he must have gone through really made me think. I wanted to create something truly worthy of this amazing man."
Kim's sculptures will make up a self-guided tour to sites around Rochester and form the resounding centerpiece of the yearlong "Re-energizing the Legacy of Frederick Douglass" commemoration and reflection happening across the Rochester area.
Her sculptures were influenced by the Stanley W. Edwards statue of Douglass that currently stands in Rochester's Highland Park—the first monument in the nation erected to an African American citizen. Each of the fiberglass monuments, molded from an original Kim sculpture, stands over six feet tall and weighs around 40 pounds.
In a significant departure from the original Edwards monument, however, Kim's sculpture integrates the hands of Kenneth B. Morris Jr., the great-great-great grandson of Douglass. Morris is co-founder and president of the Frederick Douglass Family Initiatives and also the great-great grandson of Booker T. Washington, an American educator, author, orator and adviser to U.S. presidents in the late 1800s and early 1900s.
While Kim meticulously took more than 80 measurements of the original Edwards statue, she made some minor modifications to "soften" Douglass. "Like the opening of the hand … beseeching the person to listen and to understand," she observed. "I wanted him to be a little bit more inviting."
A QR code at the foot of each monument will explain its location, making the walking tour interactive.
"We are absolutely overwhelmed with Olivia Kim's work, and we cannot praise her enough," said Carvin Eison, project director and general manager of RCTV Community Media Center. "She has done so much more than replicate an existing—and truly magnificent—piece of art. She has captured the spirit and the force of the man himself."
For Kim, the creative journey behind the Douglass sculptures began in March. "The process of creating this project, as an artist, begins alone," she said. "Yet after much research and development, there is the execution. This project's execution was way beyond what my hands alone could do."
She used social media under the guise of a "secret sculpture project" in reaching out for volunteers. Among over 50 volunteers who answered Kim's call were a rising, second-year medical illustration student who had just taken Kim's Figure Sculpture class and another RIT adjunct professor already intimately familiar with her work.
 Princess Tumushabe, 19, called working with Kim "mind blowing" and said the experience to help create the monuments has been life-changing for her.
"It was a shock for me at first because I never worked with clay or in three dimensions," said the Ugandan native whose family now lives Washington, D.C. "Olivia has really become a mentor to me."
During her numerous trips to Kim's studio in the basement of the Hungerford Building downtown, Tumushabe said it was easy to lose track of time during marathon sessions. Kim built her prototype using metal piping, foam and wire and clay. She asked a local clothing designer to make her a fabric version of the long coat Douglass is wearing in the sculpture and she molded the clay around it.
She then built a 26-piece mold and creates the statues by layering epoxy and fiberglass. Rather than spray painting the sculptures, the color is part of the statue material.
Kim's meticulous attention to detail has made a lasting impression on Tumushabe. "I've learned how the smallest things can make the biggest difference," she said.
Bill Wynkoop already was familiar with Kim's sculpting talent when he answered her email call for volunteers. The adjunct professor in RIT's packaging science program asked Kim a few years ago to create a sculpture of his wife, Beth, as she embarked on an amateur bodybuilding career.
"To be able to work side-by-side with her was a once-in-a-lifetime opportunity," said Wynkoop '87 alumnus (packaging science). "I knew that Olivia would deliver a formidable collection of work."
The community art project continues as Kim works intensely over the upcoming weeks to deliver the remaining sculptures.
"Essentially this project is not only about the rich history of Rochester, but it's really about the world," she said. "This is a contemporary statement on how Frederick Douglass' legacy is still living and still pushing forward to the present day."
Go to www.DouglassTour.com for more information, including a self-guided walking/driving tour map, biographical information and other resources.
Photo gallery available: https://people.rit.edu/aswcmp/Frederick_Douglass_Sculptures/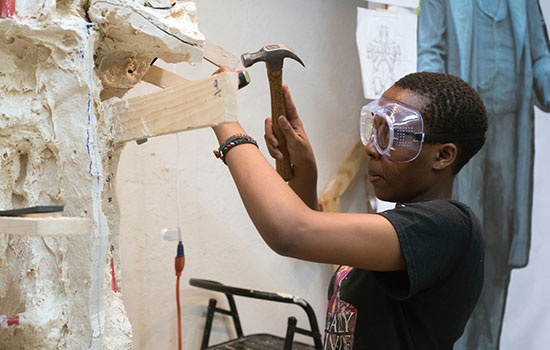 A. Sue Weisler
Video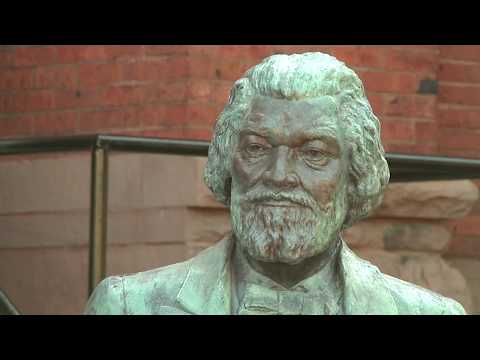 Topics