Driving Startups and Innovation at Saunders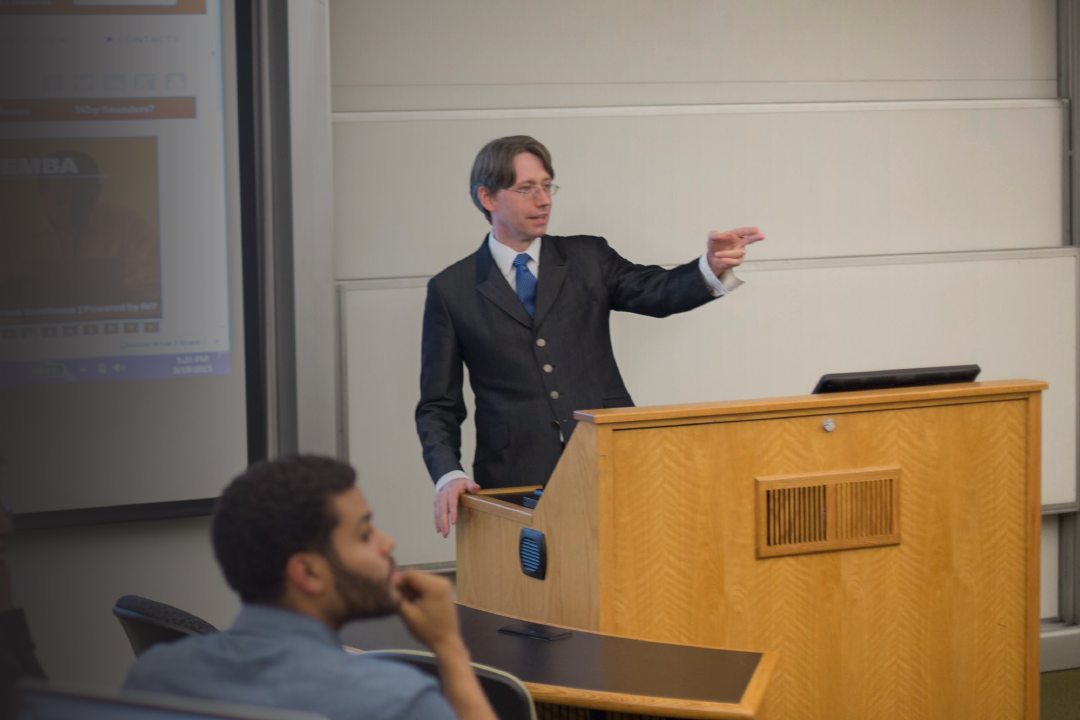 New products and services, developed on a foundation of rapidly advancing technology and innovative creators, undergo perpetual development. The master of science technology innovation management and entrepreneurship (TIME) program at Saunders College of Business is for innovators and entrepreneurs looking to use modern technology for product development and marketing strategies.
Saunders MS-TIME has two program tracks: technology management and technology entrepreneurship. In the technology management track, students focus on product development and data analytics, targeting management and strategy needs. Technology and entrepreneurship entail starting and managing new ventures using market analytics and research to build business strategies. Both program tracks incorporate a unique blend of business and technology found only at Saunders.
The program in Rochester works alongside RIT Beijing, where students can collaborate overseas and build their international network. Saunders offers global experiences through four RIT Global Campuses, additional global student exchange partnerships, over 100 study abroad locations on every continent, and a culturally and nationally diverse Rochester campus with 1,594 students from 86 countries. International students in this program are eligible to apply for a 24-month work extension to their OPT (Optional Practical Training) period, making them eligible for up to three years of work in the United States. 
Students have access to world-renowned business, science, technology, engineering, and design resources at RIT. State-of-the-art facilities such as the Simone Center for student innovation, the Center for Urban Entrepreneurship, Venture Creations Incubator, and The Construct @ RIT allow students to pursue their passions with an entrepreneurial spirit.  Through these resources, students can build prototypes, develop their business plans, and pitch their ideas to venture capitalists to earn startup money. In addition, events such as Tiger Tank encourage student innovation, introduce students to a competitive business environment, and give them a chance to start their own business before graduation.
Saunders has access to one of the oldest and largest cooperative education programs in the country, providing students with the opportunity to gain hands-on, paid experience while still in school. A network of successful alumni, dedicated professors, and hard-working student peers gives Saunders students the connections they need to make their way in the industry. 
"With the top-rated incubating and entrepreneurial culture at RIT, our MS-TIME degree especially focuses on connecting students with the resources in business, science, technology, engineering and design disciplines found only at RIT. We aim to teach students to create values for their startups or entrepreneurial corporations through real-life business exposure and leveraging sources via our integrated global network, guided by faculty and industry mentors possessing successful entrepreneurship experiences."
Program Director and Professor
Saunders College of Business at Rochester Institute of Technology
With a 94% career outcome rate, Saunders is dedicated to helping its graduate students find employment. This is true even after graduation! Your Team is a group of advisors that can help you from the application process through graduation, with insight on scholarships, curriculum, and career placement. Students in the TIME  program are eligible to receive up to a 50% scholarship and industry mentorship through the Saunders Leadership Fellows Program.
The Princeton Review mentions Saunders in its "Best Business Schools" and "Best Business Schools (Northeast)" lists. With the dynamic network of more than 25,000 Saunders College alumni and 130,000 RIT alumni, students make a global impact! Check out financial aid and scholarship options today to help prepare for future promotions. Apply to Saunders today!