Dyer Arts Center displays dual exhibit
Glass pieces and paintings show creativity of artists Michael Taylor and Gary Morse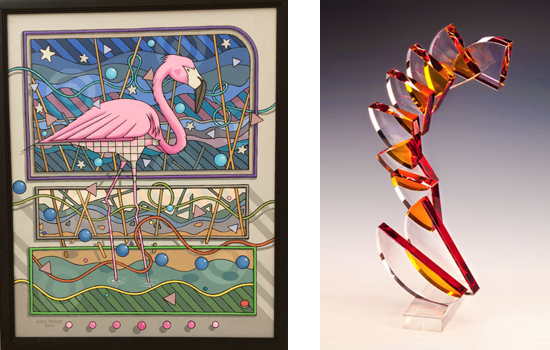 The Joseph F. and Helen C. Dyer Arts Center at Rochester Institute of Technology's National Technical Institute for the Deaf hosts a dual exhibit running through Aug. 28 in Lyndon Baines Johnson Hall.
"Implied Science," featuring the work of glass artist Michael Taylor, focuses on the parts, processes and functions of "future science," Taylor's artistic theme since the 1970s. Taylor—who led RIT's glass program in the College of Imaging Arts and Sciences for 19 years until his retirement in 2000—is best known for his geometric glass sculptures.
According to Taylor, he is "fascinated with the mechanical complexity and visual abstractions of scientific apparatus that are within my grasp to simulate. Personal and visual expressions have been an open door to the fascinating world of theoretical implications of the most perplexing questions. Although Plato and Pythagoras, among many others, provided sound argument to these questions, theoretical physics and ontology are providing proof for these ideologies. My work continues to observe and make commentary about this sphere and its implications for our world."
Taylor's work is included in the public collections of Carnegie Hall in New York City; Chrysler Museum of Art in Virginia; Corning Museum of Glass, Corning, N.Y.; High Museum of Art, Atlanta; and the National Collection of American Art, Renwick Gallery, Smithsonian Institution, Washington, D.C. Taylor's work can be found in the corporate collections of Bausch & Lomb in Rochester, N.Y., Coca-Cola in Atlanta, and Standard Oil in Chicago, among others.
Painter Gary Morse creates acrylic paintings of the surreal.
According to Tabitha Jacques, director of NTID's Dyer Arts Center, who has observed Morse's work, nothing seems quite real about the characters and settings found on the paintings, yet a story unfolds. "I do a quick sketch of a figure and place it on the canvas," Morse explained. "I paint the figure and let it tell its own story. I try to remove any literal aspects and create a background using color set in motion, I hope."
Morse also said that his inspiration comes from remembering how he viewed the world as a child—he used a paint-by-number technique and coloring book method until he formally enrolled in art classes at SUNY Brockport. Today, Morse has 40 years of painting experience, and says that "art dictates life, rather than imitates life."
For more information about the exhibitions, go to the Dyer Arts Center website. Summer gallery hours are 10 a.m. to 3 p.m., Monday through Friday.