Ebony Miller named CUE interim director
Miller was formerly center's program director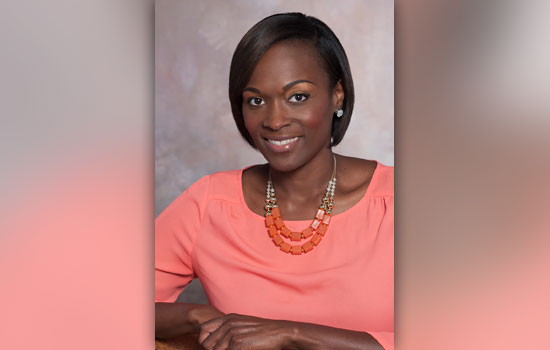 A. Sue Weisler
Ebony Miller has been named interim director of Rochester Institute of Technology's Center for Urban Entrepreneurship. CUE, located on the first floor of the RIT Downtown Center in the former historic Rochester Savings Bank building at 40 Franklin St., provides business and consulting services to urban entrepreneurs or anyone who has an existing business or is hoping to launch a new business within the urban area.
In her new role, Miller, formerly CUE program manager, will lead the center's efforts to raise funds to provide critical assistance to underserved businesses in high growth sectors, and foster outreach and collaboration with the Rochester City School District and entrepreneurship education for dislocated workers. She will also maintain partnerships with entrepreneurship and training efforts currently found within RIT's Simone Center for Student Innovation and Entrepreneurship, Venture Creations business incubator, as well as other community, government and economic development organizations.
Miller came to RIT in 2011 as a senior staff specialist for the Kate Gleason College of Engineering. In 2013, she became program manager for CUE where she was responsible for researching, developing and delivering mission related programming; delivering program assessments and evaluation; recruiting, selecting and evaluating training consultants; and mentoring program participants.
"I am both excited and humbled as I embark upon this new role of leading the center in its mission to build wealth within the urban community by serving as a hub for entrepreneurial programs and research," said Miller. "I look forward to continuing to cultivate our urban entrepreneurial ecosystem through our service and program offerings and collaborating with our partnering organizations."
Miller is a member of the Monroe YMCA Board of Managers and was a former vice chair of the Urban Suburban Alumni Association. She is also a mentor for RIT's "I Am First" program, a member of the Class of 2015 of Leadership Rochester, and a member of the 2013 class of the African American Leadership Development Program.
Miller earned a bachelor's degree in communication and a master's degree in informatics from University at Buffalo.
"I truly believe that we are on the cusp of an economic renaissance in Rochester," said Ryne Raffaelle, RIT's vice president for research and associate provost. "I, along with our many partners in economic development in the city, see the CUE as playing a pivotal role in the advancement of the Downtown Innovation Zone. I am confident that with the leadership offered by Ebony we can fulfill our role in supporting new era of urban entrepreneurship in Rochester."
About RIT's Center for Urban Entrepreneurship: CUE has been serving the Rochester community since 2012. Today, the center, located at 40 Franklin St., occupies 5,000-square-feet complete with offices, four rooms for client meetings, a large shared workspace, a 70-person room for classes or functions, and wireless technology throughout the space. The 47,000-square-foot building was donated to RIT by Rochester Historic Ventures, and has been undergoing renovations since 2013. RIT secured funding from the federal and state governments and other sources to leverage the university's investment in repurposing the building.
Topics