Economics grad aiming for a Ph.D.
Transfer student 'fell in love' with RIT and is pursuing a doctorate in hopes of teaching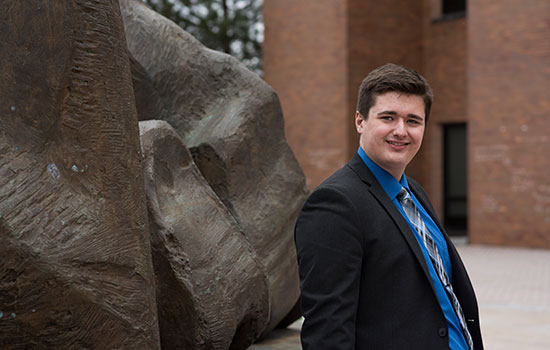 A. Sue Weisler
University Communications is highlighting a few members of the Class of 2018. See more commencement news at rit.edu/news/commencement.
When Zachary Grzelka transferred to Rochester Institute of Technology in his second year as an economics major, he didn't expect it would be a move that would become a stepping stone to shape his career as a college professor.
"I had visited a few times because I had friends here, and I immediately fell in love with the atmosphere at RIT," said Grzelka, from the Syracuse suburb of Baldswinsville. "I attended an economics conference and made some connections with RIT faculty there. And through those connections, decided I'd like to teach economics at the college level. So that transfer has worked out very well for me."
After graduation in May, he'll be heading back home where he's been accepted into the economics Ph.D. program at Syracuse University, which has promised him five years of support via a combination of fellowships, research and teaching assistantships.
Grzelka said economics has always appealed to him. "It's amazing how broad a field it can be," he said. "It has a good mix of qualitative and quantitative methods and approaches. And it has considerations of the humanities with mathematical modeling and analysis."
For example, he's studied environmental concerns and social welfare and interactions between firms and consumers.
And for his capstone project, he co-authored an economic analysis of managing debris in the lower Earth orbit of space.
"Once a collision occurs, it can create thousands of large pieces of debris," Grzelka said. "How can we encourage firms to either prevent future collisions or otherwise mitigate debris in orbit?"
Last fall, he presented his research paper at the New York State Economics Association annual conference on Long Island and in March, co-presented the revised and extended paper at the Midwest Economics Association annual conference in Chicago.
While at RIT, Grzelka has been business manager for Reporter and worked as a peer mentor and tutor for the economics department in the College of Liberal Arts.
While excited to begin his next chapter in his education, he says graduating from RIT is bittersweet.
"I'm excited to move onto the next stage of my life and continue my education, but I know I will miss my department and the relationships I've made with my professors and fellow students," Grzelka said. "My time at RIT has been memorable and enriching."
Professor Jeffrey Wagner, the economics undergraduate program director, has been Grzelka's mentor. He has no doubt Grzelka would make a fine professor.
"When Zach arrived in my life, I felt immediately he had the ingredients to be very successful," Wagner said. "He really has an uncommon level or curiosity to figure out how things work. He has a deep level of conviction. Even in his free time, he would do extra reading on a topic. He really impressed me."
While RIT does not currently offer Ph.D. programs in economics, Wagner says he's proud RIT is able to act as a stepping stone and prepare students for higher degrees.
"Our emphasis is to provide students with as custom and personal experience as a student would like," Wagner said. "We are confident they can take that experience out the door and become just as successful in their next endeavor, including a well-established graduate program."
Topics