Eisenhart Awards for Outstanding Teaching: Tom Gasek
Award-winning animator and director adds to list of honors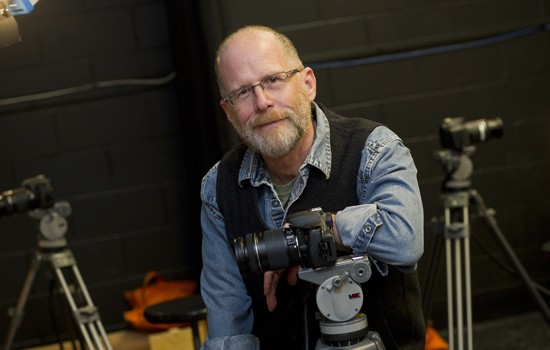 A. Sue Weisler
As a longtime animator and movie director, Tom Gasek has inventively created countless original scenes and characters during more than 30 years of award-winning, professional stop-motion filmmaking.
He now has another award to add to his honors after earning one of this year's Eisenhart Awards for Outstanding Teaching for his work in the College of Imaging Arts and Sciences.
"Teaching has been a wonderful second career for me," said Gasek, an associate professor and director of graduate studies in the School of Film and Animation (SOFA) who joined RIT in 2005. "This is really very humbling for me."
In many ways, the Utica, N.Y., native has come full circle as a 1979 graduate of RIT's School of Design. He was among the first class to take animation at the university and is a former student of longtime RIT professor R. Roger Remington.
Gasek won a Student Academy Award near the start of his career with partner Malcolm Spaull for their animated version of Lewis Carroll's The Walrus and the Carpenter — back when both attended RIT. Spaull now serves as administrative chair of SOFA.
A self-described "animation gypsy," Gasek then embarked on a nearly three-decade path of full-time animation and directing that saw him create with a number of the industry's most respected names.
At Aardman Animations in the United Kingdom, he contributed animation to Nick Park's Wallace and Gromit short "The Wrong Trousers," and the Peter Lord/Nick Park feature Chicken Run. Gasek later co-directed and animated the Inside-Out Boy for Nickelodeon, which is part of the permanent collection at the Museum of Modern Art in New York.
He has contributed animation to Aardman's Creature Comforts America, Sony Bravia's Play-Doh, and Laika Studio's Coraline, and he continues to direct and animate commercials and independent films. In the past several years, Gasek produced, directed and animated two short independent stop-motion films, Off-Line and Ain't No Fish. Co-directed with partner Miki Cash, Ain't No Fish won the Director's Award at last year's San Francisco International Ocean Film Festival. He also wrote a book for Focal Press in 2011 titled Frame-by-Frame Stop Motion, the only complete resource of its kind.
Gasek's second career started after reaching out to his former film partner Spaull about a possible teaching opportunity in SOFA. "He said there might be a one-year opportunity here and things grew from there," Gasek recalled.
Since his arrival at RIT 10 years ago, Gasek has leveraged his industry experience while nurturing burgeoning filmmakers. While he had no formal experience in the classroom, he trained fledgling animators for years on TV series while heading up studios in San Francisco and Massachusetts. He uses his connections to identify trends and help keep the SOFA program apace with the industry.
Today, Gasek prides himself with the connections he makes with his students.
"I enjoy my students, hearing what they have to say with their work, and helping them develop their ideas," Gasek said. "I have great respect for them as people and creators."