December 14, 2020
by Luke Auburn
Faculty from four RIT campuses collaborate to teach global business class
Professor Zhi Tang partnered with counterparts at RIT China, RIT Croatia, and RIT Dubai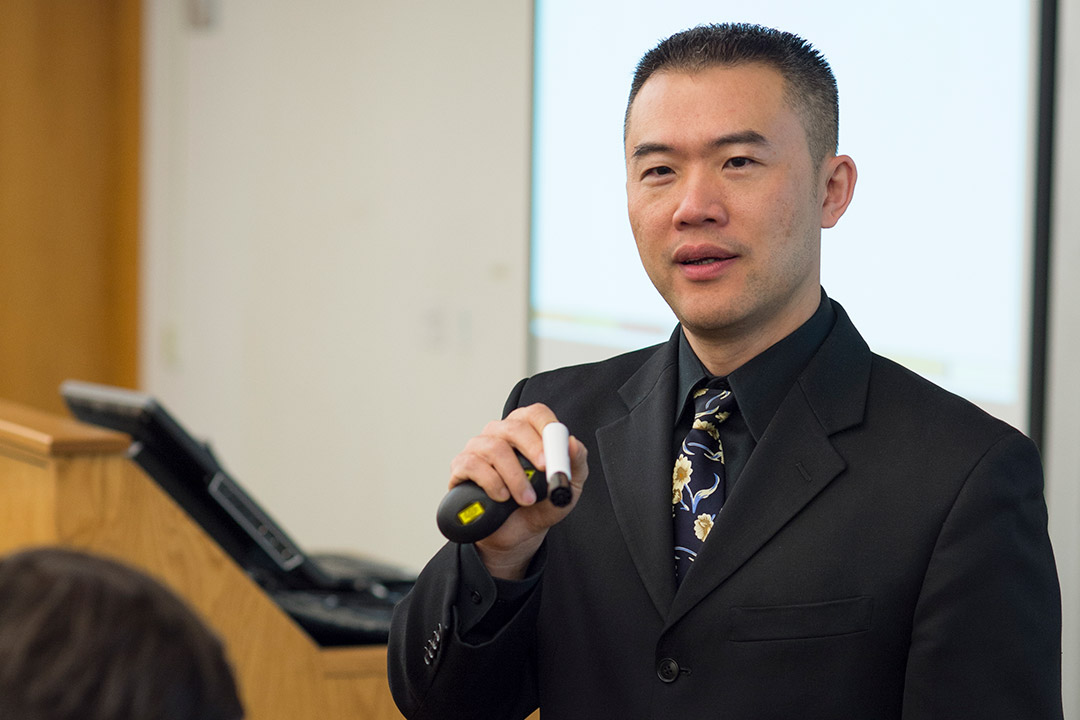 The coronavirus pandemic has disrupted education at all levels across the globe, but Professor Zhi Tang said that one silver lining is that it has made people more comfortable with remote teaching and learning tools, opening the doors for new virtual intercultural experiences. This fall, Professor Tang invited his colleagues from RIT China, RIT Croatia, and RIT Dubai to jointly deliver virtual guest lectures for the global business environment courses being taught at each of the global campuses, providing the students in Rochester, China, Croatia, and Dubai access to international experts on special topics.
Tang, a professor in the Saunders College of Business's Department of Management, International Business, and Entrepreneurship, said his collaborators' expertise complements his own and they have first-hand experience in areas that he cannot replicate. The faculty he partnered with included Julie Cecchini, faculty and associate dean for student services at RIT China; Vanja Vejzagić, lecturer at RIT Croatia; and Rizwan Tahir, associate professor at RIT Dubai.
"For example, Associate Professor Rizwan Tahir's background before becoming faculty was working for Nokia and doing global investments all over the world," Tang said. "He has very good first-hand experience about how global investments work from a corporate perspective."
For the guest lecture from RIT China, Julie Cecchini selected several of her top students to present about culture. It created an opportunity for student-to-student interaction across borders that Tang said was enlightening.
Since the global business environment course is taught at four of RIT's locations across the globe, Tang said it was a natural way to begin collaborating. The faculty involved hope to build on the experience and down the line offer true co-teaching experiences open to students from all four campuses in the future.
"It's a first step and an entrepreneurial step while coping with a pandemic," said Tang. "We've been talking about closer collaborations between campuses, but I think to a degree the reason we've been able to implement it this year is because online teaching and learning is something everyone has engaged in."
To learn more about RIT's virtual intercultural experiences, go to the RIT Global website.
Topics