Fellow brings strong passion for design, diversity, inclusion to College of Art and Design
Alesha Williams serving as Future Faculty Post-Doc role for next two years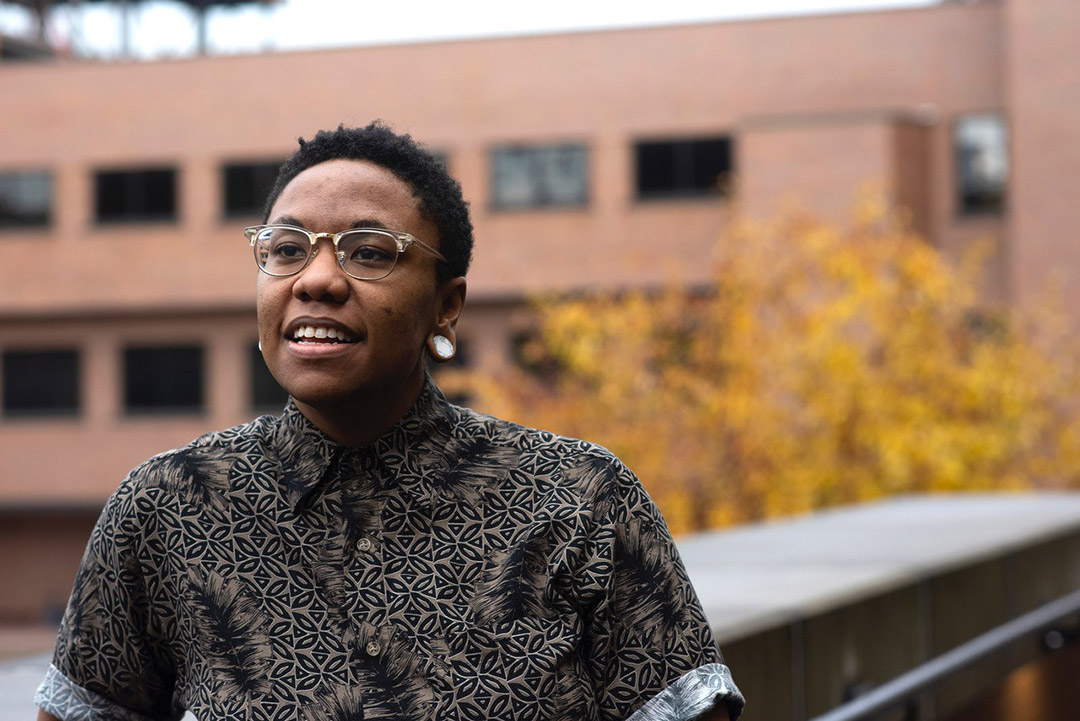 A. Sue Weisler
Alesha Williams, a Future Faculty Post-Doc Fellow in RIT's College of Art and Design, is an illustrator, designer, and educator from Cleveland. She earned her BFA in illustration at Columbus College of Art and Design (CCAD) and her MFA in visual communication design at Kent State University. Williams is a strong advocate for diversity and inclusion, combining her many research interests to focus on character design and representation of marginalized and minority characters in the comic book medium.
What did you know about RIT before accepting your position?
I knew about the MAGIC Center and I was highly impressed. The fact that there was this super cool area dedicated to art and design research had my jaw on the floor.  
What originally drew you to illustration and design and wanting to be an educator?
I have been drawing my entire life. My parents always had me in art programs; if there was an art camp, class, or contest in Cleveland in the '90s or '00s, I probably participated. I knew from childhood I wanted to be an artist. Having supportive parents kept that pursuit alive.
And my parents are probably also the reason I wanted to become an educator. My mother worked at a university and was pursuing her doctorate at Kent State University when I was a child. And my father worked for a college when I was a teenager, so I grew up in colleges and universities. And once I was in college, I got an opportunity to teach kids and I really enjoyed it. And I realized I need to be here; I need to teach; I love it.
How would you describe your teaching style?
Open and honest. I genuinely enjoy talking to students and hearing them talk about themselves and their dreams. I tell my students about my experiences and struggles as an illustrator. I strongly believe that experiencing college and higher education is more than the formal class and education part. As an educator, my role is, of course, to help students make pretty pictures but also to start them on the path to finding their voice as an illustrator and to tell them the things I wish I knew in my undergraduate years. Or tell them the thing I was told and ignored until it eventually sunk in. It sounds corny but I feel it is my duty to tell them what I have learned as an illustrator that goes beyond the fundamentals. And, of course, the fundamentals.
As a person of color, what role do you think an educator/designer can have in helping address some of the challenges facing today's world, particularly when it comes to discrimination and intolerance?
The challenge of fighting discrimination and intolerance has many facets. If you frame it only through the lens of education and design, I believe that the role of an educator is to teach tolerance and the designer's role is to distribute a message of tolerance.
The Nazis realized art's importance in distributing their message, so much so they had an entire division dedicated to creating anti-Semitic art. Minstrel shows and movies like Birth of a Nation revitalized the Ku Klux Klan and preserved stereotypes about Black people from the post-slavery America that are still alive today. Did the artist during those times start these stereotypes or offensive depictions? Of course not. These stereotypes of marginalized people were alive and well before them, but they preserved them. They distributed them, they got the message out in a highly entertaining and digestible way.
Educators teach and provide context for the world we live in and designers/artists shape a narrative. And as a Black person, as well as an educator and a designer, it's my role to educate and design that message of tolerance. 
What do you like to do when not teaching? Any hobbies?
I enjoy comics, cartoons, and video games.