FoodShare programs aims to cut waste, help hungry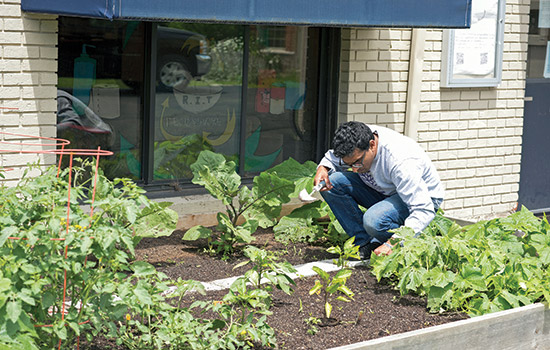 A. Sue Weisler
A new initiative has begun on campus that will help end food waste while helping students who may be struggling to pay for food.
The FoodShare program is two-pronged. First, an RIT FoodShare page was created on Facebook, where organizers of events on campus can post photos and information about leftover food free for the taking.
Secondly, the RIT FoodShare Center recently opened at 113 Kimball Drive (at the Residence Life Riverknoll office), where students can take or exchange non-perishable items.
The roots of the program began in a Campaign Management and Planning class last fall taught by Kelly Norris Martin in the School of Communication. Enid Cardinal, RIT's senior sustainability advisor, and University Associate Rebecca Johnson spoke to the class about the amount of food that is wasted on campus.
Around the same time, Nick Giordano, a fourth-year management information systems and political science major from Greece, N.Y., got involved as director of student relations in Student Government. He saw a message posted on social media by a student: "My friends think I've lost weight to look better. Actually I ran out of money and have been starving for weeks."
So the class looked for ways to solve both problems. Input was received from Auxiliary Services, Student Government, Residence Life, the School of Communication, as well as RIT Sustainability.
The RIT FoodShare Facebook page was launched in December; more than 800 people have joined the group.
Olivia Verschage, a third-year advertising and public relations major from Henrietta, N.Y., and Harshita Sood, an environmental services graduate student from Kolkata, India, coordinated efforts to accept donations across campus in orange boxes. They consulted with Foodlink to identify best practices and are following their guidelines.
Sood said names of those taking food will not be asked to ensure confidentiality, but basic questions may be asked such as where they live to get an idea of who uses the service.
It is difficult to put a number on how many RIT students go hungry, but counselors and health staff say it happens. Students may be working to pay for college and don't have extra money for food; others may not budget their food plans properly and run out of money. Verschage said a survey showed more than 40 percent of students run out of money in their food plans, and more than 60 percent of students say they have trouble budgeting for food.
Plans are to help stock the center's shelves with non-perishable food from students moving out of their dorms. Last year, 1,600 pounds of such food was donated to Foodlink.
"We are striving to achieve zero waste on campus, so we are actively trying to find ways to keep edible food from going to the landfill," Cardinal said. "FoodShare will help us do that with events now."
Cardinal said the center will be open this summer with limited hours. Donations will be accepted at the Residence Life Center at Riverknoll, or in one of several donation boxes on campus.
Topics