Former White House photo editor comes to RIT
Acclaimed program to develop new curriculum around Webster, N.Y., native's expertise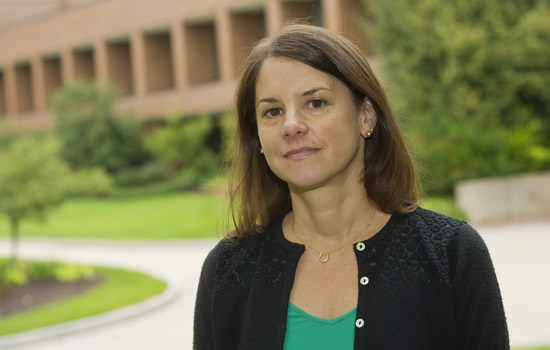 Jenn Poggi, former photo editor and deputy director of the Photo Office at the White House, has joined Rochester Institute of Technology this fall as a visiting assistant professor in the School of Photographic Arts and Sciences' (SPAS) photojournalism program.
Poggi comes to the college after a four-year stint at the White House, working for Pete Souza, chief photographer and director of the Photo Office. She spent the last 2 ½ years serving as deputy director and White House photo editor.
A native of Webster, N.Y., Poggi attended Syracuse University and graduated from the S.I. Newhouse School of Public Communications. She began her career in 1994 as a photo assistant with The Associated Press in New York City, and later worked as a picture editor covering national, international and sports news. In 1998, she joined U.S. News & World Report as an assistant picture editor, managing images for national and political news. Poggi eventually went on to become the magazine's deputy director of photography.
In 2008, Poggi was awarded a John S. and James L. Knight Fellowship at Ohio University's School of Visual Communication, where she taught picture editing and completed her master's course work in multimedia and newsroom graphics management.
"Jenn is a great addition to our highly respected school and photojournalism faculty," says William Snyder, professor and chair of RIT's photojournalism program. "She brings real-world experience with a strong educational background and a tireless work ethic."
Snyder adds that Poggi will "strengthen our new areas of concentration—image editing and multimedia storytelling. We are looking forward to working with her and developing new curriculum around her expertise."
For Poggi, returning to upstate New York and academia presents an opportunity she relishes.
"The talented SPAS faculty members have developed one of the great photojournalism programs in this country and there are many photojournalists out there who are alumni," says Poggi. "So the opportunity to join a team like this was a very attractive proposition.
"The opportunity to work with students again was very appealing to me," Poggi adds. "My goal is to reinforce the importance of developing stellar documentary photojournalistic skills, which is already being taught to students in every photojournalism class they take here at RIT. If a student values and develops those skills, they can apply them in many different directions."
While Poggi is thrilled to be at RIT, she fondly recalls the years she spent at 1600 Pennsylvania Ave.
"The White House complex is a true intersection of humanity—a place where so many different kinds of people, from so many different places, who have experienced vastly different circumstances in life, come together," says Poggi. "Every day I was amazed by my colleagues—their generosity, dedication and hard work. It's really not unlike a college campus, and that's one of the many reasons I'm excited to be here."
Topics