Get creative at ImagZine RIT: Zine Workshop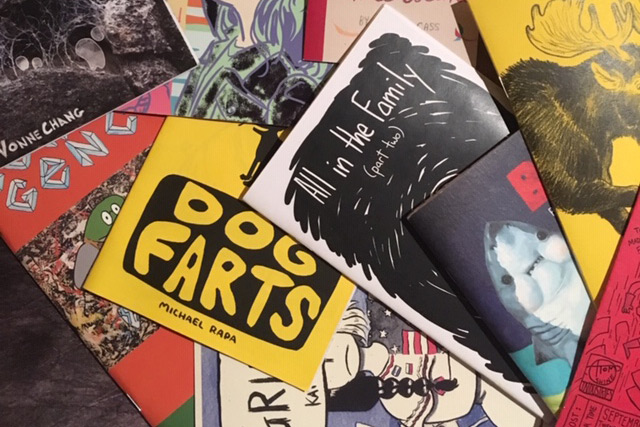 Frances Andreu
An interactive, drop-in workshop at Imagine RIT: Creativity and Innovation Festival on April 27 will introduce visitors of all ages to a popular form of independent, immediate publishing. It's not the Internet; it's the zine ("zeen").
ImagZine RIT: Zine Workshop, in the Think Tank in Wallace Library, on the second floor, is a creative space for visitors of all ages interested in this slice of the maker movement. Students and staff who have experience making zines will help newcomers explore the medium with paper and crafting supplies.
Independent publishing has a long history among do-it-yourselfers. Zines are hand-made booklets reproduced in small batches on topics from art to zealotry—and everything in between—and sold or given away. They are expressions of pop-culture fandom, protest, solidarity, etc., made for the moment with the materials at hand.  Now, zines are winding up in library collections, like in the RIT Archive.
 "We are going to bring zines from the collection and have them available at this event so people can browse and see what it can look like," said Ella von Holtum, assistant archivist at RIT Libraries. "Zines live in this place of wide-open expression of what is most meaningful to you and that can be anything and that's the fun thing about zines. You start with an idea and you end with a finished product that you can share with others or keep for yourself as a memento document of this day in your life."
Zines can take many forms. They can be a folded piece of paper, hand-bound or stitched, noted Frances Andreu, digital initiatives librarian at RIT Libraries, and an exhibitor.
Andreu is a comic artist who sells her work at zine fairs. She approaches her zines from the perspective of an artist-printer-publisher and "works from the more structured end of the creation spectrum."
Zines allow for a wide range of creative expression, which can be seen on display at the The Imagine Zine Fair. The companion exhibit located next to the Zine Workshop will showcase examples made by RIT students.
"We wanted to have them together to offer those two aspects of actual creation and how zines are connected to the curriculum," Andreu said.
Topics