Ghazle honored as 2018 Edwina Award winner
RIT's Women's Career Achievement event highlights "Fearless" Kathrine Switzer and student leaders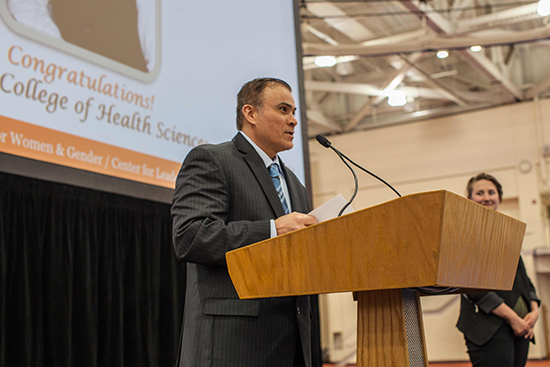 In his recommendation letter, Hamad Ghazle was described as refreshing, positive and someone who ensures that new students in his college feel welcomed, included and most of all, capable. For these qualities and his advocacy for gender diversity on campus and in the community, Ghazle was honored with the 2018 Edwina Award at Rochester Institute of Technology.
He was presented the prestigious award at RIT's annual Women's Career Achievement dinner and gala on April 30. More than 500 students, faculty, staff and family members attended the event that also highlighted 21 female students honored as Legacy Leaders, and guests were inspired by keynote speaker Kathrine Switzer, who talked about how her barrier-breaking challenge at the 1967 Boston Marathon became a race to advocate for more women's representation in sports.
Ghazle, director of the diagnostic medical sonography program, was the first from RIT's College of Health Sciences and Technology to win the award. He praised colleagues, family and friends who "empowered and inspired me in this great and noble cause. Diversity is something worth having and requires effort to make happen."
The messages he instills in his four young daughters are similar to the encouragement he brings to his students about holding their heads high and knowing that they are equally able to make a difference in the world.
"If you want a community to be diverse and inclusive, you have to be involved in it. Diversity and inclusion are not threats, they are blessings, empowerment and enlightenment," he said. "All people have passion and they desire commitment, respect and tolerance to mature and survive."
The image of Kathrine Switzer being dragged from the Boston Marathon in 1967 has become symbolic of the respect and tolerance women have had to earn in sports.
At the time, women were not only discouraged from competing, they were thought to be incapable of running the 26-mile event. On the road, she was accosted by the race organizer who shouted at her 'to get the h--- out of my race and give me back those numbers.' He had no way of knowing that 261, the number on her race bib, would come to mean "fearless" and an icon for others who were denied access to sports or other opportunities.
Although initially shocked by the treatment, Switzer did not leave the race, finishing in 4 hours, 20 minutes.
"I was going to finish or people would think women really could not do this," she said to the RIT audience. "It was not political until that moment. I wanted to leave, but if I did, no one would believe that I was serious. I had to finish."
After graduating from Syracuse University, Switzer began work in journalism, she continued running and advocated for more women's participation in sports as a way to dispel myths of inadequacy. She used science and athletic ability to compel a shift by different governing bodies, including the U. S. Olympic Committee, to acknowledge female athletes' innate abilities and open up more opportunities for training, athletic scholarships and competitions. It wasn't until 1984 that a women's marathon would be added to the international Olympic Games.
In 2017, Switzer returned to Boston and ran the marathon 50 years after nearly being forced from the field. This past year, she competed in the London Marathon. The latter took place on the 100th anniversary of women getting the right to vote in the UK, she said. 
While in Rochester, Switzer met with RIT's women's cross country team and had a running tour of the city with Cha Ron Sattler-LeBlanc, senior director in RIT's Academic Support Center. The two headed through different areas where Rochester's women have made their own mark in history.
Switzer recalled that when she was young, her father encouraged her to run a mile a day. It became a life lesson for her and one she shared with the RIT audience. "Some days are easy, some are not. But that mile a day was a victory under my belt that no one could take away from me. Destiny is about finishing."
RIT's Legacy Leaders for 2018, recognized for their strong academics, public service and activities as campus leaders, are: from the College of Science—Ashley Adair, Callie Donahue, Grace Morales, Bezankeng Njinju, Maria Smith; the College of Imaging Arts and Sciences—Erin Effinger, Ethelia Lung, Elizabeth Rintels; the B. Thomas Golisano College of Computing and Information Sciences—Olufunmilola Babalola, Morgan Keiser; the Kate Gleason College of Engineering—Leigh Bechet, Dimple Joseph, Becky Michalski; the College of Liberal Arts—Annabella Kajtezovic, Katey Sackett; the National Technical Institute for the Deaf—Brianna Conrad, Kaitlyn Shirey; the School of Individualized Study—Lenesha Hall; the Saunders College of Business—Rosalie Phan, Britta Schwall; and the College of Health Science Technologies—Rachel Tassoni.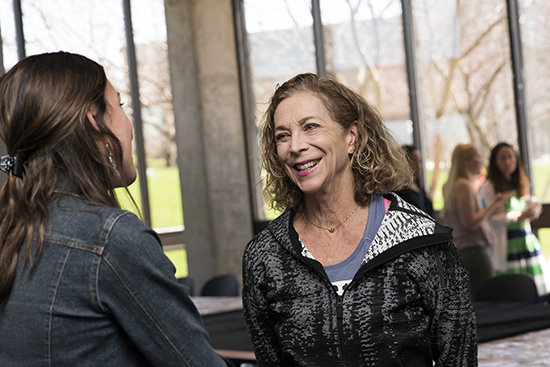 A Sue Weisler
Topics