Girl Scouts honor RIT's women in STEM groups
Women in Computing and Women in Engineering honored for promoting girls in STEM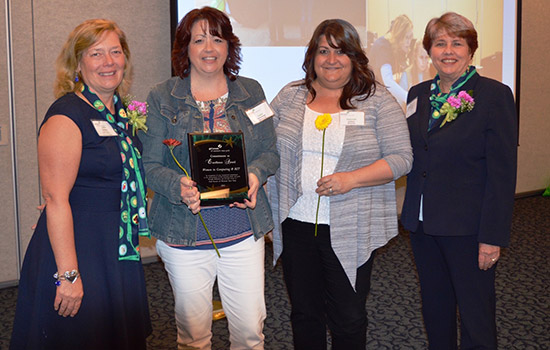 Rochester Institute of Technology's Women in Computing and Women in Engineering programs were honored with the Commitment to Excellence Award from the Girl Scouts of Western New York.
The women's groups were chosen for their dedication to encouraging young girls to pursue careers in science, technology, engineering and math—also known as STEM. The award recognizes an organization or business which has shown exceptional commitment to the advancement of Girl Scouting ideals and goals through dedication and devoted service at the council level.
The Women in Computing program was recognized with a plaque at the Girl Scout Annual Meeting May 18, in Buffalo, N.Y. The Women in Engineering group will be honored at a later date.
"These groups have shown a tremendous commitment to developing STEM programming for Girl Scouts and granting them access to female role models working in these fields," said Christine Kirwan, director of volunteer experience at Girl Scouts of Western New York. "Through RIT's programs, our girls have been shown that there are many opportunities for women in STEM fields and gained the confidence to pursue their dreams."
Girl Scout leaders noted the RIT events and programs provide girls with unique experiences that they could not get elsewhere. Programs hosted throughout the year include the Engineering Fun Days, Tech Badge workshops and the Girls Soaring in STEM Fair.
Students in RIT's Women in Computing Outreach Committee work hard to create opportunities for young women to learn about computing before high school, in a fun and engaging environment.
"Exposing Girl Scouts to computing at a young age is important because they need to know it's a career option," said Lana Verschage, director of RIT's Women in Computing program, who attended the ceremony along with the program's staff assistant, Deborah Jackson. "It's a win-win situation when student leaders in Women in Computing interact with the Girl Scouts as role models to help encourage them to see computing as a field they can succeed in."
The women in STEM groups at RIT include, Women in Science, Women in Technology, Women in Engineering and Women in Computing.