August 30, 2022
by Diana Louise Carter
GO Grant encourages students to explore globally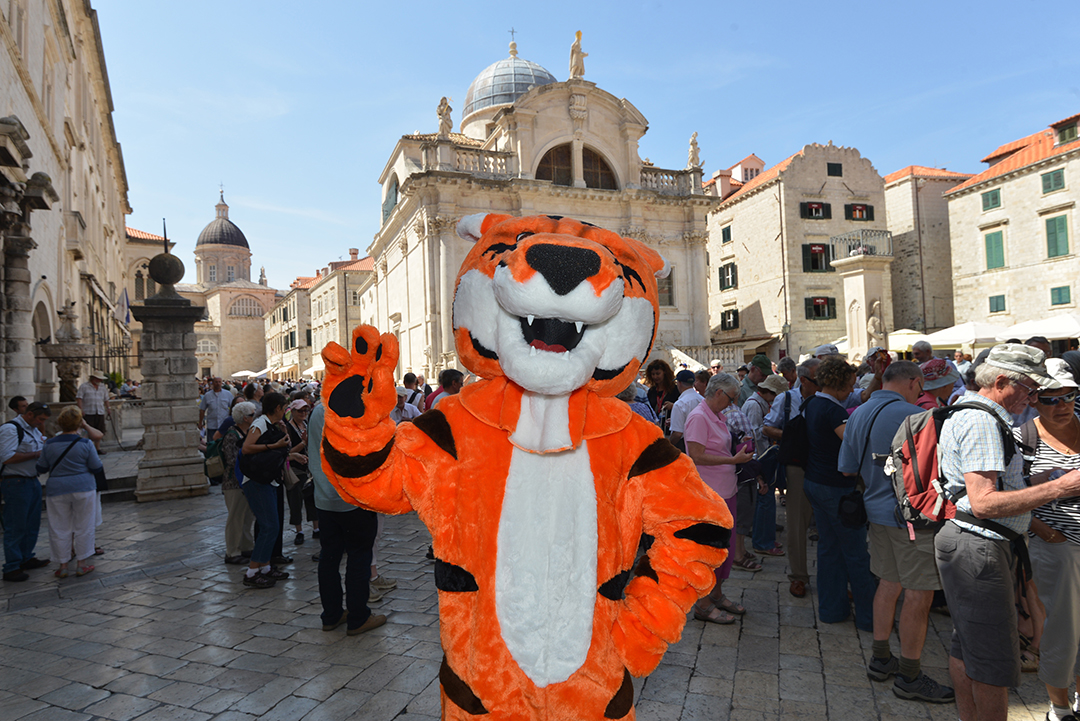 In early 2020, the College of Liberal Arts and RIT's Office of International Education and Global Programs introduced an automatic grant of $500 for liberal arts majors studying abroad on RIT study abroad programs. The grant is designed to encourage students to pursue a global experience as part of their studies.
Unfortunately, due to the pandemic and its restrictions on travel, few students were able to use the COLA GO Grant (an acronym for Global Opportunities) right away. But with many travel restrictions lifted, study abroad programs are back up and running and COLA students, including those with a liberal arts double major, can access the grant once again. 
So far, 33 students have used or been approved for the grant for spring, summer and fall 2022, though more than 600 were likely eligible.  
"I think a lot of COLA students may not know about it yet," said Michelle Fitz, marketing manager in the Office of International Education and Global Programs. "Last fall we started sharing to get the word out. It's interesting to look and see an increase of COLA majors engaging with our office." That's an increase of nearly 25 percent since just before the pandemic. 
Jenny Sullivan, director of Education Abroad and International Fellowships for RIT, said, "My hope is that it attracts more students to consider study abroad to invest in themselves in this really profound and impactful experience." The COLA GO grant supports students at the same time that it helps RIT pursue its goal of preparing students for a globalized world.  
To qualify for the grant, liberal arts majors must:
Achieve an academic average of 2.5 or above

Be in good academic standing

Enroll in one of more than 600 RIT-approved study abroad programs

Verify their enrollment into one of those programs. 
"One thing we tried to do with this grant is make it relatively flexible for students," Fitz said. For example, there's no application form to fill out. The grant is automatically applied to the student's eServices account. Also, she noted, there's no required length of study. The one-time grant can be used for programs lasting a few weeks to a semester or longer. Students aren't required to study in a particular country, or a particular subject, as some scholarship programs do. For students at the Henrietta campus of RIT going on a program to one of RIT's international campuses also counts. 
Study abroad programs can be costly, so the COLA GO grant may give an added incentive to consider the commitment. 
"That's $500 I would have had to pull from government loans or ask from someone else," said Myren Bobryk-Ozaki, a third-year public policy major from San Diego, CA, who worked on a minor in business administration this summer at the RIT Croatia campus in Zagreb. "It saves me that extra level of expense that otherwise could have seriously limited my ability to go on the trip."
Sinclaire Ogof, a third-year public policy major from Lake Ariel, PA, was able to knit together summer study programs in Sweden and Kosovo related to her minor in international relations. The COLA GO grant helped her to afford it.
"I wasn't expecting to be able to do back-to-back programs like this. This is not very common," she said. The COLA GO grant made planning study abroad less stressful, she said, because it didn't require a demanding application as other scholarships did. "I've always wanted to expand my horizons in my education, and not just see things just from a local, but an international perspective," she said. 
"The world is so much bigger than the United States and I think sometimes people, myself included, forget that," said Monet C. D'Angelo, a fourth-year criminal justice major from Ontario, NY. She studied in the Emerald Isle this summer, participating in a faculty-led program called Ireland's Culture, Society & Justice System. "Receiving this grant partially alleviated the cost of my travels and for that I am extremely grateful," she said. 
Faduma Abhi, a fourth-year communications major from Rochester, NY, thought international study had fallen off the table. "With COVID and everything I didn't think it was possible," she said. But a professor told her about a spring break program with the Division of Diversity and Inclusion based at RIT's Croatia campus. Abhi's class project focused on religion in the Balkans related to Croatia breaking off from Yugoslavia in the 1990s. Even with a program lasting just a week, she explored a lot, taking side trips to Montenegro and Bosnia-Herzegovina. Ukraine had just been invaded by Russia at that time, and she witnessed refugees arriving in Croatia. 
With a shorter program like that, the COLA GO grant went farther: "It covered a quarter of the overall cost. That was pretty nice," Abhi said. 
For students interested in study or work abroad, there are many options available for the new academic year, including COLA faculty-led programs like World Building Based on Historical Worlds in Spain, and Digital Creation Beyond the Screen in Paris. Students can learn more at the upcoming Study and Work Abroad Fair on September 15th from 11 a.m. to 3 p.m. in the SAU Lobby and Fireside Lounge.