Go, Stay, Eat at Imagine RIT
Travel destinations, technology trends, hospitality services highlighted — and ice cream served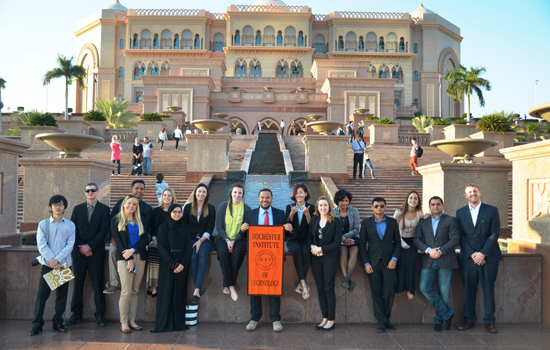 provided by Rick Lagiewski
Hospitality students will take Imagine RIT festival goers to places they may have only dreamed about—Dubai, Croatia, Hollywood, the wineries of the Finger Lakes—without ever leaving the Gordon Field House.
Students and faculty from RIT's School of International Hospitality and Service Innovation put together three distinct interactive exhibits called "Umbrellas of Hospitality: Go, Stay, Eat" featuring exotic travel destinations, the newest trends in hotel amenities and service technologies and delicious edibles.
Participants can take "virtual trips" to places around the globe at the "Go" part of the exhibit, learning more about the destinations through a series of photos, videos and conversations with students who have traveled to the sites. Visitors can also have a photo of themselves taken against a blue screen at the exhibit, and then dropped into one of the locations being used as a backdrop.
"These photos will be uploaded to our social media pages for guests to find and save as one of their memories of the day," said Jennifer DiGaetano, lecturer in the hospitality program, part of RIT's College of Applied Science and Technology.
Global locations were chosen based on RIT's study abroad programs, including recent travels undertaken by more than a dozen hospitality students to Dubai and Abu Dhabi in January. Each year, the group travels to the countries, meeting with general managers from some of the top luxury destinations in the world to learn about customer service management of these properties.
Additional sites included in the photo booths will be vistas of America's National Parks, and popular cityscapes such as New York City and Hollywood. Local and regional locations are some of Rochester's historical sites, such as the George Eastman Museum, Charlotte Pier and the Susan B. Anthony House, as well as prominent Finger Lakes locations.
Hospitality is also about customer service. The "Stay" exhibit will feature information about how hotels are expanding services to be both tech-friendly and more personalized.
Students will demonstrate TourBlend, a virtual welcoming agent, showing how participants can "check into" a hotel accessing an online hotel concierge and access rooms using smart phones rather than key cards.
Some of the technologies are available in hotels now and are starting to make a difference in guest experiences, DiGaetano explained. Technology can differentiate one hotel from another, just like room décor and quality, and the exhibit features a collection of different levels of amenities provided—including linens, furniture and the quality of the structure.
"We are hoping guests will leave the exhibits with the idea that there is so much to see and discover locally and we have technology to help people find and experience places faster and easier than ever before," she said.
Guests leaving the exhibit can download the TourBlend app to use for the remainder of the festival, and as part of the "Eat" exhibit, try ice creams, frozen yogurts and sorbet from Hoopla, a local partner with the RIT hospitality and tourism management department for the event.
"Preparing our students for their future is tricky. We work with them on professionalism, management practices and theory, and a wide variety of skill sets for industry entry. We introduce them to current technology and ways of identifying what is trending and up-and-coming as it changes so quickly," DiGaetano said. "Our program is so much more than food and smiles. Those are simply the "hooks" that keep customers coming back for more."
Note: The "Umbrellas of Hospitality—Go, Stay, Eat" exhibit can be found in the Gordon Field House as part of the 2016 Imagine RIT: Innovation and Creativity Festival on Saturday, May 7 at the university. The festival coincides with the last day of National Travel and Tourism Week. To prepare for Imagine, hospitality students worked with Visit Rochester to gather photos, videos and travel materials for their exhibit, and with company representatives from Tour Blend, a locally-developed mobile application and system platform for tourism destination marketing. Tour Blend was a client of the RIT Venture Creations incubator.