Gordon Field House abuzz with talent for 15th annual Creative Industry Day
Companies near and far attend yearly event seeking university's artists and innovators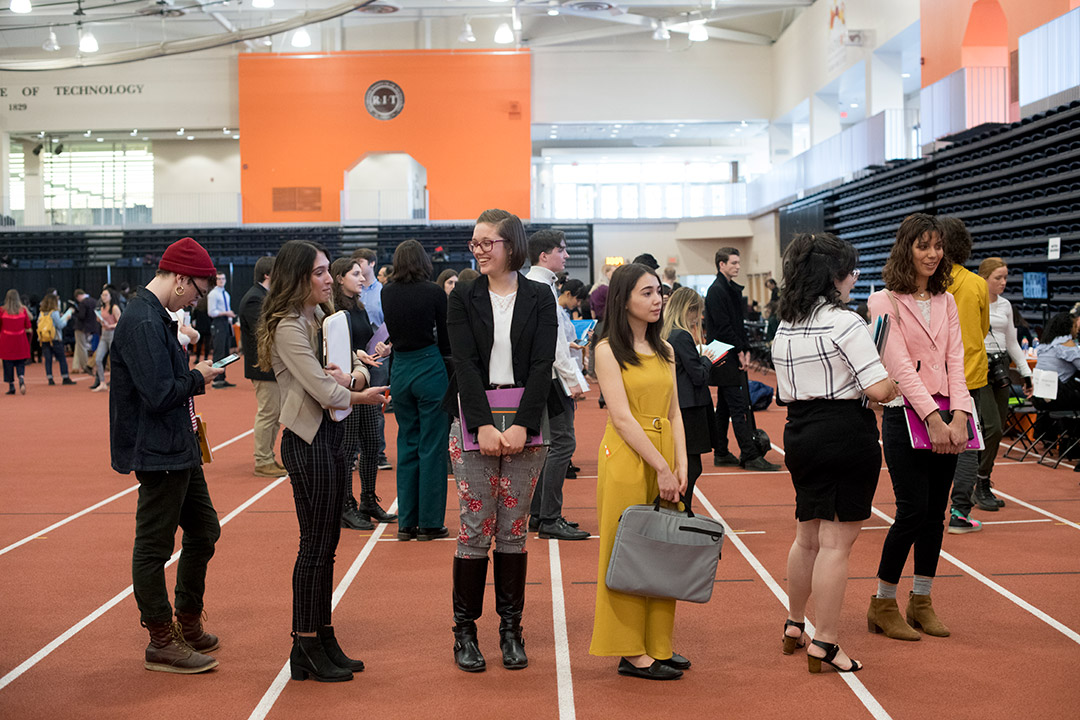 A. Sue Weisler
Rochester Institute of Technology's 15th annual Creative Industry Day yesterday drew an impressive array of talent seekers from the likes of The Walt Disney Co., Forbes Media and Procter & Gamble anxiously looking to meet with RIT students in a career-fair setting inside Gordon Field House.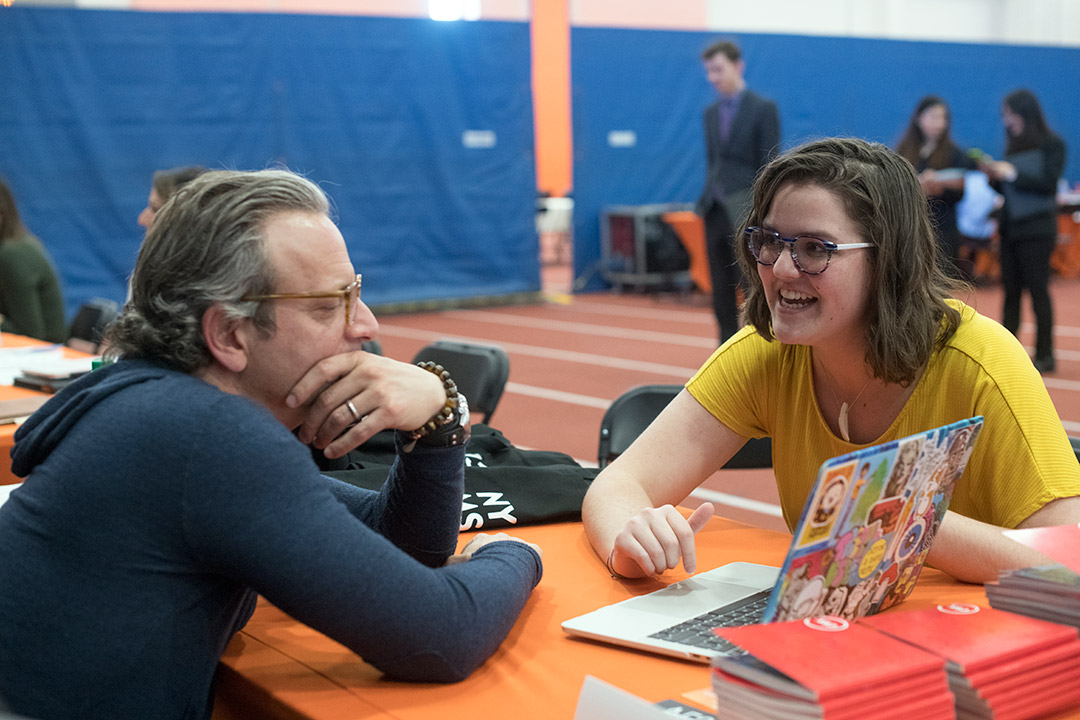 A. Sue Weisler
It also featured a growing number of companies who haven't traditionally attended the yearly event, and that's by design, according to Adam Smith, associate professor, undergraduate director of new media design and graduate director of visual communication design.
"A number of these companies are here for the first time," Smith observed. "The interesting thing about companies who attend now is—depending on the year and what they're looking for—it changes. Disney is here but it's really for UI (user interface) and UX (user experience) design for a lot of their products, not necessarily for the Disney brand as an animation house."
Smith also noted that professional services firm Ernst & Young and other financial institutions like M&T Bank are now attending Creative Industry Day.
"You might ask why would a corporate, professional services firm be here?" he asked. "We're seeing a growing number of financial and advisory firms looking for our students. It's not just the apps and the ad agencies … it's the financial side, it's the product side shifting across different domains."
A. Sue Weisler
Nat Deis, a fourth-year new media design student from Lansing, N.Y., stood on a long line of students seeking to meet with Paychex about UX and UI design positions at the Rochester, N.Y.-headquartered provider of human resource, payroll and benefits outsourcing services.
"I've been looking at mostly local companies because I want to stay in Rochester," Deis said. "A lot of people talk positively about Paychex, and UX and UI is what I'm looking for mostly. I feel really confident in this design area and it's really interesting to me."
The annual event draws College of Art and Design students and alumni in areas such as art, design, film, photography and crafts along with related majors like game design and mobile computing from RIT's Golisano College of Computing and Information Sciences (GCCIS).
Creative Industry Day, organized and sponsored each year by RIT's Office of Career Services and Cooperative Education, began with morning panel discussions followed by portfolio reviews and networking all afternoon.
According to Gretchen Burruto, associate director and lead organizer, the event's goal is "to offer career-related programming and the opportunity for RIT student talent to meet with professionals, get feedback on their portfolios, discuss job opportunities and make valuable connections that may benefit their career."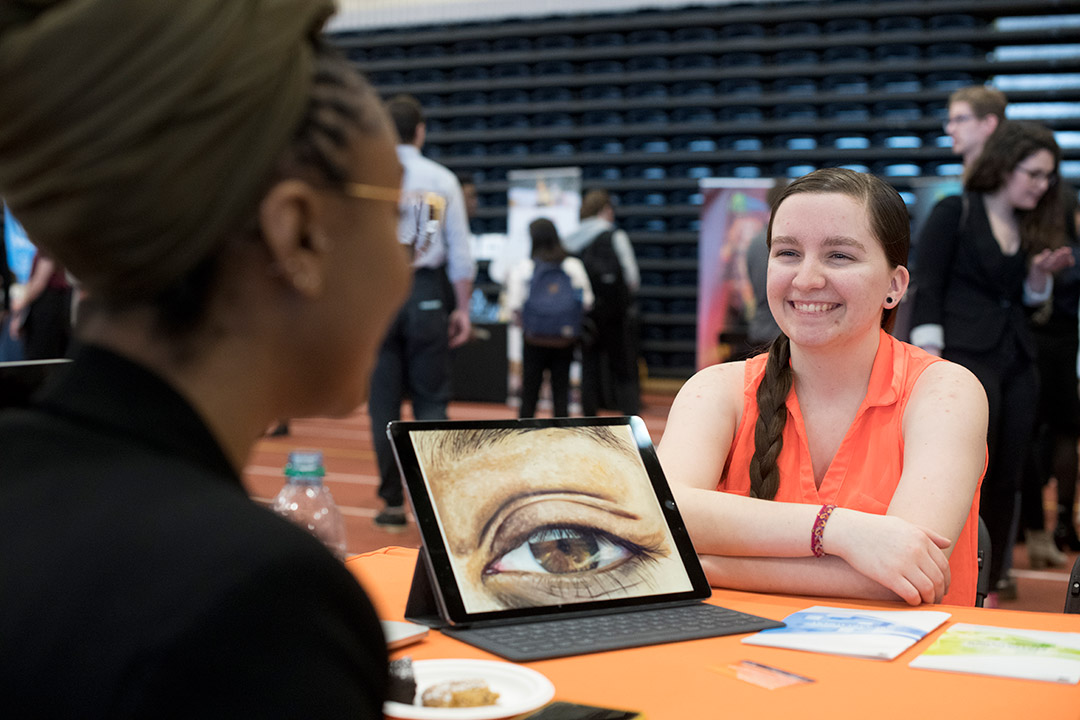 A. Sue Weisler
In all, Burruto said, more than 150 representatives from nearly 70 companies were on hand to meet with about 760 RIT students. She added that many of the professionals who travel to campus to attend the event each year include alumni returning to represent their companies or share their experiences and advice to current RIT students.
Dan Caster '89 (fine art/illustration), who is retired after a decorated career as a mission integrator supporting counter-terrorism operations with the CIA, enjoys attending Creative Industry Day to offer portfolio critiques and share his design experiences with students.
"These students are so talented and I'm proud to see their creative work," Caster said. "Creativity has served me so well throughout my career, and I'm happy to pass that along to today's students."
For Smith, Creative Industry Day provides "a day of discovery for both students and companies."
"It puts everybody on this interesting discovery pathway: students are presenting their work to companies that are discovering who our students are, and at the same time a lot of our students are discovering the potential that these companies have to offer them as well."
Topics