Graduate helped create memorable ad campaign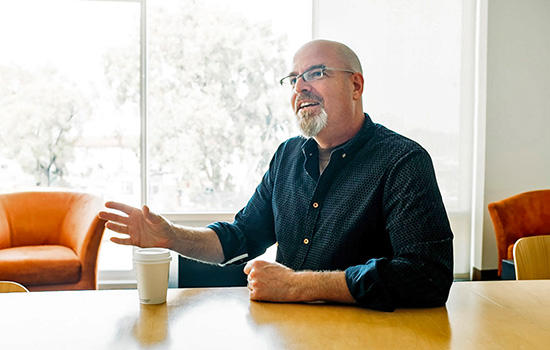 Shahin Edalati
John Butler '80 (professional photographic illustration) remembers the time he performed his impersonation of William Shatner—to the William Shatner.
"I worked with him for over eight years," said the chief creative officer, whose Butler, Shine, Stern & Partners ad agency in Sausalito, Calif., is credited with conceiving the witty Priceline Negotiator ad campaign.
When pitching the Priceline account, Butler and his creative team flew to Los Angeles and met with Shatner to present scripts. As Butler stood by him, he asked the iconic Hollywood actor if he would be OK with impersonating him.
"He gave me a raised eyebrow and before I got through the script, he grabbed it from my hands and started reading," he said. "He completely nailed it on a first read."
"He then looked at me and said, 'So you want me to play the fool, eh?' I sheepishly nodded, 'yes.' He smiled and said, 'I can do that.'
"And that's how the 'Negotiator' was born."
Butler honed his photography skills at RIT, where in addition to learning a lot about the technical side of cameras and lighting, he also discovered a proclivity for graphic design and drawing.
"I received a solid background in all these areas at RIT, and it helped me decide what I really wanted to do," Butler said.
After studying art direction and design post-RIT, he became a junior art director and for the next six years alternated between art directing and copywriting roles at iconic agencies such as McCann New York, J. Walter Thompson and ChiatDay.
That's when he and his creative partner, Mike Shine, decided to go west and join a San Francisco ad agency, where they met Greg Stern, an account director. The three friends decided to venture out and start Butler, Shine, Stern & Partners—BSSP, for short— a privately owned ad agency since 1993.
According to Butler, the agency is a big believer in the transformative power of ideas.
"Today's consumers are as concerned with a brand's beliefs and value system as they are about the products they make," he said. "We see that in our own employees. We believe work can and should have a positive impact on a client's business, consumers and the world at large."
As he nears a quarter century at BSSP, Butler is more focused on the agency's strategic direction and less on day-to-day operations.
"My days are occupied helping to determine the future of the company and how we are perceived out in the world," he said.
Butler takes pride in his firm's support of causes dedicated to solving issues around societal change and racial inequality. On the less serious side, he's a "big comic art and illustration collector" and has been since he was a child growing up in Henrietta, N.Y. He serves on the board of directors at the Cartoon Art Museum in San Francisco.
"I love illustration, and my wife and I own a lot of book cover art," Butler said. "My own personal passion is comic art. I also collect masks, but that's another story."