Graduate's sculpture causes her to reflect on RIT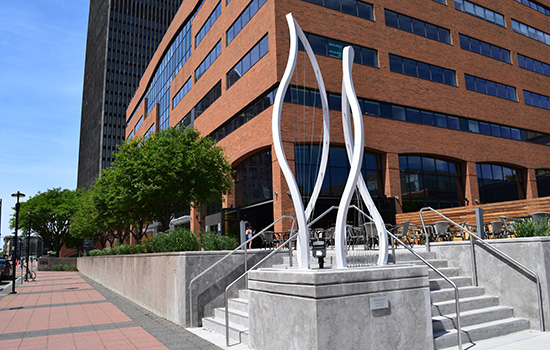 A recently constructed sculpture in downtown Rochester symbolizing hope and inspiration has special meaning to Julia Manson '17 MFA (metals and jewelry design).
For one, she is the piece's artist. But the tall steel sculpture's essence also brings Manson to happily reflect upon her time at RIT's College of Art and Design, where she grew as an artist in graduate school.
"This sculpture, in particular, comes back to me personally," said Manson, from Bradenton, Fla. "It's about growth and moving forward and upward in life. I think that definitely relates to the experience I had at RIT."
The sculpture, named Gateway, was commissioned by Peter Landers, a co-owner of local office building 3 City Center, to create a structure with an "inspiring feeling."
Manson brought those emotions to life with the piece, which was installed in the spring outside 3 City Center.
Topics