Graduating biotech major found enriching experiences at RIT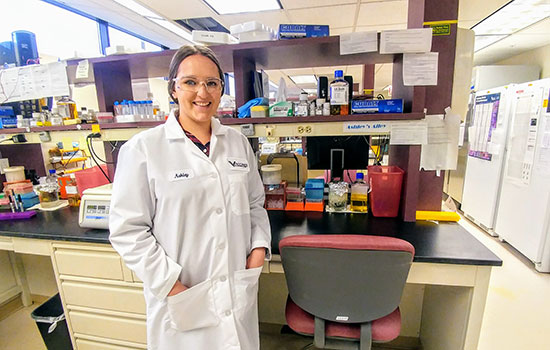 University Communications is highlighting a few members of the Class of 2018. See more commencement news at rit.edu/news/commencement.
RIT College of Science senior Ashley Adair is a trailblazer in her family. This May, she will be the first to earn a college degree. She is also one of the first RIT students to graduate from a program that equips STEM (science, technology, engineering and math) majors with skills for navigating college.
Adair, originally from Amsterdam, N.Y., outside of Albany, will graduate with a BS degree in biotechnology and molecular bioscience. Everything about the college experience, she said, has been new for her and her family. "I wanted to go out and do something new and exciting," Adair said. "My parents have supported me through the whole journey."
The journey has just begun. Adair plans to pursue a master's degree in assisted reproductive technology, hopefully at her first choice school, Colorado State University.
Adair's mentor and research advisers Dina Newman and L. Kate Wright, professors in RIT's Thomas Gosnell School of Life Sciences, have inspired her to imagine a career in biotechnology, a field that excited her from the start.
"Biotechnology is taking the knowledge of biology and applying it to real-world applications and trying to better society," Adair said. "That's what I wanted to study, and RIT is where I wanted to go. It was my first college visit."
She worked as a learning assistant in Newman's biology class and developed a modeling activity to help students grasp a difficult biological process known as polymerase chain reaction. Working with Newman, Adair and her research partner wrote a paper they hope to publish about the classroom learning activity.
Adair's time at RIT has, in many ways, been influenced by CASTLE, the Center for Advancing STEM Teaching, Learning and Evaluation. The center houses several initiatives, like the Learning Assistant Program, and student and faculty opportunities for discipline-based education research.
Adair will graduate this spring as one of the first members of an innovative program in CASTLE that sets students up for success with lifelong critical thinking skills.
Self-reflective skills are the cornerstone of the IMPRESS (Integrating Metacognition Practices and Research to Ensure Student Success) program. Now entering its fifth year, the National Science Foundation-funded initiative is a two-year program for first-generation and/or deaf or hard-of-hearing students majoring in STEM disciplines.
As a member of the first IMPRESS cohort, Adair learned a new perspective that has become her frame of reference: metacognition, or analyzing how one's thinking and learning style.
"'Metacognition' was definitely a new word they taught me," Adair said. "We kept a journal and it really helped me appreciate and value being reflective. The skills and techniques that I acquired from the program have helped me be successful in my major. I definitely think it opened up a lot of doors for me."
Those opportunities have allowed Adair to use her people skills. She has held several leadership roles on campus, including three years as a residence hall adviser. For the last two years she has worked as a senior residence adviser and interacts with the professional staff within RIT Center for Residence Life. She is also an RIT College of Science Executive Ambassador and overseas the ambassador program for open houses and related events.