Grants allow faculty to reimagine learning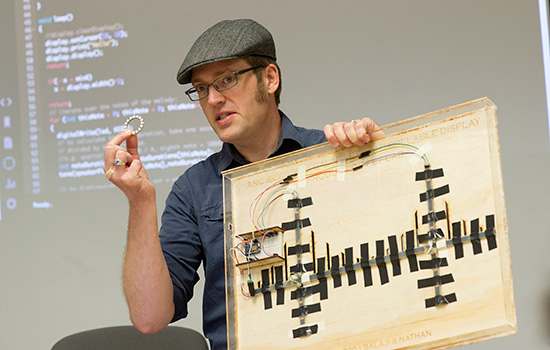 A. Sue Weisler
Learning by doing is the focus of Daniel Ashbrook's Internet of Things prototyping class.
Using particle photon mini-computer boards, LEDs and 3D printers, students are creating everything from desktop notification robots to smart remote controls.
"We are exploring what it means to make physical artifacts that can be connected to the Internet," said Ashbrook, an assistant professor of information sciences and technologies. "It may sound simple, but I think the best way for students to learn about these smart devices is to actually create them."
Ashbrook's course is just one of many made possible with help from the Provost's Learning Innovation Grants (PLIG) program. Offered through the Innovative Learning Institute, the grants are designed to broaden and enrich learning by funding faculty-initiated projects.
"The grants are here to allow faculty to develop any ideas that will help solve a problem and benefit students at the same time," said Michael Starenko, an instructional design researcher and consultant with Teaching and Learning Services in ILI. "More often than not, those ideas involve pulling technology into the classroom in new ways."
Since PLIG began 16 years ago, more than 225 RIT faculty projects have received funding.
For Lorrie Frear, an associate professor of graphic design, and Kelly Murdoch-Kitt, an assistant professor of graphic design, the grant allowed them to develop their second annual Eureka project. The interdisciplinary project allows students in the School of Design to use design to initiate social change. Their 2016 projects, under the theme "Healthy Choices," were recorded in a video, on a Tumblr board and in a book.
"It's very important that we are able to disseminate what is learned from these projects to other faculty at RIT and other universities," said Starenko. "These aren't just one-off projects— we want to see them continue to develop and grow."
About the grants
Provost's Learning Innovation Grants are offered through the Innovative Learning Institute to fund faculty projects that will broaden and enrich student learning.
More than 20 grants were awarded for 2015-2016 academic year.
Funding ranges from $1,000 to $5,000.
Applications are accepted every fall.
A showcase of past projects is set for 3 to 5 p.m. on Nov. 3.
For more information, go to rit.edu/plig.