Hospitality students combine travel, study and networking in Dubai
Weeklong excursion includes informational meetings with general managers of Dubai's foremost tourism properties and attractions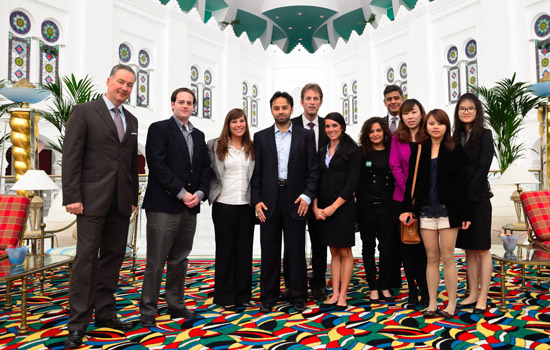 Craig Lockwood
More than 8 million people visited Dubai last year, and among those millions were eight hospitality and tourism students from RIT—and it was more than sight-seeing, says graduate hospitality student Katelynn Morris.
"What was most valuable for me was the opportunity to network," says Morris. "I am interested in working overseas, especially in the five-star luxury market. These meetings enabled me to market myself and establish contacts overseas. So, as well as being a great educational opportunity, this was also key to developing my career."
This is the second year that undergraduate and graduate students from RIT's School of International Hospitality and Service Innovation have traveled to Dubai, says Rick Lagiewski, who led the study abroad trip Jan. 13–21. The excursions are designed for students to see the sights in a major tourist destination and learn firsthand how its industry leaders manage the sites, personnel and events.
Morris and her classmates toured the Ritz-Carlton Hotel in the Dubai International Financial Center. She spoke with the general manager about staffing and training challenges, considering many of the hospitality workers are not actually from the United Arab Emirates.
"Not only does a company have to recruit from different countries, but it also has to consider language, cultural barriers and differences in skill levels. This makes it incredibly hard to staff a property and can lead to additional expenses for training and recruiting," she explains.
Travel to Dubai is also an opportunity to introduce the students to the culture of the area, Lagiewski adds, and this year the group had the advantage of having two members of the class from the area. One of those students, Nada Bondagjy, who was raised in Jeddah, a coastal city in Saudi Arabi, shared personal and cultural insights with her classmates when they all toured the Sheikh Zayed Grand Mosque in Abu Dhabi and the Dubai museum.
While Dubai has a very modern look with influences from Europe, Bondagjy also noted that it has architecture very similar to the Golden Age of Islam, 600–1258 A.D. She compared the soaring architecture of Dubai's most recognizable buildings to some historical structures across the Middle East with vaulted arches, scrollwork, towers and water features.
"When I heard examples given of Dubai and its achievements, I feel proud, happy and impressed, and now schools of tourism around the world are teaching their students about Dubai," says Bonagjy, who has traveled extensively with her family throughout Europe and the Middle East.
The students' itinerary also included presentations and meetings with Heinrich Morio, general manager, and Edwin Calimano, director of human resources, at Burj al Arab, the sail-shaped hotel overlooking the Arabian Gulf and considered one of Dubai's most luxurious hotels. Also on the agenda was a tour of the Burj Kalifa, one of the world's tallest business and residential buildings at 2,716 feet; Ski Dubai, the country's indoor skiing facility; and the Atlantis Hotel, part of the new Palms project, the resort area being built on man-made islands shaped like a palm tree on the gulf.
"I came home having learned a great deal about the tourism and hospitality industry in Dubai. I also felt I learned about and experienced a whole culture that I would never have been exposed to if not given this opportunity," says Morris, who is now working as a co-op at the Ritz-Carlton hotel in Naples, Fla.
The School of International Hospitality will continue this type of study abroad opportunity for its students with an upcoming trip during the break between winter and spring quarter to Rome and Dubrovnik, Croatia, site of RIT's American College of Management and Technology.