Hundreds share ways to become more accessible
RIT's first Effective Access Technology Conference draws speakers, exhibits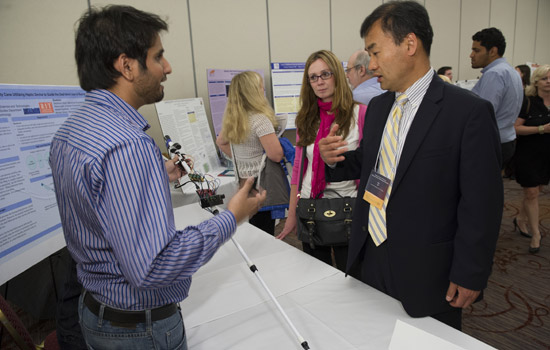 Elizabeth Lamark/RIT Production Services
Organizers of this week's Effective Access Technology Conference at RIT say the success of the event has convinced them to do it again next year.
Nearly 250 people registered for Tuesday's event at the RIT Inn & Conference Center, which featured workshops, keynote speakers, expert panel discussions and dozens of displays of technology in place or under development.
"This is a perfect way to showcase the great work on access technology being done throughout the colleges at RIT, and in the community," said Ryne Raffaelle, vice president for research and associate provost at RIT.
The conference was sponsored by RIT, RIT's National Technical Institute for the Deaf, Al Sigl Community of Agencies and Paradigm.
About 15 percent of the world's population lives with some form of disability. RIT is working to eliminate barriers that prevent equal access to receiving information, mobility and participation with able-bodied peers.
Many of the RIT-related research exhibits at the conference involved research at NTID, including Deaf STEM Community Alliance's efforts to create a remote tutoring program for deaf and hard-of-hearing students in STEM majors, diagnosing attention deficits in deaf adults, a vibrating cane for deaf and blind individuals and C-Print, a classroom captioning system that provides summaries of discussions and graphic illustrations to students. Other RIT projects included an improved ankle and foot orthotic, motion assistive devices for sailing and a heart monitor that would alert patients to risks of atrial fibrillation.
The community exhibits included officials from the U.S. Department of Veterans Affairs, who provided information about their clinical video teleconferencing; N.Y. Outdoors Unlimited, an Ontario, N.Y.-based organization that finds ways to enable disabled individuals to hunt in the woods; and EquiCenter, a Honeoye Falls, N.Y.-based organization that offers therapeutic horseback riding for children and adults.
More than 70 access technology projects are underway at RIT, which accounts for $10 million in sponsored research. RIT also continues to explore ways to partner on development projects with other universities as well as agencies, including Al Sigl, the Veterans Health Administration and The Arc of Monroe County.
Last year, RIT faculty submitted proposals to win a share of $150,000 from RIT to work on access technology projects.
Raffaelle said he hopes a center for access technology will be created at RIT because it would not only help those individuals who may benefit from access technology, but the university could also benefit from economic development opportunities through development, manufacturing and implementation of such technology. Community experts at the conference agreed a center would benefit the region.
"Working with RIT creates a synergy—it's going to be explosive," says Daniel Meyers, president of Al Sigl, which serves more than 50,000 clients a year through a number of programs and agencies.
Meyers says Rochester is a natural location for a center of access technology. "This is probably the best laboratory in the country for creating solutions for people with disabilities."