IBM gift to help RIT's Global Cybersecurity Institute enhance workforce development
IBM software and expertise supports GCI Cyber Range and Pentesting Competition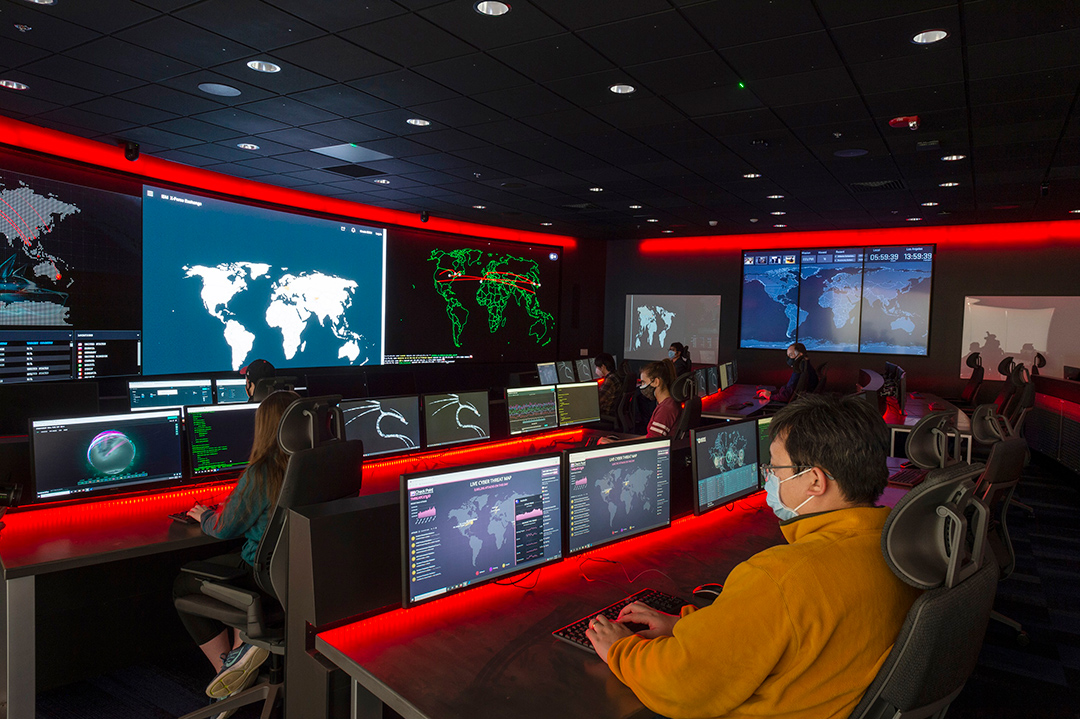 IBM is making a more than $3.3 million in-kind donation to Rochester Institute of Technology to help enhance cybersecurity capabilities in the university's new Global Cybersecurity Institute (GCI), as well as support security training and competitions for students.
With the donation, RIT will be able to enhance cybersecurity workforce development in the GCI's Cyber Range and Training Center. Equipped with IBM cybersecurity tools and expertise, the new Cyber Range at RIT can offer immersive cyberattack training scenarios to help prepare professionals on how to respond more effectively to real world cyberattacks.
The collaboration has allowed RIT to become the first university to license the IBM Security Command Cyber Range design, one of the first spaces to offer immersive cybersecurity simulations. RIT experts were inspired after visiting the IBM Cyber Range in Cambridge, Mass., and sought to recreate that experience at RIT. 
"IBM is an industry leader in cybersecurity and so we definitely appreciate the support that IBM has shown and are incredibly excited to collaborate with industry experts to lead effective change in cybersecurity," said Steve Hoover, the Katherine Johnson Executive Director of GCI. "Our mission at the GCI is to make our digital world and digital selves safer, and this donation really speaks to IBM's shared commitment to that vision."
IBM is contributing state-of-the-art software, IBM consulting services, and access to curriculum and licenses to the GCI. IBM is also continuing its commitment to the Collegiate Penetration Testing Competition (CPTC), the top ethical hacking competition for college students, which is run by RIT. IBM will be the CPTC's exclusive premier sponsor for the next five years.
"The work RIT is doing to equip future generations of cybersecurity talent is a critical facet of meeting growing demand in our field," said Heather Ricciuto, Academic and Talent Program Manager, IBM Security. "This contribution and the ongoing collaboration between IBM and RIT can prepare learners with resources to gain experience, while also helping IBM connect with future skilled professionals."
The GCI Cyber Range is being equipped with IBM Security QRadar technology, which helps security teams accurately detect and prioritize threats across the enterprise, enabling swift investigation and response to help reduce the impact of incidents. By consolidating data from thousands of devices, endpoints, and applications distributed throughout the network, QRadar Security Information and Event Management (SIEM) correlates information and aggregates related events into single alerts, helping accelerate security incident analysis and remediation.
"I'm excited because of how IBM QRadar technology connects with Watson artificial intelligence, allowing us to do much deeper analysis of cyberattacks," said Justin Pelletier, director of the Cyber Range and Training Center. "Plus, we'll get to use IBM/i2 Analyst's Notebook tool, which lets us graphically map cybersecurity data and perform network calculations that can uncover hidden connections. Their donation to help train the next generation of cybersecurity professionals can have a long-term benefit to society as a whole."
GCI organizers are creating different scenarios for organizations to come in and face-off against advanced persistent threats seeking to steal valuable information and wreak havoc. For example, participants might have to defend the network of a medical center during a natural disaster or discover a malware attack that could impact millions of retail customers.
"These experiences will be varied and customized, so participants will never know exactly what to expect — just like real life," said Pelletier.
The immersive incident response experiences are currently under construction and organizers hope to start offering training in the fall.
"The Cyber Range is going to allow us to create scenarios where non-technical professionals can come in and learn about the weaknesses in their systems and how to rectify those problems," said Chad Weeden, director of esports and cybersecurity range at RIT. "We're even integrating RIT's strength in interactive games and media to create immersive stories where participants have to work together to solve the problems."
The Cyber Range can offer a highly realistic simulation of a state of the art SOC (Security Operations Center) licensed from IBM, which provides the ability to simulate complex global networks of up to 5,000 endpoints with realistic applications software and usage. Those capabilities can be accessed remotely and can provide highly interactive physically realistic experiences for more than 30 participants present in the physical part of the Cyber Range. It features a video wall with 1080p and 4K screens, a control room, a conference room, and electrostatic privacy glass walls.
LED lights that surround the room can bring the mood of a training scenario from a welcoming blue to a stress-inducing flashing red. Rumbling speakers can be used to mimic disaster scenarios, while temperature controls can literally turn up the heat of the situation.
The Cyber Range infrastructure is already being used for RIT's Cybersecurity Bootcamp —a 15-week immersive training course that is helping people switch careers and join the cybersecurity workforce. The bootcamp prepares people from all backgrounds (even those with no prior coding or IT experience) for critical entry-level cybersecurity roles. The bootcamp is being delivered remotely, with new cohorts starting every few months.
The Cyber Range infrastructure was also used during the most recent Collegiate Penetration Testing Competition (CPTC) international finals in January. Student teams from 15 of the best cybersecurity colleges faced-off to see who was best at finding the vulnerable spots in complex computer networks and systems, along with presenting plans to better secure them. RIT's student team took first place at the competition.
"We've been lucky enough to partner with RIT for the past six years to help up and coming professionals build their cyber skills through the CPTC event," said Bob Kalka, Global Vice President for Technical Sales, IBM Security. "Our investment will help us to continue that partnership, while also providing quality technology and resources that will be instrumental in further developing the cybersecurity talent that is urgently needed across all industries."
The IBM donation is part of the university's largest fundraising effort in history, Transforming RIT: The Campaign for Greatness. With IBM's support, the $1 billion campaign recently surpassed the $750 million mark.