RIT offers Cybersecurity Bootcamp to help people get back to work and start new careers
New program prepares people for entry-level cybersecurity jobs in 15-weeks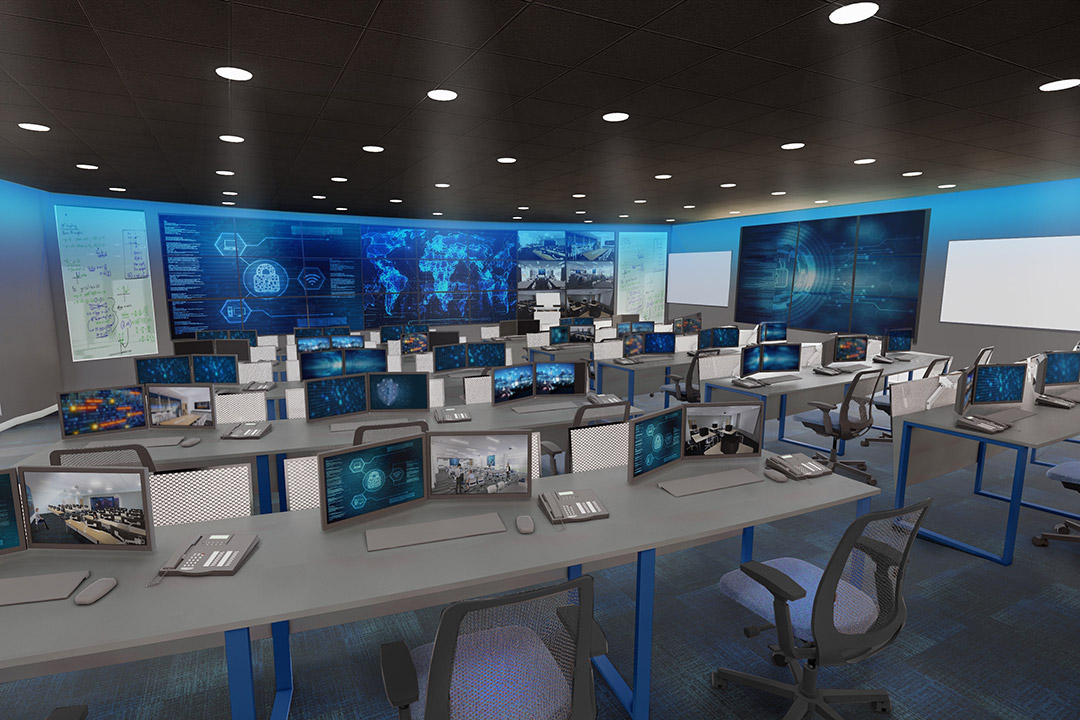 Update: As of January 1, 2023, this program has transitioned to RIT Certified.
A new 15-week program at Rochester Institute of Technology is teaching people all the skills they need to start a new career in cybersecurity.
Starting in July, learners can enroll in RIT's Cybersecurity Bootcamp, an immersive hands-on training course that will prepare them for critical entry-level roles in the cybersecurity workforce. The program aims to help professionals from all backgrounds and abilities set themselves up to transition into an in-demand career.
Since the COVID-19 pandemic began, more than 21 million Americans have become unemployed. One industry that still needs employees across the globe is cybersecurity.
In fact, 1.8 million cybersecurity jobs will still go unfilled by 2022, according to a Global Information Security Workforce Study. Organizations are hiring professionals who can secure customer data and maintain critical systems — and those jobs come with an average salary of more than $72,000 a year.
"In these critical times, it is important that we both protect our cyber assets and help people get back to work," said Steve Hoover, executive director of RIT's Global Cybersecurity Institute (GCI). "Our Cybersecurity Bootcamp provides real world training to help people who are wishing to switch careers – including the newly unemployed – into the exciting and rewarding field of cybersecurity."
Dozens of companies have already expressed interest in future Cybersecurity Bootcamp graduates, including Eaton, IBM, LenelS2 Carrier, L3Harris, Security Risk Advisors and Wegmans.
"We expect an ongoing need for cybersecurity talent at various levels across our organization," said Max Wandera, director of the Product Cybersecurity Center of Excellence at Eaton. "We are committed to working with RIT to build the cybersecurity talent pipeline to help meet critical needs in this area for Eaton and the industry as a whole."
The bootcamp is being delivered remotely and is intended for full-time learners. Tuition for the RIT Cybersecurity Bootcamp is $10,000.
There is no prior coding or IT experience required, although learners should have basic computing skills. Organizers said that a job in the cybersecurity industry is ideal for a wide range of candidates, including transitioning military personnel, office administrators looking to pivot careers, someone who was laid-off of their call center job, manufacturing supervisors and former teachers.
In the program, learners begin as an intern for a mock company, where they'll learn the basics of IT, operating systems and networking. Participants will also get to field the company's helpdesk trouble tickets, learning new fundamentals as they progress each week.
"For example, you may receive news alerts and emails that simulate the noise and necessary information you need to troubleshoot tickets, or you may go hands-on-keyboard to remotely access a computer and solve a problem," said Justin Pelletier, director of the GCI Cyber Range and Training Center. "This multi-media learning model continues throughout the learning progression, even as students advance to join the Security Operations Center, do short rotations on specialty teams and ultimately defend against advanced attackers."
While the program is done remotely, participants will be using the new Cyber Range in RIT's Global Cybersecurity Institute. The Cyber Range is a state-of-the-art virtual and physical lab that allows people to simulate network cyber-attacks and problem-solving scenarios, so they can practice their real-world skills.
"RIT's program stands out because we go beyond imparting knowledge to train and validate skills," said Pelletier. "Our immersive scenarios are designed to cultivate abilities and even develop soft skills that will optimally position transitioning workers for entry-level jobs in cybersecurity."
The bootcamp's curriculum aligns with the National Institute of Standards and Technology (NIST)-developed National Initiative for Cybersecurity Education (NICE) framework for cybersecurity jobs. Participants will learn skills in:
Windows/Linux/Unix security fundamentals
IT support fundamentals
Security management and event triage
Introductory computer forensics
Security Information and Event Management (SIEM) tools for detection and response, including IBM QRadar and Splunk
Cloud security fundamentals
DevOps and continuous integration
Vulnerability response and risk assessment
Information systems auditing and compliance
Project management
Instruction is being led by faculty and staff in RIT's Department of Computing Security and Saunders College of Business, which is nationally recognized for cybersecurity education, having been designated as a National Center for Academic Excellence in Cyber Defense Education and in Research by the National Security Agency and the Department of Homeland Security. RIT experts have also helped to "gamify" each cybersecurity scenario.
Learners who pass the program's skills-based assessment will be issued an RIT Global Cybersecurity Institute Cybersecurity Bootcamp Certificate that they can put on their resume. Participants will have access to job search assistance through RIT. Upon completion, they will be prepared to take on entry-level roles as a cyber technician, cyber incident responder, cyber investigator and an IT auditor.
The bootcamp also prepares learners for industry standard certifications, including the Security+ and CyberSec First Responder certificates. Participants will receive a voucher to take a certification exam.
Registration is open and the first Cybersecurity Bootcamp cohort starts July 20. Additional cohorts of the bootcamp will be offered, with multiple start dates in the summer and fall. Apply now on the RIT Certified website.
The Cyber Range is just part of RIT's Global Cybersecurity Institute, which is expected to fully open in 2021. The new three-story facility will allow RIT to conduct more groundbreaking research, education, and professional training and development.