Ice-breaker was really love at first sight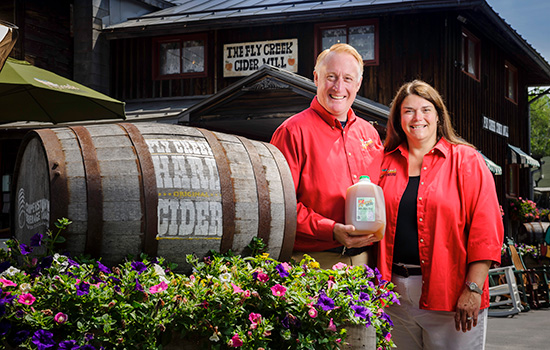 Chelsea Bos
During the ice-breaking exercise that was part of Resident Advisor training in August 2011, students were put into pairs and asked to provide two interesting facts about themselves. Then they would change partners.
Near the end of the activity, Guerin Gagliastri '14 (physician assistant) found himself talking with Stephen Jones '13 (film and animation).
"Stephen told me he was in Switzerland for a year and that he spoke fluent French," said Gagliastri, who shared that he was one of six kids and moved 20 times growing up. "I just found him so interesting."
The two instantly became friends. They hung out after staff meetings and did their homework together. They shared with each other their goals in life. They talked about their families.
Three months later, they came out together and started to date. Last September, they got married.
"I like to think when we first met it was love at first sight," Jones said. "We just didn't realize it yet. We didn't know what it was."
Thinking back on their relationship, they feel fortunate that their paths even crossed in the first place.
Jones, a Utica, N.Y., native, applied to RIT's film and animation program as a senior in high school with dreams of becoming the next Steven Spielberg. But he decided to defer his admission for one year and spend a gap year in Switzerland. When he met Gagliastri, Jones was in his second year as a Resident Advisor.
Gagliastri, meanwhile, had participated in a health care shadowing program when he was in high school in Albany, N.Y., thinking he wanted to be a doctor. Although he had been accepted into five-year medical track programs at Duke University and Syracuse University, he came to RIT to become a physician assistant, the job he enjoyed the most during the high school program.
Jones graduated first and became a production assistant for the Katie Couric show in New York City. When the show got canceled, he began working on the Meredith Vieira show in Rockefeller Center and then in the video department at a public relations agency.
A year later, Gagliastri joined Jones in New York City. He worked at The Children's Hospital at Montefiore.
On Dec. 27, 2014, after a Christmas party with both of their families, Gagliastri proposed to Jones.
They were married Sept. 17, 2016, on a farm in Ballston Spa, N.Y., with two dozen alumni in attendance.
The do-it-yourselfers and their artistic families made all of the decorations, including the chandelier. Jones' parents grew the flowers in their backyard.
Their mothers each made their boutineers using material from their own wedding dresses. Jones' sister officiated the wedding. Gagliastri's grandmother was the flower girl.
Today, the couple lives in Philadelphia with their Russian Siberian cat named Frex. Gagliastri works in the neonatal intensive care unit at Children's Hospital of Philadelphia. He learned at his first job that he wanted to specialize in neonatology. Jones works for Apple as a technical specialist.
They are thankful they both ended up at RIT.
"RIT is our home, it's where we met, where we fell in love," Gagliastri said. "It's a very special place to us."
Chelsea Bos
Topics