Imagine RIT visitors get to control RIT's 'Weather Machine' in new two-story-high video game
Interdisciplinary group creates multiplayer, multi-screen video game in RIT's MAGIC building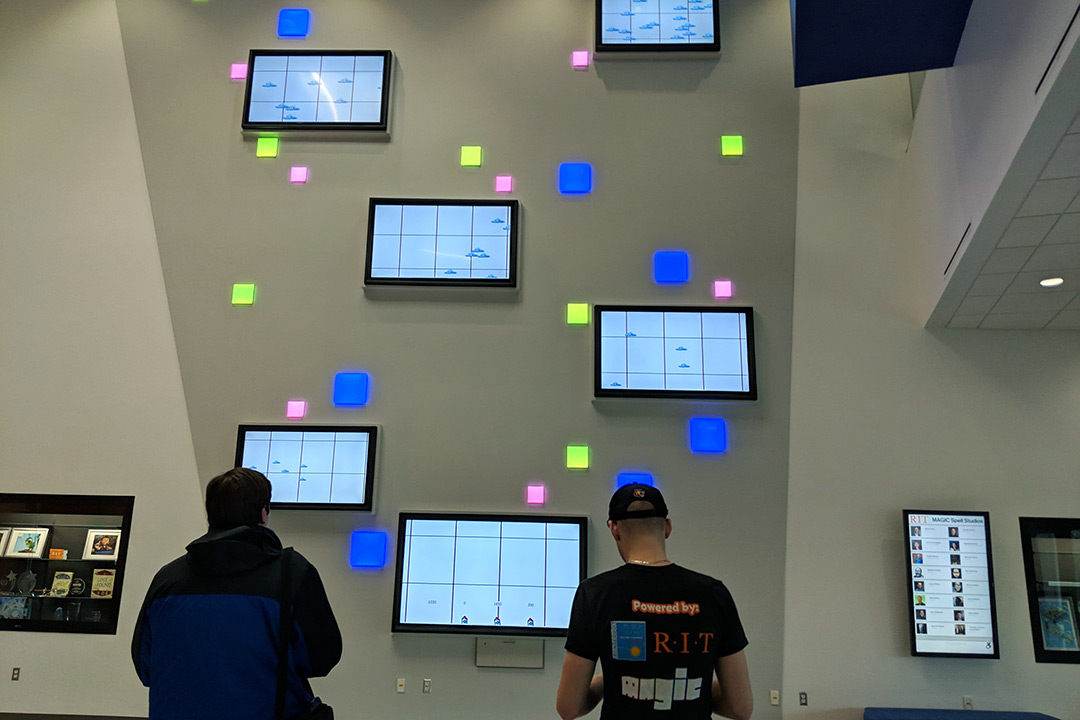 Brad Coudriet
Imagine RIT visitors will help keep the skies above RIT clear during the festival on April 27 in a new video game on display at the MAGIC Spell Studios building.
Festivalgoers can play "Weather Defense: A Two Stories High Video Wall Game" on six large 4K displays, mounted two stories up the atrium wall of the new 52,000-square-foot MAGIC building. The interactive exhibit is located in the Artistic Alley at the Imagine RIT: Creativity and Innovation Festival.
In the game, multiple players can take control of their own weather-fighting device to help defend against bad weather during Imagine RIT. The Weather Defense game plays on the joke that RIT presidents can use a tall sculpture on campus — The Sentinel — to control the weather on campus.
"I'm a 2006 alumnus and the RIT Weather Machine has been an ongoing joke for as long as I can remember," said Brad Coudriet '06 (information technology), who helped create the game and now works at RIT. "It's fun to utilize that little joke in our game."
The game is the brainchild of Coudriet and an interdisciplinary group of computing students who completed co-ops at MAGIC during its construction and opening. Creators of the game include: Coudriet, a senior web programmer and systems administrator in RIT's College of Art and Design; Louis DiOrio, a fourth-year computing and information technology student from Union Beach, N.J.; Cris Sochacki, a computing security major from Union Beach, N.J.; and Brian Bullis, a second-year computing security student from Chili, N.Y.
"Cris and Louis had the idea to make a game on the big wall of displays in the MAGIC atrium," said Coudriet. "I jumped at the chance and we've since had Brian come aboard to help with graphics for the game. None of us are game developers in any way, so it's been a learning experience for all us."
The goal of the game is to get as many points as possible in a set amount of time. Players get points by hitting pockets of bad weather with their anti-bad weather rockets. Players can earn more points for hitting bad weather that appears higher up on the wall.
"The screens on the MAGIC wall aren't physically connected, so there is dead space between each display—where the player will have to line up their shot to make it to the next screen," Coudriet said. "It's going to take some skill to get those higher points!"
To learn more about Imagine RIT and plan your day for April 27, go to the Imagine RIT site.
Topics