Incubator business gets $100,000 state grant
R-Display & Lighting, in RIT's Venture Creations, works to develop efficient lighting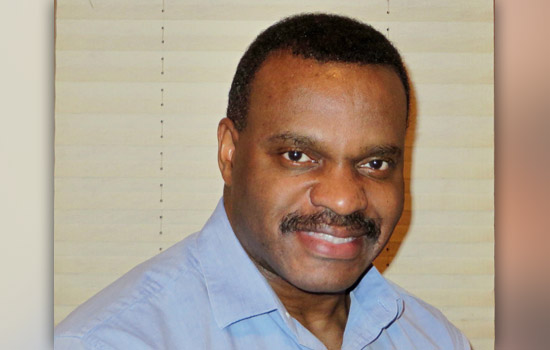 A company in Rochester Institute of Technology's Venture Creations business incubator has received a $100,000 state grant to support the development of lighting technology that will make buildings in New York state more energy efficient.
R-Display & Lighting received the grant from the New York State Energy Research and Development Authority (NYSERDA) Advanced Buildings Program, which is providing $25 million in grants to companies statewide over the next three years.
The company is working to advance organic light-emitting diode (OLED) technology, a new technology that can be used for displays in electronic devices such as smartphones or to produce white light for lighting applications. The goal of the NYSERDA project is to use innovative materials to improve the performance of lighting products and to support OLED manufacturing companies in producing the products at a lower cost.
"There is a growing interest and effort in New York state to use OLED technology for lighting applications in buildings," said Tommie Royster, the company's CEO. "We've designed a new class of light emitting materials with the potential to improve the performance and manufacturing capabilities of OLED lighting products."
Royster has been collaborating with chemistry and engineering faculty at RIT. "Venture Creations has allowed us to make strategic business connections," Royster said. "It's a good place for us to conduct business and receive business mentoring."
Royster stated plans are in place to set up a new laboratory to further advance the OLED materials and "develop prototype lighting products that demonstrate the performance of our new lighting materials."
John B. Rhodes, president and CEO of NYSERDA, said R-Display & Lighting supports Gov. Andrew Cuomo's goals of stimulating the clean energy economy and providing advanced technologies that will assist in reducing energy consumption throughout the state.
"Building research and development programs are critical in the state's innovation pipeline as it looks to new technologies that will assist businesses and homeowners achieve greater savings through energy efficiency," Rhodes said.
About Venture Creations
RIT's Venture Creations incubator is where young companies can advance their concepts to become profitable, viable businesses and use resources such as coaching, networking and connections to potential investors. It also is home to RIT's NYSERDA-sponsored Clean Energy Incubator, a joint industry outreach effort by Venture Creations and the Golisano Institute for Sustainability to assist early-stage clean energy companies in product development, business and marketing planning and technology commercialization. The incubator is one of six statewide and part of New York state's clean energy initiative.
Venture Creations is located on Tech Park Drive, off John Street, which borders the east side of the RIT's Henrietta campus. Since opening in 2003, it has housed 57 companies, created 340 jobs and brought in more than $30 million in private capital raised.