Industrial design students honored for Metaproject
Metaproject 06 booth with Poppin recognized as best among 14 exhibiting schools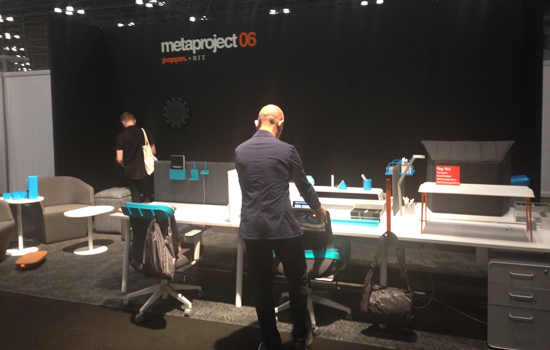 Rochester Institute of Technology's industrial design program enjoyed a stellar several days at the International Contemporary Furniture Fair (ICFF) 2016, held May 14-17 as part of Design Week in New York City.
RIT's Metaproject 06 booth with Poppin—a leading manufacturer of workplace furniture and supplies based in New York City—was awarded the highly coveted and industry prestigious ICFF Editors' Award (Best School). The award recognizes the best and most innovative designs at ICFF 2016.
For 28 years, ICFF has convened the industry's top editors and invited them to scout the show and choose the best of this year's design crop. Five editors canvassed more than 700 booths on two floors of New York City's Jacob K. Javits Convention Center to determine this year's winners. RIT was awarded the top prize among 14 institutions in the annual ICFF Schools exhibitions.
"Winning this award has a major impact on our industrial design program in the positioning of RIT among our peers in design education," said Josh Owen, professor and chair of the industrial design program in the School of Design at the College of Imaging Arts and Sciences. "Designers pay close attention to this metric delivered at ICFF—the most visible design-industry event in the USA each year."
Twenty-two of Owen's fourth-year industrial design students took part this semester in Metaproject 06, an annual interdisciplinary and collaborative design project between RIT and an industry partner. The course offers RIT students a taste of real-world experience, connections with design professionals, and the possibility of having their design go into production.
This semester, the design focus was "Work Happy," Poppin's slogan targeted at the company's millennial market. While designing, students had to take into account specific trends in modern offices that present challenges, including shrinking or shared worked spaces, privacy needs, and the increasing popularity of people standing at desks rather than sitting among other evolving behaviors.
"Collaborating with Poppin was an excellent opportunity to expose our students to bleeding-edge industry context and practices, while bringing unique insights to enrich the company's product line from RIT ID's approach to research and problem-solving," Owen said.
One of those students—Kyle Laidlaw, a senior industrial design student from Geneseo, N.Y., designed an "extruded universal holder," able to support mobile phones, tablets and other items for easy access to optimize workflow and keep office desks organized.
"The folks from Poppin were very positive in terms of their feedback," said Laidlaw, who plans to serve an internship in Owen's studio this summer. "The design process was a journey for me and it was quite transformational from my original design."
Now in its sixth iteration, Metaproject was developed by Owen in 2010 as an industrial design studio course with an industry partnership placing student output into a global venue. This semester, students were tasked with designing innovative accessories for Poppin's office furniture that accent, improve or add to the company's existing products.
"Our (creative) brief challenged the students to design accessories for our furniture collection, using the same guiding principles of simple performance and a distilled design aesthetic, with a feasible and manufacturable solution," said Jeff Miller, Poppin's vice president of design. "I've been a personal fan of RIT's renowned Metaproject since its inception, looking forward each year to what designs came out of the competition. This year it's been especially exciting for Poppin to sponsor the Metaproject and see what goes into the process."
In addition to Miller, the final products were judged by David Branham, Poppin's director of merchandising, and Francesca Pezze, a product designer and RIT industrial design alumna who participated in the inaugural Metaproject as a senior back in 2011.
"I felt really honored to work with the Metaproject as a representative of Poppin," said Pezze, a Guilderland, N.Y., native and now a resident of Brooklyn, N.Y. "Because I was once in the students' shoes, I was able to bring a unique perspective to the judging panel. I will admit it was definitely less stressful for me this time around!"
Pezze added that the RIT students produced "fantastic work."
"It was great to come back and see that the high level of craft and creativity has remained since I was a student," Pezze said.
Owen noted that, as always with the Metaproject, the output was framed by "the tenets of the Vignelli design philosophy" and the teaching tools available from RIT's Vignelli Archives in the Vignelli Center for Design Studies.
Previous Metaprojects featured students partnering with Herman Miller, Wilsonart, The Corning Museum of Glass, Areaware, and both Kikkerland and Bed Bath & Beyond a year ago.
In conjunction with RIT's strategic plan, Metaproject 06 also represented an interdisciplinary project teaming up industrial design seniors with new media design third-year students to develop a digital experience around the projects that were part of the showcase at ICFF in New York City.
"Our new media design students created a unique digital experience and solution for each ID student, walking people through the entire creative process from concept to implementation," said Adam Smith, program chair of new media design. "It also included information about the unique collaborative and creative nature of Poppin and RIT."
Topics