'INSIGHT into Diversity' honors President Destler
University leader honored for his impact on campus diversity and educational, civic and philanthropic support within the Rochester community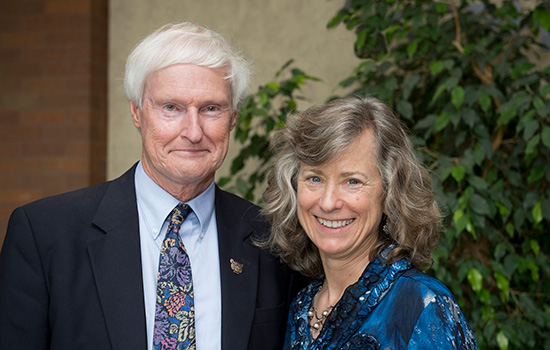 Elizabeth Lamark/RIT Production Services
Rochester Institute of Technology President Bill Destler has been recognized by INSIGHT Into Diversity magazine with its Giving Back Award. Presented annually, the award is given to university presidents and chancellors in recognition of their social responsibility, both on campus and in their communities, for their commitment to serving underrepresented populations and for philanthropic achievements.
Destler was nominated for his dedication to RIT's student-centered programs, his leadership and participation in faculty and staff equity projects, and for his contributions to the Greater Rochester community through the establishment of the Rochester City Scholars program. Destler will be featured in the Leadership Support and Giving print issue of INSIGHT Into Diversity magazine, out March 22.
"President Destler has truly served as one of RIT's strongest diversity champions," said Kevin McDonald, vice president and associate provost for diversity and inclusion at the university. "Whether he is committing personal or institutional funds in support of strategic diversity initiatives, or dedicating his time and talents to aid the organization in reaching its desired diversity goals, he has left an indelible mark that has helped move our community closer toward its inclusion goals."
One of the significant contributions to the community came in 2010 when Destler and his spouse, Rebecca Johnson, championed the Rochester City Scholars Program to ensure that finances would not be an obstacle for local students seeking a college education. Income-qualified students from public or charter schools in the City of Rochester who meet admission requirements for RIT receive full tuition to the university. According to the Rochester School District, financial challenges prevent more than three-quarters of its students from attending college. Nearly 90 percent of the district's families earn $21,000 or less annually. In May 2014, students from the first class of scholars graduated from the university and have since gone on to careers or graduate school. And in July of that same year, the couple pledged a $1 million endowment to the Rochester City Scholars program to help ensure the future sustainability of the program.
"One of the many things that tend to go unrecognized is the true commitment that Dr. Destler and Dr. Johnson have, to not only the students, but designing a campus that is notable for its commitment to diversity. It makes me feel valued as a student to see our campus leaders, not only initiating these initiatives, but actively attending and engaging in these events to share experiences, express their support and truly learn more about the diverse population they serve," said Bernard Rodgers, a third-year communications major. He is also a Rochester City Scholar and a member of the campus organization MOCHA—Men of Color, Honor and Ambition.
On campus, Destler is one of the leaders of RIT's five-year National Science Foundation ADVANCE Grant to ensure gender equity and advancement for female faculty, particularly in STEM degree programs. The program, called AdvanceRIT, is a long term, multi-faceted project designed to increase and advance women faculty in STEM disciplines. Additionally, the project examines the unique challenges experienced by women faculty of color and deaf and hard-of-hearing faculty and adapting interventions to address the needs of these key populations. Destler has supported the effort, encouraging policy advancements that suit female faculty, but also enhance the climate for all faculty.
Campus climate for students is another area Destler has upheld. RIT has been recognized as one of the top universities for Native American students and collaborates with regional tribes to advance higher education opportunities for Native American students. As part of that focus, Destler recently appointed Peter Jemison, a member of the Heron clan of the Seneca Nation, as RIT's first Special Adviser to the President on Native American Issues and Partnership with Tribal Organizations. The two were instrumental in developing RIT's Native American Advisory Council, which fosters relationships to help make higher education more attractive to native scholars and assists them in returning to their communities after graduation.
"Bill Destler and Rebecca Johnson recognized that by including qualified, underrepresented populations into RIT's educational crucible, the educational results and related positive impacts to the world would open new doors for society and the individuals. Their demonstrated leadership and commitment are yielding profound results," said Jeffrey Harris '75 (photographic science and instrumentation) and a member of RIT's Board of Trustees.
Topics