International Education Week marked Nov. 14–18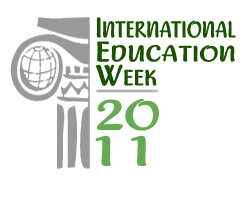 This week is International Education Week, a joint initiative of the U.S. State and Education departments to promote programs preparing American students for study-abroad opportunities and to attract international students to the United States.
In addition, Gov. Andrew Cuomo has proclaimed Nov. 14–18 as International Education Week for New York State. Cuomo notes that New York has 76,146 international students—the second most in the United States after California—and New York City has the largest international-student population in the country.
RIT currently enrolls 1,831 international students from 109 countries. The most, 595, are from India, followed by 312 from China and 139 from Saudi Arabia. In addition, about 1,300 students study at RIT campuses in Kosovo, Croatia and Dubai.
"The standard of education and research opportunities are important reasons," says Srinivas Sridharan, a computing and information sciences Ph.D. student originally from Chennai, India, citing his motivation for studying in the U.S. and at RIT. "RIT courses are structured for industry needs."
"We want to thank all staff and faculty who provide support in many ways," says Jeffrey Cox, RIT director of international student services. "And thanks to those who do so on their own through ongoing friendships with current and former international students."
RIT's International Student Services office advises students, faculty, clubs and departments on immigration, cultural, academic and personal matters. Staff work closely with Global Union, RIT's largest multicultural student organization; International House, RIT's special-interest residence hall for both international and American students; and the Rochester International Council, a local nonprofit organization that provides international college students with American hosts.
International Education Week was first held in 2000.
For more on International Education Week and groups cited here, go to:
RIT International Student Services (located in the Student Alumni Union)
International Education Week and www.facebook.com/InternationalEdWeek
Rochester International Council
Global Union