Jason Grow '04, '05, propulsion engineer, Boeing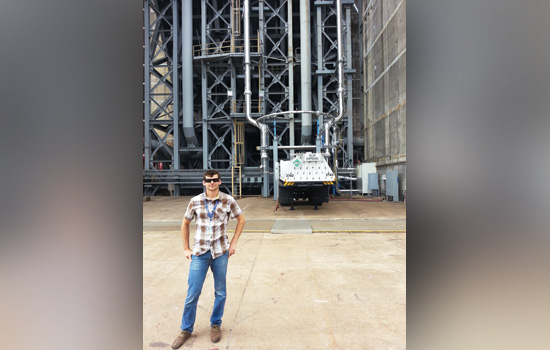 NASA's Space Launch System rocket will have more than 8 million pounds of thrust, equal to the horsepower produced in 160,000 Corvette engines, and launch 70 metric tons into space. And that's just the smaller of the two rockets being built.
One of the engineers helping to configure all that power is Jason Grow '04, '05 (mechanical engineering), a propulsion engineer with Boeing's Space Exploration Division.
"The project I'm working on is for NASA to resume deep space, human exploration. Boeing is building the rocket that will take humans farther than we've ever gone before," said Grow about the launch system that one day will take people into space. "I'm a big supporter of these missions, whether to the moon or to Mars. There are so many people involved with many different backgrounds."
His area is in the analysis, test, integration and operation of space propulsion systems. Grow, who has been with Boeing for 10 years, relocated from California to NASA's Marshall Space Flight Center in Alabama for the project. He was the lead analyst/test director of the full-scale replica of the liquid oxygen system that would be used in the rocket. With his team, they assembled and tested more than 250 intricate pieces of instrumentation on the feed-line liquid oxygen system.
"Loading the volatile propellants onto the rocket is a daunting task with the liquid oxygen being minus 300 degrees Fahrenheit. It's a different world and when you know you have to load a rocket with astronauts—nothing can go wrong. We have to prepare and practice and be absolutely 100 percent on everything for that moment when the engines start and the rocket leaves the launch pad."
Grow always knew he wanted to work in the aerospace industry and took advantage of the aerospace concentration as an undergraduate in the Kate Gleason College of Engineering. He was a member of the Aero Club, led a MicroAir Vehicle project team and played for RIT's soccer team. He sought opportunities whenever he could to learn more about the aerospace field through senior design projects and work with faculty.
This past summer, Grow was presented the 2015 Early Career Stellar Award for his work on the liquid oxygen feed system. Given by the Rotary National for Space Achievement, the awards recognize top teams' and individuals' work in U.S. space-related associations. It was like the Oscars, said Grow. But instead of Hollywood celebrities announcing winners, U.S. astronauts celebrated those whose contributions to projects will influence the country's future space voyages and discoveries.
"We are helping to shape the future of space exploration. And right now, there's only one place in the world for me to be a part of it—and that's why I'm here."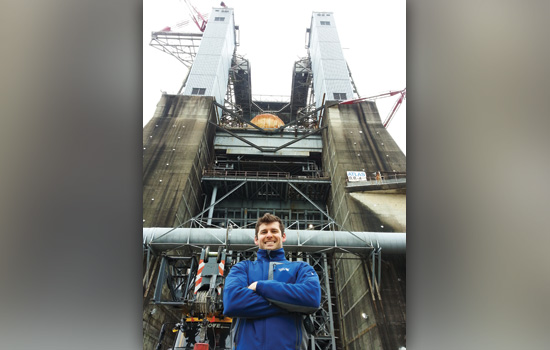 Boeing