John Schott to retire from teaching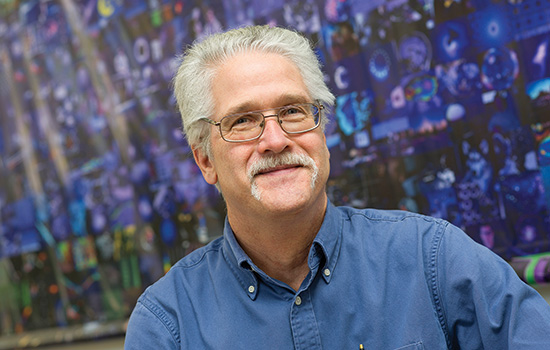 A. Sue Weisler
John Schott likes to take on big projects. During his 33 years at RIT, Schott helped form the Chester F. Carlson Center for Imaging Science and built the university's first Ph.D. program. He won initial research funding in 1981 in support of NASA's Landsat program of Earth-orbiting satellites that monitor global climate change and gave RIT a reputation for remote sensing. 

His work commitments frequently 
extended into the weekend, but in his 
limited spare time, Schott transformed 
his family's simple "salt box" cottage, built in the 1940s on the Canadian side of Lake 
Erie, into a year-round beach house. Later, he took up woodworking when his wife, Pam, told him he needed a hobby, and now builds Mission-style couches and chairs.

Schott, the Frederick and Anna B. Wiedman Professor in Imaging Science, will retire from teaching this spring. His research agenda will continue with a five-year commitment to NASA and the U.S. Geological Survey, which named him to 
the Landsat 8 science and calibration teams, and also with ongoing projects for the National Reconnaissance Office. 

"I'm going to miss the classroom," Schott says, "but I think it's time for some of these other guys to shape the curriculum and to get the newest ideas into the classroom."

One of his successors, Carl Salvaggio '85 '87 (imaging science) has long regarded Schott as a mentor. Their connection began in the classroom when Salvaggio was an undergraduate and Schott, a new professor in the then-Department of Photo Science.

"We knew each other right from the start," Salvaggio says. "I was one of the 
first students that he had."

Salvaggio's son, Philip '12 (computer 
science), began studying in the Ph.D.
program in imaging science last fall.

"John just had Phil in his remote-sensing class," Salvaggio says. "So, Phil is one of 
the last students he will ever have." 

The Ph.D. that Schott developed draws high-caliber students and faculty who 
reflect his commitment to rigorous science.

"I spent almost the first 10 years I was here building the research and fighting to convince the various constituencies that it was OK to have a Ph.D. in imaging science," Schott says. "We needed the doctoral 
program to do fundamental research."

In 1980, RIT's photo science department recruited Schott from the remote-sensing industry to jumpstart a research program and to champion RIT's first doctoral degree.

Digital technology revolutionized the photo science curriculum, and by 1985, 
the department had changed its name to imaging science and morphed into the 
first joint research and teaching center on campus. In 1989, RIT enrolled its first class of doctoral students in imaging science. 

The nuance of Schott's legacy extends to the cultural and philosophic change it represented for RIT as a teaching university.

"In imaging science, teaching is just a fraction of what we do," Schott says. "We also focus on research. And at the graduate level, you can't differentiate. Teaching and research is the same thing."