Ke Du awarded 15K from Biological Mimetics Inc.
Developing a CRISPR assay for the rapid detection of SARS-CoV-2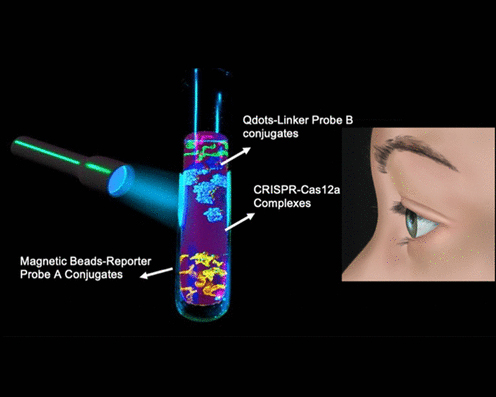 https://pubs.acs.org/na101/home/literatum/publisher/achs/journals/content/aamick/2020/aamick.2020.12.issue-39/acsami.0c12482/20201113/images/medium/am0c12482_0007.gif
Ke Du, assistant professor in the Kate Gleason College of Engineering, awarded 15K to develop a CRISPR assay for the rapid detection of SARS-CoV-2. The detection scheme based on a recent paper from Du's lab appeared in the journal of ACS Applied Materials & Interfaces titled Magnetic Bead-Quantum Dot (MB-Qdot) Clustered Regularly Interspaced Short Palindromic Repeat Assay for Simple Viral DNA Detection.  Super-bright quantum dots are used as a fluorescence label to enhance the detection sensitivity of CRISPR Cas12a assay, enabling an instrument-free detection fashion. The assay is coupled with a magnetic beads assay to purify the samples after the CRISPR reaction, designed for rapid diagnosis in bodily fluids, such as human plasma. Biological Mimetics Inc. (BMI), located in Frederick, Maryland, was founded in 1996 and is actively commercializing innovative pharmaceutical products since then.