Kursten O'Neill '11, certification integration engineer, SpaceX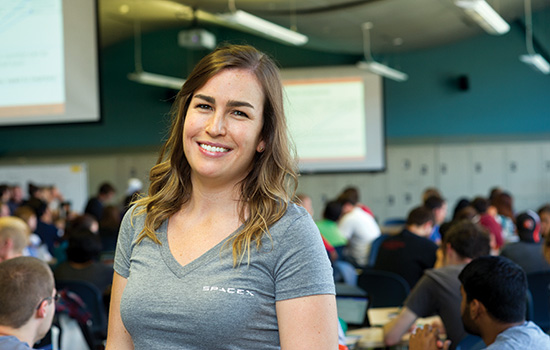 Simplifying something as complex as a rocket system is no easy task, but trained with a mechanical engineering and public policy background, communicating information about the system and mission impact becomes that much easier, said Kursten O'Neill.
As a lead certification integration engineer at SpaceX, O'Neill '11 (mechanical engineering) is a cross between a systems engineer and a project manager, a technical expert who can translate the complex into understandable terms. She works with different technical departments that build, test and launch the company's Falcon 9 rocket and communicates information to its government partners to show that the Falcon 9 is a reliable, dependable system to launch national security payloads.
"This is my dream job, to be the technical interface between our government on the aerospace side for a private company," she said. "It was natural for me to want to do something like this where I can take the technical information of a design and easily break it down for others."
The experience of applying coursework to design work and team competitions gave her the edge when looking for a job, she said. The Buffalo, N.Y., native selected RIT based on its co-op program, academics and activities.
She competed on the swim team for two years and held leadership positions on RIT's SAE Formula collegiate race team, serving as co-project manager for the 2010-2011 season. During her time on the team, all the racing-planets aligned as the team was in the top-20 among 500 international Formula race teams, peaking at No. 4 in 2010.
Her co-ops were at Moog and Boeing Co., as a product engineer and flight controls engineer, respectively. After graduating, O'Neill worked as a vehicle systems and mechanical engineer for Boeing, where she found an example of what a mentor is and how to be a mentor herself.
"When you start a new job, or an internship, find someone you connect with, someone willing to be your mentor—no matter what company you go to," said O'Neill, who has been at SpaceX since 2013 and currently mentors a SpaceX intern.
She also is involved with RIT's newest racing team—an all-female SAE Formula electric race car, which SpaceX also supports as a founding sponsor. The team will compete for the first time this spring.
A certification engineer is a position often filled by specialists with many years of experience.
"On a personal level, I feel like I am making a difference. Having the responsibility that I have, I take a lot of pride in what I can contribute to the company. I think taking pride in your job makes you a better engineer, a better worker, a better team player," she said. "We are bringing new technology to the space industry that I have always wanted to be a part of. I found that opportunity at SpaceX."