Lab focuses on learning from ways we communicate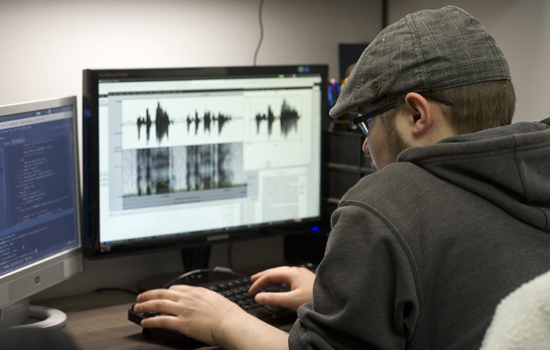 A. Sue Weisler
RIT students and faculty are using text or spoken and written speech to study gender issues, determine whether someone may have early-stage Alzheimer's disease, may be in an emotional state or may be autistic and have unique communication needs.
Those are just some projects being researched in the Computational Linguistics and Speech Processing Lab (CLASP), headed by Cissi Ovesdotter Alm and Emily Prud'hommeaux, assistant professors in the English Department of the College of Liberal Arts.
"We use language naturally to communicate. Language is all around us and has important social implications," Alm said. "Using language is so natural and easy, people forget how complex it is. There is a great deal of ambiguity and variation, which makes it quite challenging for computers to deal with."
The linguistic research began in 2011. More students and faculty became involved, and in 2014, CLASP was given its name. Space for the lab was made available in Liberal Arts Hall, where the students work with text data or analyze spectrograms and speech patterns. News of their work is posted on the CLASP website.
About a dozen students—undergrads and graduate students, research assistants and course assistants—are involved in various projects. The faculty directors have also received recent funding from the National Science Foundation and National Institutes of Health. Their focus is on health, wellness and education. One doctoral student is researching a way to preserve Native American language via speech recognition software.
Another project studies words used by patients being tested for dementia. The illness is hard to detect in its early stages, Prud'hommeaux said. Their work may become useful in clinical trials.
Preethi Vaidyanathan, an imaging science Ph.D. student from India, is working on a project that could be integrated in a training application. Using physicians' eye movements as they narrate over a picture, a machine translation method matches the words they said with where they were looking on the image. Her faculty collaborators are Professor Jeff Pelz of the Chester F. Carlson Center for Imaging Science and Anne Haake, dean of the B. Thomas Golisano College of Computing and Information Sciences.
Benjamin Meyers, a third-year software engineering major from Churchville, N.Y., is developing software to help language-based research. Called Speech Processing & Linguistic Analysis Tool, it extracts features from textual language data. "I want to make it very easy to use," he said.
The work done in the lab is unique, and RIT is the perfect place for it because technology and liberal arts are strong, and collaboration is encouraged.
"Very few English Departments offer computational linguistics, but we do," Prud'hommeaux said.
A main goal of the lab is "to give opportunities for undergraduates to do research and benefit from experiential learning," Alm said. "That's a hallmark of RIT. And seeing students learn this way, that's the key motivation."