A look at RIT's evolving campus architectural style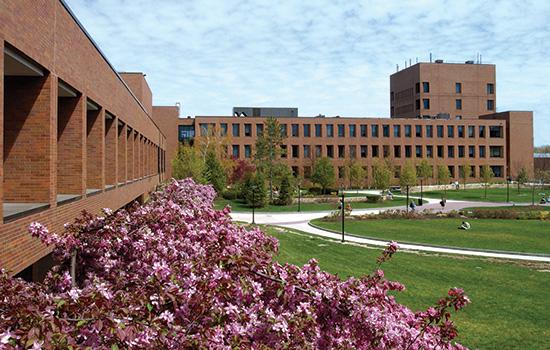 A. Sue Weisler
There have been 82 buildings erected at RIT since the opening of its Henrietta campus in 1968 after relocating from downtown Rochester. The addition of these buildings has nearly tripled the square footage of the Henrietta campus. 

Nine of these buildings have been added since 2010, including the newest collection of structures: Sebastian and Lenore Rosica Hall, Institute Hall, Sustainability Hall and the Gene Polisseni Center, which is slated to open in 2014.

At first glance, many of the new buildings' large, glass features and curved edges may seem out of place among RIT's sea of bricks. In addition to numerous cutting-edge internal elements, such as state-of-the-art lab equipment, classrooms and LEED-certified features, these buildings' exteriors are designed in modern architectural styles.

"The goal is to create a progressive and 
interesting dialogue between the old and new buildings," says James Yarrington, 
RIT's director of campus planning, design and construction services.

RIT's campus wasn't dubbed the "Brick City" without good reason. Nearly all of 
its buildings are sheathed in the ubiquitous Belden ironspot brick, the highest concentration of which can be seen in the façades of the monolithic Brutalist-style structures that make up the original core of the Henrietta campus.

As RIT prepared to relocate its campus from downtown Rochester to suburban Henrietta, members of a team of inter­nationally renowned architects, who 
were given the freedom to place their own interpretations on the brick-clad modernist architectural theme, each designed sections of the campus. Following the master plan created by landscape architect Dan Kiley, 
the original architects set out to create a campus that had what former RIT president Mark Ellingson described as "the look of 
a technical institution."

"As we have expanded the campus, 
we were faced with the question, do we 
stay locked in the style of 1968, or do 
we respond to more current architectural 
thinking?" Yarrington says. "We have 
tried to open up the designs, step by step."

While many of the new buildings follow different architectural themes, certain design elements are still evocative of the older buildings. Attached to the Center for Bioscience Education and Technology by a two-story enclosed bridge, Institute Hall's west face is a rectangular brick wall, dotted with windows that are recessed into the side of the building. The "punched" style of the windows is a feature in common with nearly all of the campus's original buildings. By contrast, the north face of Institute Hall is curved and made up almost entirely of glass.

"Institute Hall demonstrates the concept of yin and yang," Yarrington says. "It retains RIT's architectural heritage in its bricks, yet it expands upon that framework with freeform glass."

Jay Judson, a principal at SWBR Architects, says that students have been 
a significant influence on RIT's building design. SWBR has designed more than 10 major building projects at RIT since the 1980s, including Louise M. Slaughter Hall, Engineering and Technology Hall and Sustainability Hall, among many others.

"Bricks remain the undercurrent, but we've seen the introduction of warmer 
materials and more spaces for student interaction," Judson says. "RIT's campus provides a sort of prescription for how to proceed architecturally, and each new building has compatibility with its adjacent neighbors."

Yarrington says that the buildings aren't the only part of RIT's campus that have been changing. The campus's many outdoor public spaces, such as Global Village, have been designed to create unique, stimulating areas for pedestrians. Curved pathways and improved landscaping have also helped to soften and provide contrast to the geometric shapes of the buildings.

SWBR, along with other local and 
national designers, has made major contributions to RIT's leadership in sustainability, helping to incorporate many innovative features in new buildings and renovations of existing structures. Says Judson: "RIT's buildings now and into the future reflect the institute's balanced commitment to ethical, technical and practical sustainable solutions in addressing our environmental issues."

"I think it's fantastic that the campus is still evolving after five decades without losing its character," Yarrington says. "I hope that we can continue to make more exciting improvements toward the frontier of a truly sustainable campus."
Number of buildings constructed at RIT, by decade:
1966–1969* 32
1970–1979 11
1980–1989 21
1990–1999 12
2000–2009 29
2010–Present 9
* RIT moved from downtown Rochester to its current Henrietta campus in 1968.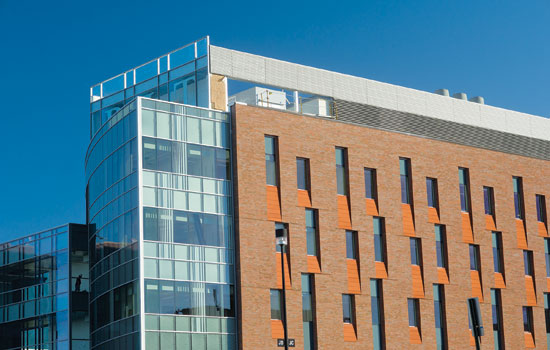 A. Sue Weisler